It was SO hard to keep all these presents for Andrew a surprise this Christmas.  Andrew gets super excited when the delivery man comes and drops a package at the door, and wants to open everything, right away.  Being that most of our gifts were delivered and reviewed for my blog – it was a terrible challenge to keep them hidden from him!
A few days before Christmas I received the Fisher-Price Thomas & Friends TrackMaster Cranky & Flynn Save the Day set.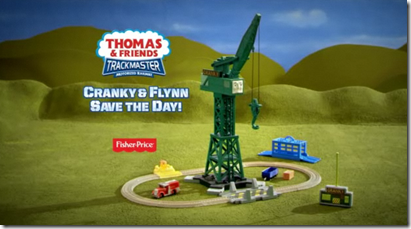 Well the set got delivered, Andrew got the slightest peek at the box – but he saw a fire truck. I put it up out of his reach.  Later, he saw the photo that I had posted on my Google + page for my Walmart shop, and immediately recognized it as the fire truck that is up in my closet – ha!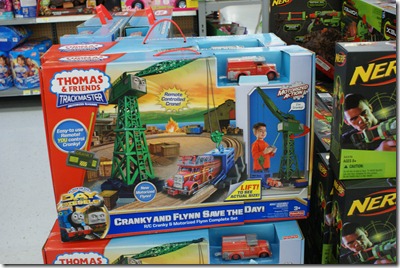 So when he opened it, he was SO excited to see it – and play with it!
It was one of the major hit toys that he got for Christmas!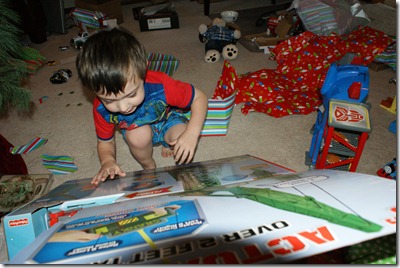 This set is SO cool, because my husband (seriously) had a remote control crane on his Christmas list – and Andrew loves all things trains and fire trucks, and anything remote controlled!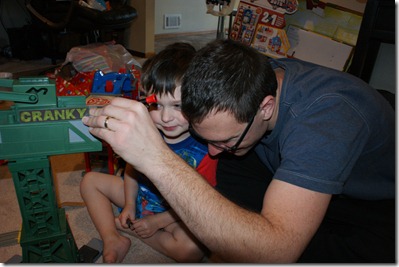 This is our first 'TrackMaster' set.  We've had a few TrackMaster trains – but never the tracks.  My husband loves how these go together, and said he wouldn't even mind switching all of our train tracks over so that we stick with specifically the TrackMaster Tracks and trains.
It's so neat too how Andrew picked it up right away and was able to control everything on his own.  He loves playing with Cranky!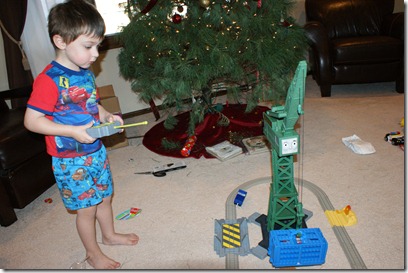 Cranky moves in a full 360 circle – and lifts and lowers his crane, which can carry the crate that holds Flynn the fire truck.  When you land the crate down, the gates pop open and Flynn rolls out of the crate.
Also the crane has a magnetic end to it – so it can deliver 'supplies' around the track.
Sound awesome?  We love it!
Win It!!!
One lucky reader will win Thomas & Friends TrackMaster Cranky & Flynn Save the Day Set – ARV $76
Mandatory Entry: Visit fisher-price.com and Leave a comment here telling me another Fisher-Price toy that you would love to give your children/grandchildren! Then click in the rafflecopter form that you did it!