The Thirsties Duo Diaper was the first diaper to review that showed up in my mailbox. It was my very first cloth diaper I ever touched with my own hands, and truthfully the very first time I had ever seen a cloth diaper (besides a tri-fold) in person.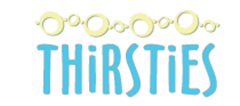 Unsuspecting of any diaper arrival in my mailbox *because their shipping time was phenomenal* I checked my mail as I was leaving the house. I saw the bag, and opened it right away.
Wanna know what I said??
…
'Holy Crap! That's HUGE!!'
Yep. That's what I said. Out Loud. Alone. In my car. In my driveway.
Think about it – I'm used to a teeny little disposable diaper that is about 1/4" thick, folded. Then I open up the bag, and find a diaper that is nearly 2" folded?!
I panicked a little, but had to get on to my destination – so I thought along the way of ways to get out of this whole switch to cloth diaper thing. I was terribly freaked out.
Now?? Well – It's almost becoming normal to me.
So when I see diaper reviewers that call a diaper Trim?? I now think…. 'Hah. Trim compared to MY butt!'
No – Honestly – There are a few cloth diapers out there that I would consider trim. Trim, in comparison to some other… not-so-trim diapers.. but not trim compared to disposables. Get it?
My Ratings:
See this post to find out more about my rating scale.
I do love that these diapers are easy to stuff. There are simply two pieces that you snap together (a microfiber terry top and hemp jersey bottom) that are labeled, and therefore easy to know which belongs where.
The pocket openings are wide enough even for daddy's hands to stuff.


Like mentioned above, Thirsties Duo diapers are bit on the bulky side. I do understand that they hold a TON of pee without leaking. They are nice and soft with a microfleece liner.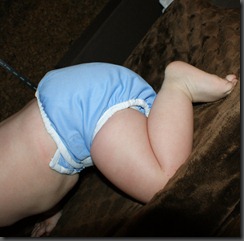 The Duo Diapers come in two sizes – and each size acts as 3 sizes. They are easy to size accordingly with the rise snaps – and the Velco (hook and loop) makes for an easy comfortable fit for both boys – with hardly any hassle at all.


Washing is super easy with this diaper. Simply throw it in. No need to pull the insert out. Drying: I try to remember to unsnap the two layers from each other before putting into the dryer, although it rarely happens. Therefore I end up needing to hang the hemp insert for an hour or two before being able to use it. Not so bad really, I have to hang many others for much longer.


How cute can you get?! This is certainly towards the top of my cuteness factor list. I love the contrasting white edging to the beautiful coloring. I only wish I would have ordered it in orange… Love Love Love their colors (P.S.: They apparently are going to have another patterned duo diaper and wrap – which as far as I can see from their 'teaser' is chocolate with white polka dots. Do you remember how much I love that?? See my babies nursery to get a look into it…. you know – maybe they're getting their other 'cool stripes' from my nursery too, haha!


Good Prices! At WeeLittleChanges, you can buy this Thirsties Duo Diaper for $18.50 with free shipping to the US.
It comes in two sizes – 1 and 2. So you'll need to buy diapers twice.


Daddy loves this diaper in the fact that it is Velcro.. (Hook and Loop…) He loves that he just has to pull tight, and then set it down. No pinching the skin. He also loves that he doesn't need to pull the inserts out, and that leaks are rare in this diaper.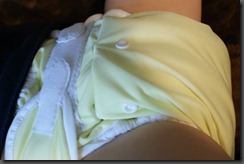 This is my fall-back diaper. When I'm getting frustrated with leaks, or if we're leaving the house for a few hours at a time, this is the diaper I reach for. Adding another layer in there makes it even that much better. It has only leaked on me once (outside of wearing it overnight) and that was while we were at a birthday party – Ethan leaked after about 5 hours in the diaper (that's with no extra doublers). Understandable.
I love that its super cute, and it fits well. I try to leave these diapers alone in the day when I know that my husband might be changing diapers later–because I know he loves the Velcro closure and ease of use.
So overall, the Thirsties Duo Diaper is definitely one that we're going to be hanging on to, Despite its bulkiness.
Wouldn't everyone love to have one of these in their stash? How about a…
Giveaway!!!!
(Open to US/Canada)
One Lucky winner will receive a Thirsties Duo Diaper in choice of color and size.
Click for Instructions for entry
This first entry is MANDATORY: Visit www.thirstiesbaby.com and tell me what color and size you will choose if you win!
Optional Extra Entries: (only after mandatory entry is done!) All are worth one entry unless otherwise specified
Subscribe

to my blog via email (Be sure to confirm) – 2 entries

Like

GrinningCheektoCheek

on Facebook

Follow my blog publicly via GFC (Lower Right Box

)

Follow my blog via Networked Blogs (Lower Right Box

)

If you grabbed my Adventure To Cloth Diapering Button before 8/22 and left a comment

here

telling me that you did so, add 2 entries

Follow

ThirstiesInc

on Twitter

Like

Thirsties on Facebook- Tell them You're entering their giveaway at www.grinningcheektocheek.com.


Follow

GrinCheek2Cheek

on Twitter on twitter and tweet about this giveaway: Can be done Once per day

Want to #win a Thirsties Duo Diaper? Review and #Giveaway @GrinCheek2Cheek #ClothDiapers #A2CDEvent http://www.grinningcheektocheek.com/thirsties-duo-diaper
Open to US and Canada. Giveaway ends September 9th, 2011 at 11:59pm. Winner will be drawn by 'andthewinneris…' and will be e-mailed. Winner will have 48 hours to respond or a new winner will be drawn