I've shared with you guys the fun time that we had at the Emerald Grande in Destin, Florida. Right below and surrounding the Emerald Grande is the HarborWalk Village – which has several shops, restaurants, and activities. I wrote already about the Destin Snorkel crew that we love and how much fun we had with them – but several other places around the Village were also very accommodating – and I would highly recommend that you check these guys out!
Buccaneer Pirate Cruise:
We were originally set to enjoy the Buccaneer Pirate Cruise on the night that we arrived – but due to the harbors blessing of the boats that night – we had to switch to the next night – which sounded really fun because it was the "adults only" tour.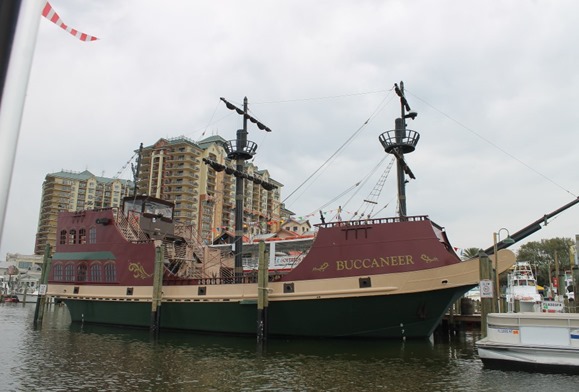 To be totally honest, I thought we would have been better off doing a non-adults-only cruise – because it was a bit crude for my tastes. I watched, and laughed – but I was not super interested in participating. I'd love to go back and do the cruise family-style and see what it's about: I am sure that it is MUCH better this way!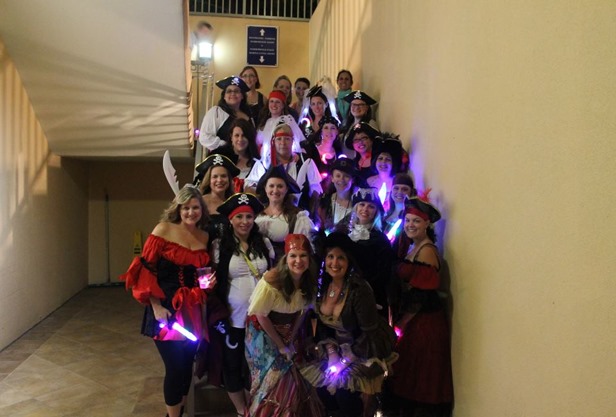 Our group got all dressed up for the pirate cruise – and Flasing Blinky Lights sponsored the evening and sent along just about everything they could think of that flashes and blinks and has any relation to pirates.  It was a lot of fun to get dressed up as a group!
Also this evening Jim and Nicks catered in the food for us, and oh-oh-oh my goodness – I'm totally in love with their food! When I get to a location where Jim and Nicks exists – this would be my number-one priority of food places to visit. *yum!*  I absolutely loved their chicken salad, and they have fantastic pulled pork and pulled chicken sandwiches with their special sauces that will melt your heart!  I'm pretty sure it's because they hand-make everything (Yes, Everything!) so I know what I'm eating is actually good, authentic, slow-cooked food.