I was so thrilled to be able to work with Things Remembered.  Ever since I was old enough to go to the mall in my area, that Things Remembered had really special items – items that I would someday be seeking out to give to those special people in my life.
That time is here – I enjoy being able to give those really memorable gifts and watching the excitement on their face as they get them.
For this reason, I will have no pictures of my children in this post…
I had the choice of one of these items to pick from for this Birthday Event: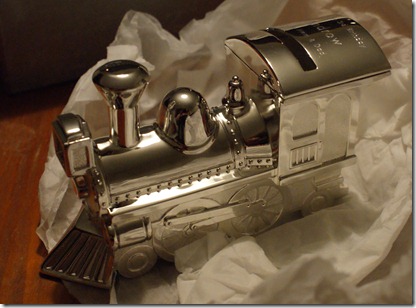 When I saw the Train Bank- I immediately thought of Andrew.  Yes, the other gifts are great – and I would love to have a birthstone necklace, but I just felt that Andrew would really appreciate a special train bank with his name on it for years to come.
He hasn't seen it yet, and I fully intend on keeping this one a secret from him until his 3rd birthday in just a few short months.
Things Remembered has a great selection of gifts, ranging from personalized wedding gifts all the way to really unique gifts for baby.
I love how there is a section where you can preview your personalization and figure out what you want to say while staying within your limit of characters.
It's also important to note the little box on the lower left of this photo: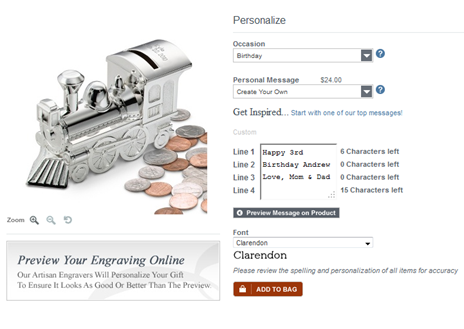 "Our Artisan Engravers Will Personalize Your Gift To Ensure It Looks As Good Or Better Than The Preview"
And isn't that the truth?
I was saddened that "Happy 3rd Birthday" was too many characters to fit on one line, so I had to change it to:
Happy 3rd
Birthday Andrew
But I was so amazingly surprised that they made it work!  Even though the lettering was essentially too many characters – they wanted it to look it's best also, and corrected it for me.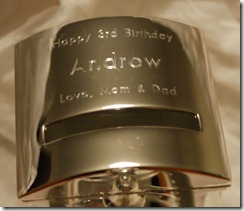 They just had to make the top and bottom fonts a little smaller, and then they offset it with a larger printing of his name.  Perfect.  Clearly they know what they are doing there