Looking for a great video baby monitor? Check out the D-Link Wi-Fi Baby Monitor. The D-Link Wi-Fi monitor has everything you could want, and them some extras too! D-Link provided me with a monitor to review and share with you, opinions are 100% my own and not influenced by compensation.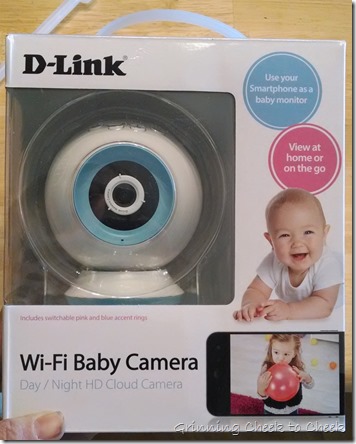 D-Link Wi-Fi Baby Monitor
The D-Link Wi-Fi Baby Monitor isn't perfect but it is the best video baby monitor I have worked with yet. (Keep in mind, if you are just looking for a basic monitor to know if baby is awake or asleep, or you are on a tight budget, a basic audio monitor is way cheaper and all you need. But, if you want to be able to see baby, either at night and naptime, or at play while you are at work, or whenever (which is super convenient, and you have the budget for it, keep reading).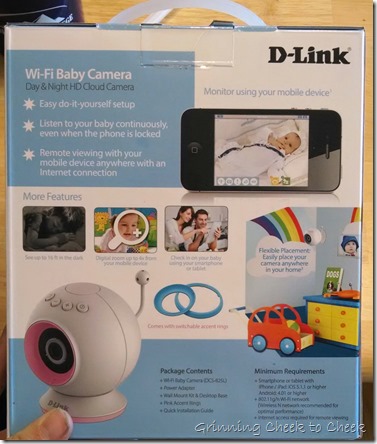 D-Link Wi-Fi Baby Monitor Pros
I like having a video monitor because Micah has two awake settings: awake, crying, and still lying or sitting which means he might go back to sleep OR awake, crying and standing which means he's up and I might as well go get him. The cries are exactly the same, so the only want to now lying versus standing is to be able to see him. Plus, I can put the camera in our living room and freak out "nanny Janny" once in a while.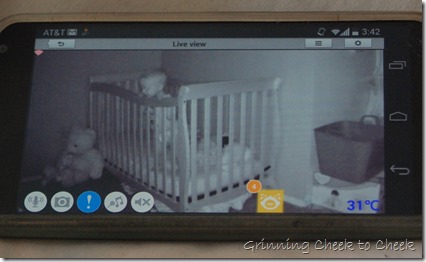 Great Picture Quality
720 HD on the D-Link Wi-Fi camera means a detailed picture. Even with the camera across the room, I can tell if Micah has a pacifier in his mouth, if his foot is between the crib rails, or where is monkey-attached-to-pacifier is so I can find it when I go in in the dark. It's not like watching HD TV, but it's impressive for a little night-vision camera.
Pinch Zoom
Pretty much explains itself, pinch to zoom just like looking at pictures on a smart phone. Easy Peasy.
Time Stamp and Continuous Feed
I like the D-Link Wi-Fi camera time stamp mostly because I know the video is still rolling. I know Micah has actually stopped moving or crying, rather than the video just froze. Which isn't really an issue, because the longest it's ever frozen on me was about 4 seconds and that only happened once. There is a few second delay between reality and the feed, but that's totally understandable. It does make it kind of entertaining to hear Micah yell down the hall and then hear it again on my phone two seconds later.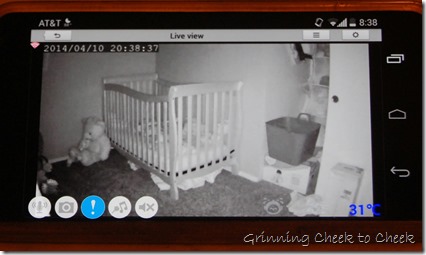 Alerts
The D-Link Wi-Fi camera app can either send push alerts to your phone, or you can turn off that option and just see the alerts when you are in the app. It includes movement, noise and temperature alerts. I've learned to ignore the temperature one because it's AZ and we haven't turned on our AC yet (it hit 104 the other day according to the bank sign down the road).
The crying alert is the one I like. Most of the time I'm home and I can hear him cry, but if we are watching a movie or outside and I'm concerned he might be awake, I can have my phone on with the sound muted and still see the alerts to know if he is making noise or not.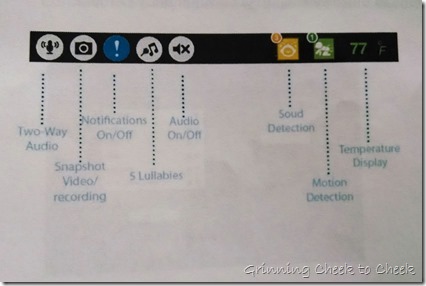 Multitasking
With or without push alerts, the app can run in the background, so I can check my mail or do other things on the phone and still hear what's going on, then just flip back to it if I want to see the video feed as well.
Extra Features
Things like the two-way sound ability, the lullabies, and the camera are slick. Not necessary, but nice to have! I don't use the two-way because Micah gets more riled up if he hears me and doesn't get out of his crib. If I used the D-Link Wi-Fi camera during play time, it'd be awesome to talk to him, but I use it in the nursery for sleep time. The lullabies would be slick if Micah was younger and lullabies worked. The lullabies do make him stop crying, though, because he gets kind of surprised looking around trying to figure out where the music is coming from. The lullabies can keep playing after closing the app too!
I can also put a micro SD card right into the camera to record, pretty slick.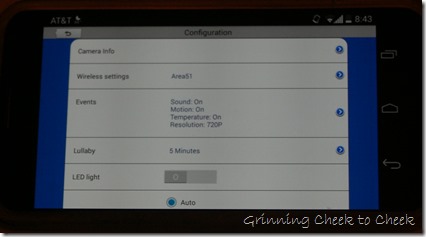 Other
Basics, like it's super easy to mount or place the D-Link Wi-Fi camera on the base. Most options are customizable (like night mode, Celcius v Farenheit, picture quality, and temperature parameters). Plus, it looks nice, the temperature acceptability can show as a light on top, and lullabies and volume can be adjusted right on the camera as well.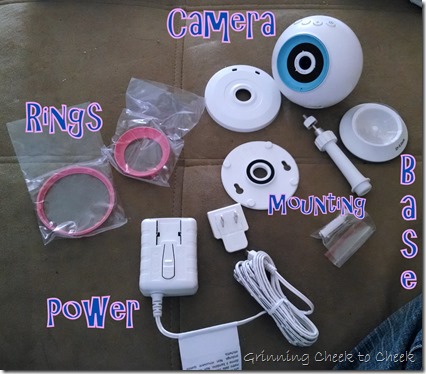 D-Link Wi-Fi Baby Monitor Cons
Login
I have to re-login every time I totally close out the app. Not a big deal because I have the box checked to remember my password, it's just an extra screen. Then, after logging in, I pretty much have to count to 5 before selecting the camera to view the video, or it will fail. If I'm in a hurry and hit it right away, it fails to connect everytime. Wait a few seconds, connection no problem. Otherwise, connectivity is great. I can easily connect over any wi-fi or 4G. 3G is a little slower but still works. Way more reliable and consistent that other video monitors I've read about or reviewed.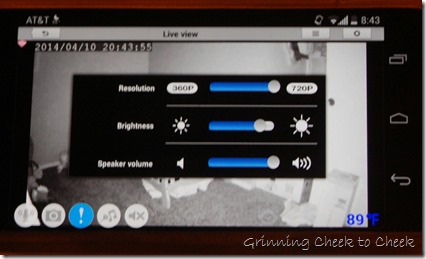 Battery Drainage
Like anything that runs on a phone, the D-Link Wi-Fi camera drains the battery. Thankfully, the app loads quickly, so it's really not a big deal closing it down totally each time. When I tested it by leaving it open, lit up and running on my screen (versus it just running in the background while I did other things or set the phone aside) it used about 1-2% for each 5 minutes. Not bad at all for a phone app.
Settings
Each time I totally close the app down, it resets my settings. It's super easy to go back in and change it back to HD and Farenheit (the only settings I really ever change), so not a big deal.
Camera
The D-Link Wi-Fi camera feature on the phone allows you to take snapshots or video clips on the phone, but it doesn't work yet with Android. Made me sad. Hopefully it will someday, but not now.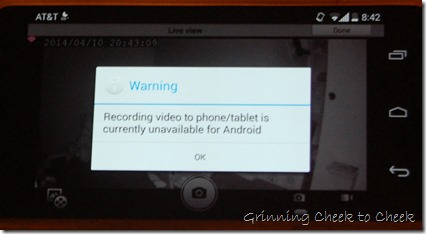 Want one? The D-Link Wi-Fi Baby Camera (DCS-825L) is now available for $179.99 at Amazon.com, BestBuy.com, Target.com, Walmart.com, and throughout D-Link's vast network of retail and e-tail outlets in the United States. Detailed specifications are available online at www.dlink.com/babymonitor. The VGA Wi-Fi Baby Camera (DCS-820L) will also be available throughout D-Link's channel starting in May for $129.99.
Check out D-Link on Facebook, Twitter, online, or on their blog!