So along with Ethan growing so fast, we've decided that it's time to lower our crib down a notch.  We are just so worried about him sitting or pulling himself up to standing to the point where he will fall out of the crib.  He's at the top height right now, and so that wouldn't be good.
We have one of those neat convertible cribs that grows and adjusts along with the different phases of life.  The mattress height adjusts as your baby grows, and then eventually you take the front panel off and put a side rail up for the toddler bed.  Or it could just simply be a day bed as well without the side rail. Then it converts to a full sized bed, where the crib becomes the headboard and footboards.
One of our big problems with having the two boys so close together was that we either had to buy a second crib or get Andrew into a big boy bed, real fast.  We chose to go the big boy bed route – and bought a full sized mattress set for him, because we figured we have the headboard and footboard for it either way!  Otherwise we were looking at the DaVinci Kalani 4-in-1 set that has the dresser included! I mean, it was essentially the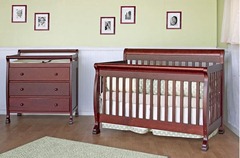 same price as the mattress set, and cheaper than many of the other cribs at the stores… plus now that we have a second child, we needed another place for Andrew's clothes (or Ethan's clothes!), and a dresser would have been nice.  We ended up buying a separate dresser though anyway. I guess we just wanted to think more long-term and not get another piece of furniture that we'd have to find a place for when it is outgrown.  I think it would be different if we knew for sure we were wanting to have more kids… but we're not.  (not sure, that is.)
Anyway, I've been considering getting rid of a few baby items as well.  But you know what the luck is on that? The day after I sell a few things, I'll either end up pregnant, or someone super close to me will announce that they're pregnant and need the stuff.  So.  There these things sit. Unused.  Don't want to Jinx myself!