If you look at the post right before this one; you will see about my recipe experiment with The Tender Filet.  I made a beautiful dinner of Porterhouse Steaks with Mushroom Sauce, Grilled Sweet Potatoes, and Asparagus. It was really fun to have such large and delicious steaks!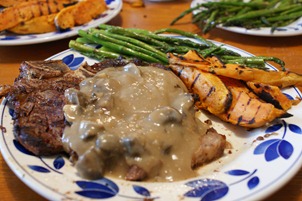 The Tender filet is an online and catalog fine meat retailer.  They have tons of items to choose from – From Aged Steaks, Seafood, to lamb, all sorts of poultry, and appetizers and side dishes! Their meats are all high quality and delivered right to your door with dry-ice, keeping them cool.  (Just a side note: we had a LOT of fun playing with the dry ice in water..) By "high quality meats", I'm saying they are meats that you cannot get at a grocery store.  Only really high-end stores and restaurants have meat this good – that is aged to perfection to enhance the flavor and juiciness.

So I got to talking to  The Tender Filet on twitter about, well.. My blog.  And we set up a review and giveaway, along with three of some of my closest blogging buddies.  Alison from www.BeingAlison.com; Annie from www.MamaDweeb.com; and Kelly from www.TexasTypeAMom.com.  We all got to choose a different item to cook and try a recipe with; and then the awesome opportunity to give away the same item to our readers!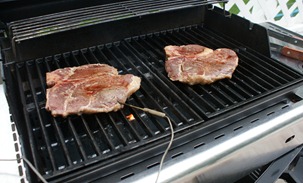 I don't think most people quite get the size of these puppies until you see them take up the entire plate.  I was originally planning on putting these both on the grill along with the sweet potatoes – but the sweet potatoes wouldn't fit (on a grill tray)!! I suddenly realized how small our grill was!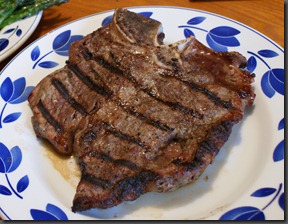 Our Steak was phenomenal.  I had only ever once cooked a porterhouse steak; and it was NOWHERE near this large.  I looked up several tips to grilling before I cooked these bad-boys – and they turned out fantastic!  My husband likes his steaks a little more pink than I do – So I cooked mine a few minutes longer than his.  Turns out though, that his turned out PERFECTLY, and mine was a little on the well-done side.  Which, wasn't BAD. – I just know now that the 'resting' time cooks the steaks a little more (which I should have taken into consideration after all those sites I read!). Check out my recipe post for more tips on grilling steaks.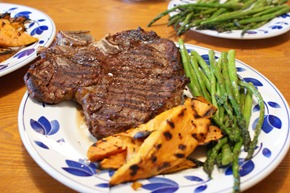 WIN IT!!!!!!
One lucky reader will win 2 – 18oz Porterhouse Steaks, Delivered to your door! (A $73 value!)
For rules on entering and help with entering my contest: please see this page:
Mandatory Entry: Please 'Like' The Tender Filet on Facebook or Follow @TheTenderFilet on Twitter. <or both, for a second entry!>
Optional Extra Entries: (only after mandatory entry is done!)
Subscribe to my blog via email – two entries! (leave two comments)
Like GrinningCheektoCheek on Facebook! – two entries! (leave two comments)
Follow my blog publicly via GFC
Follow my blog via Networked Blogs
Post my Button on your blog – Two Entries (leave two comments)
Blog about this giveaway on your blog. Must include links to me and Tender Filet. – Five Entries (leave five comments)
Do the opposite of what you did for mandatory entry – Either Facebook or Twitter.
Visit www.tenderfilet.com and tell me what you'd like to order from them
Follow GrinCheek2Cheek on Twitter on twitter and tweet about this giveaway:  (this may be done daily)
Summer time is all about #Grilling Steaks – #Win 2 – 18oz Porterhouse Steaks @GrinCheek2Cheek #Giveaway Ends 7/11 http://tiny.ly/pdhB
Vote for me on picket fence blogs. One Entry per vote(per day).
Enter any of my other Current giveaways. 1 extra entry per CURRENT contest entered.
Post my link on any of

that day's

CURRENT

Public Giveaway linky for this giveaway.  Should say something like – GC2C– 2-18oz Porterhouse Steaks – Ends 7/11 *and the link*. Comment to me the link to where you submitted it. (i.e. for a Tuesday Giveaway Linky – post it anytime before midnight that same Tuesday) One entry per linky posted on. No daily maximum.
Enter The Tender Filet contests going on at BeingAlison.com, MamaDweeb.com, or TexasTypeAMom.com.  One entry per contest entered.

Open to U.S. only.  Giveaway ends July 11, 2011 at 11:59pm. Winner  will be drawn by 'andthewinneris…' the following day, and will be e-mailed. Winner will have 48 hours to respond or a new winner will be drawn.