Prince Lionheart 2-in-1 Diaper Depot
Changing diapers is a requirement of having a baby. Poop stinks, and a full diaper is uncomfortable. There's no getting out of it. Some days, changing diapers is the grossest part of having a baby. Especially in the newborn stage, when they seem to poop or pee immediately after you put on the new diaper (or sometimes sooner!). And Micah hates diaper changes. As a brand new baby, he cried every time I put him down. As he got older, diaper changes went really well. And they still do for dad, but for me he cries. Or screams. He wants to be on the move, not stuck on his back! He gets over it, but the faster diaper changes go, the better. So when I got the Prince Lionheart 2-in-1 Diaper Depot, I was excited about the flexibility, size, and simplicity of this diaper organizer.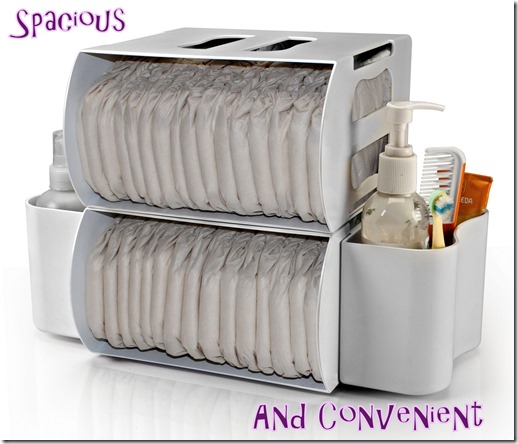 The Prince Lionheart 2-in-1 Diaper Depot is Easy
Easy to set up, easy to use, easy to access. The 2-in-1 Diaper Depot makes life easier. I love it. The Prince Lionheart 2-in-1 Diaper Depot comes with 6 pieces; 2 diaper baskets, 2 little baskets, a hook, and a suction cup connector/adapter. From there, you are on your own. It doesn't came with any instructions, but the box is covered with pictures of various ways to set it up. You can use just one piece, all the pieces, or any combination your heart desires. It exercises my imagination.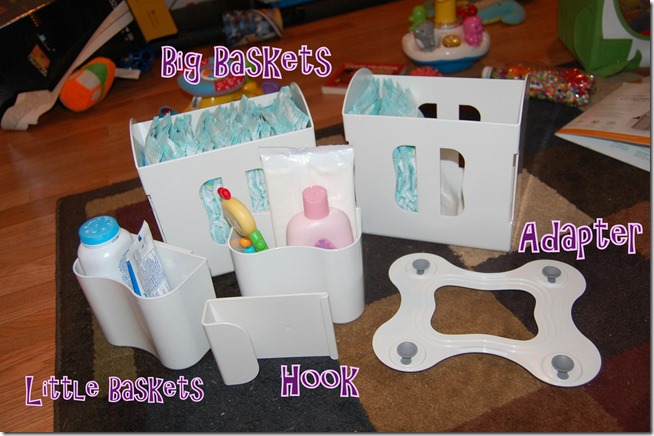 Unfortunately, the 2-in-1 Diaper Depot doesn't come with any way to connect the big baskets together in whatever format you choose. The suction cup piece can successfully hold them together in some set-ups, but not all. It is super easy to tape or Velcro-tape the pieces together in any way I choose, though, so that's not a big deal.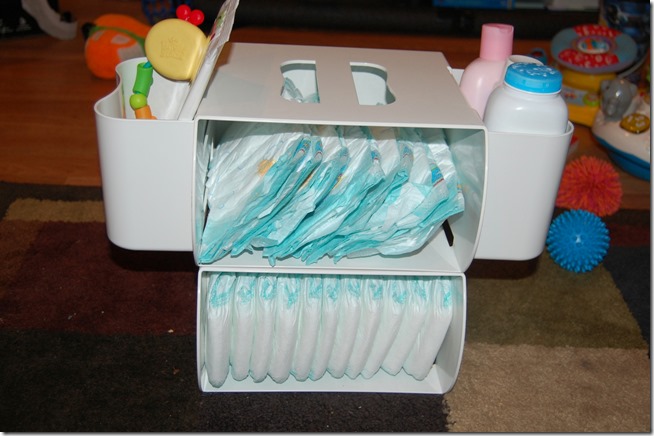 I found it was easiest to use a big basket with a little basket hung on it in our living room, and a big basket with a little basket hung on it in the bathroom. If we lived in a bigger house, I would probably keep one basket in each room that we are frequently in. And if we had a normal changing table I would hook one on there, but we use a modified dresser so there is plenty of space in the drawers.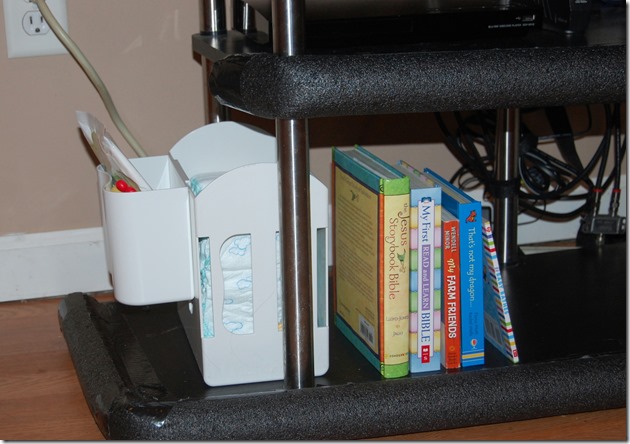 With the 2-in-1 Diaper Depot nearby, I can just grab the basket, pull out a diaper and a toy to distract Micah and get it over with. When I'm playing with Micah, it's just easier to lie him down and change him right there, rather than get up and take him into the nursery to change him. Especially this past week, as we were packing things up, and at some times it was rather difficult to get to the changing table through all the clutter and boxes.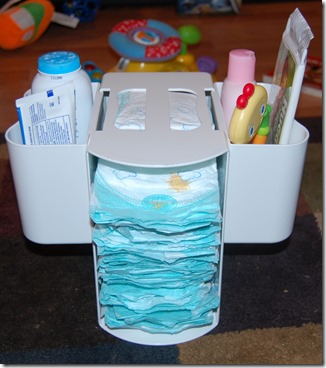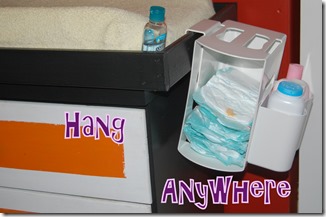 It also works great for bath time! I just pull him out of the tub, pat him dry, and use the diapers right at hand. I don't have to remember to bring a diaper in with me, yay!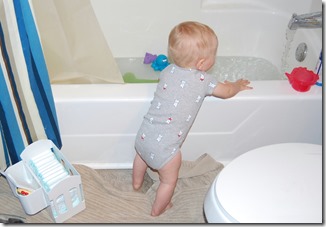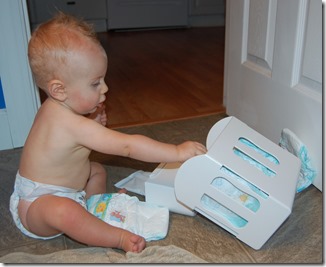 Again, our house is little so I feel kind of lazy by not walking those extra 20 feet to the nursery. But if you live in a bigger house, especially if the nursery is upstairs or across the house, this is a great little organizer to keep in any room.
The Prince Lionheart 2-in-1 Diaper Depot is a Perfect Size
The big baskets easily hold about 15 diapers, more if you pack it more tightly. And the little baskets are big enough to hold lotion, baby powder, and a tube of rash cream. Or an extra outfit for unexpected blowouts (a favorite of my Micah as a newborn). Or a toy for distraction. I can hook one or both baskets onto the sides of a large basket and have anything right at hand. And a Prince Lionheart wipes warmer fits easily on top using the suction cup adapter.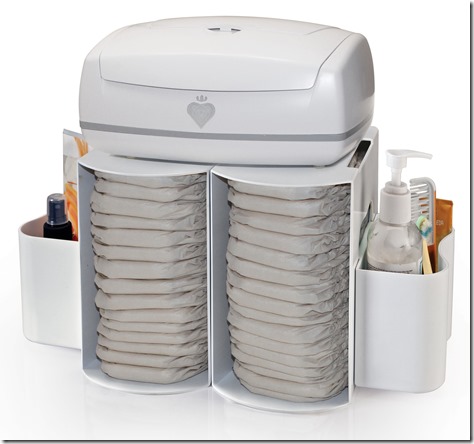 The 2-in-1 Diaper Depot baskets are lightweight and durable. So they are easy to bring anywhere, and even though Micah enjoys pulling out his own diapers (maybe he will start changing his own diaper!!!), knocking over the container, and pulling off the little basket, I know he wont' break them. Plus, the 2-in-1 Diaper Depot is made from 100% recycled material!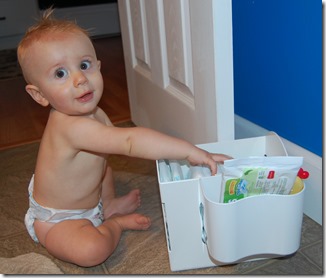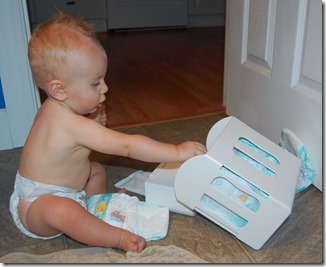 Overall, the Prince Lionheart 2-in-1 Diaper Depot is simple to use and a great tool for diapers changes anywhere. We could even use it to easily bring diapers in the stroller or to grandma's house. Or just leave one in the car for the days we forget the diaper bag at home! And when Micah is too old for diapers, I think it will easily turn into the perfect basket for coloring books and crayons! Or whatever other little toys he enjoys. Every toy needs a home!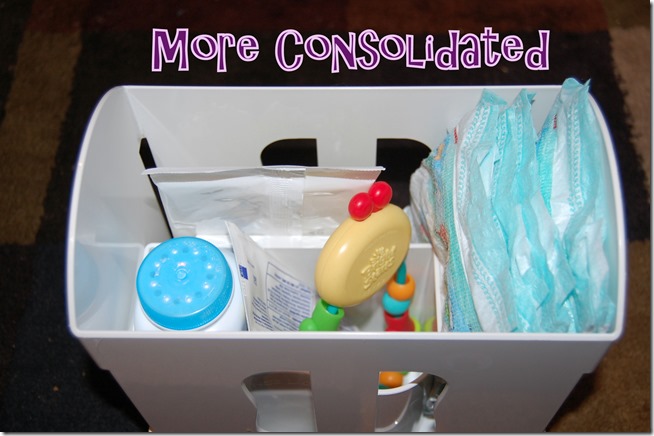 Find the Prince Lionheart 2-in-1 Diaper Depot online, at Target, or at Babies-R-Us for just $21.99! And check out Prince Lionheart online or on twitter and facebook for their other great products.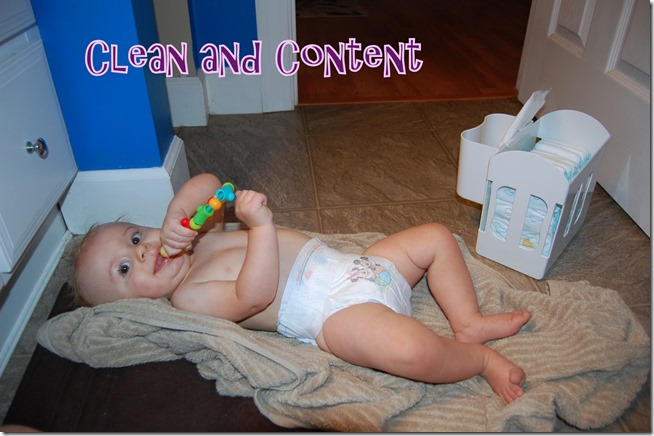 I was provided with my own 2-in-1 Diaper Depot as compensation as well as two of the photos above. Opinions are 100% my own.