This summer I've had great ambitions of getting both boys accustomed to pools and lakes, so they're not scared of swimming.  They both love the water – but Andrew, my 3 1/2 year old would cry when he was put into anything deeper than his knees.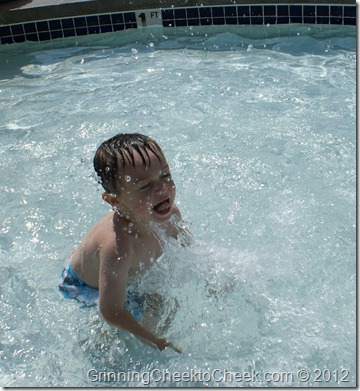 I'm so glad that I teamed up with SwimSteps as part of their Swim Team, to show you their awesome swimming gear and the progress of teaching my boys to swim.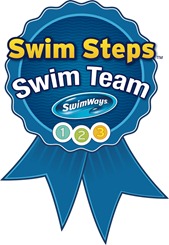 I started both boys out with Swim Step 2.  In this step, we received both the Swim Vest and the Swim Sweater.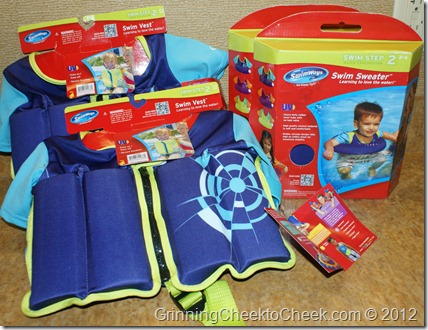 We brought them to our first water 'outing' this summer – to the Kings Pointe Resort last month.
I was really excited that these had the sleeves on them, adding the SPF protection to their sensitive shoulders.
Unfortunately, I was a bit disappointed with the Swim Vest overall.  It was really large on my boys – but we gave it a try anyway.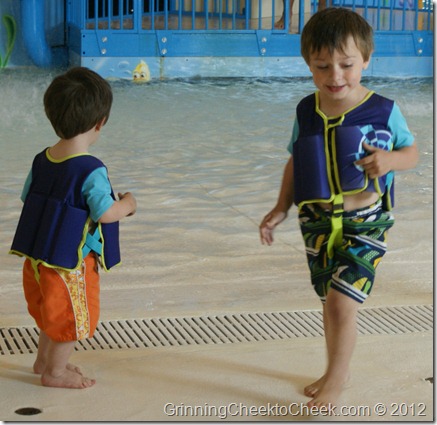 Andrew got really nervous in the deeper ends, and didn't feel safe when we let him go – on top of which, the vest ended up covering up his mouth when we let him go a little, because it was far too large.
So we put them into regular life jackets that the pool provided for the rest of the day. unfortunately the Swim Sweater requires a tire pump to fill up – otherwise we would have put them in the sweater.
Our next adventure was at my Sister-in-law's pool.  I was nervous because Andrew really got freaked out swimming in water that he couldn't touch in, so bad that he would scream and cry and give us the death-grip around our neck.
We finally coaxed him into the pool with the Swim Sweater.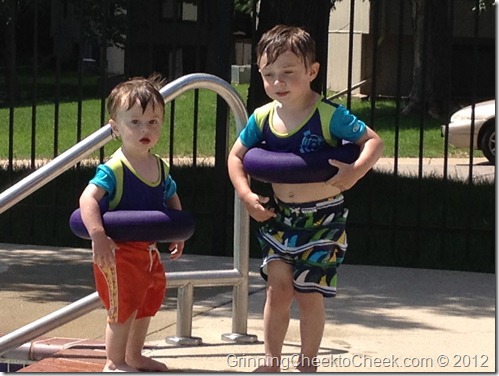 Again, they were a bit baggier than I would have liked on my boys, but it really didn't matter, because the tube is under their armpits – so there's no bunching at the top by their faces.
The swim vest worked great for them!
After a bit of crying and kicking and screaming – Andrew finally calmed down – and trusted the tube.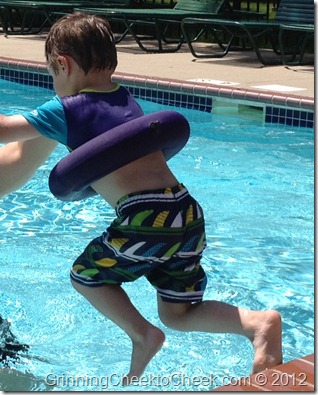 By the end of our swimming session he was jumping off the sides of the pool.
Ethan – He was very 'chill' about the whole thing, and fully trusted the tube from the beginning.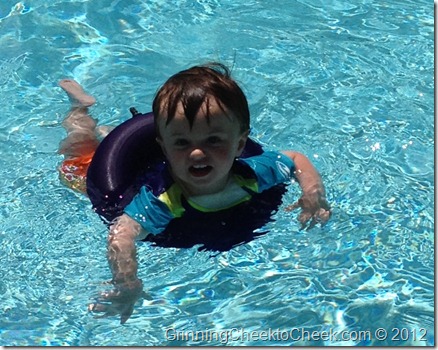 Overall – I'd highly recommend the Swim Sweater for any younger toddler who is uncomfortable swimming by themselves, but doesn't want the bulk and crotch strap associated with a regular life jacket.
Have you gotten your kids in the pool/lake this summer?
I received the items for review purposes as part of the swim ways swim team in exchange for sharing my honest thoughts with you all! My opinions are 100% my own.