Every parent of an infant/toddler needs a little caffeine 'pick-me-up' every now and again.  But who wants to make a whole pot of coffee or deal with the espresso maker when they've got very little time?!    Not me!
We have an espresso maker.  Do you know how messy or time consuming those things are?! We spend 10 minutes prepping the machine; at least 3-5 minutes making the espresso, and then another few minutes of prep to steam the milk.  By the time the milk is steamed, the espresso shot has gone bad, and you're stuck with less-than-mediocre caramel macchiato – which is slightly cold.  The clean-up? Don't get me started.
We got the espresso maker because we "knew" that one-cup coffee machines didn't make espresso, or steamed milk – and in order to have my favorite (Caramel Macchiato) I was going to need an espresso machine.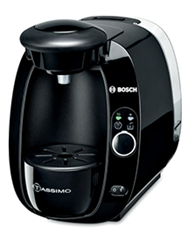 That is, Until I saw the TASSIMO.  Oh – how I am so happy that I have my TASSIMO.
*Admission – I already had a TASSIMO.  Bought it back in 2009, love it just as much now as I did then! – I also had horrible photographing skills

  Our old one is now being gifted to my in-laws.  Still runs perfectly!
TASSIMO makes it easy.  They make a large variety of things:  Coffee, Hot Chocolate, Tea, Espresso, Steamed Milk, and much more really.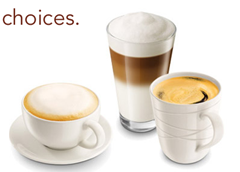 Simply.  Buy the T-cups.  Put them in the machine, and push start. not but a few seconds later, you've got your favorite drink.
No pre-heating the machine, no steam wands involved, no tamping, no twisting… no cleaning!
Ok. I'll show you: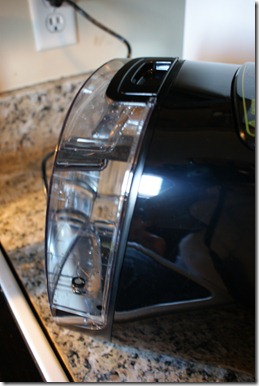 The Bosch TASSIMO has a water reservoir in the back. Fill it up.  drop it in place.  they make this pretty fool-proof –you don't even need to look.  The machine will let you know when you're running low on water – so just don't worry about it until then.
Then pick your drink.  Today I'm going to show you my favorite.  Caramel Latte.  I bought this pack of T-Discs at Walmart for under $7.00  It makes 8 cups – making each cup around $0.90.  Can't beat that!  The package comes with 8 milk 'Latte' T-Discs and 8 Caramel Espresso T-Discs.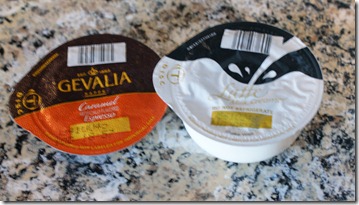 Each T-Disc has a bar-code on it, which gets read by the machine to tell the machine how much water and how long to brew and all that fancy stuff.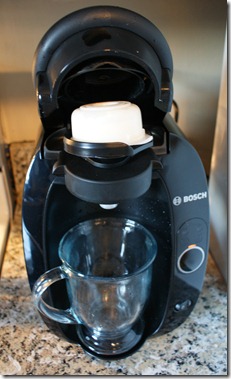 Place your T-Disc into the slot. Again – pretty fool proof – you can't really put it in there wrong unless you SHOVE it somehow.  But you don't need to.  it just lays upside-down.  Then close the machine and push the big button.
Watch your drink come out.
So first I did the Latte milk – And then I put the espresso in.
I love how easy it is.  No mess to clean up either.  Just throw out the used t-cups.
I add about 1/2 tsp of sugar, and I'm good to go!
Every home needs one.  Really.
You can purchase the TASSIMO T20 Brewer online for $99.99. Tassimo is also available for sale in Bed, Bath & Beyond and some other major retailers.  They also have a huge selection of coffee, espresso, tea, and hot chocolate T-Discs. *Just FYI – We bought our first Tassimo at BBB with the 20% off and $5 off coupons that you can get in the mail – which makes for a GREAT price!  Just be sure to bring enough 20% off coupons for all of the T-Disks you'll want to buy! 😀
And you can win one RiGhT Here!!! Tassimo is giving away a T20 Brewer to one lucky reader!