Over the past three weeks now, Andrew (my 3 1/2 year old) has been in swimming lessons.
The local pool is about a block away from our house – and they have lessons for 'tots' – who otherwise don't know how to swim.
They spend a lot of time in the kiddie pool, playing games, singing songs, and learning the fundamentals of swimming, like blowing bubbles, submerging their faces in the water, and kicking.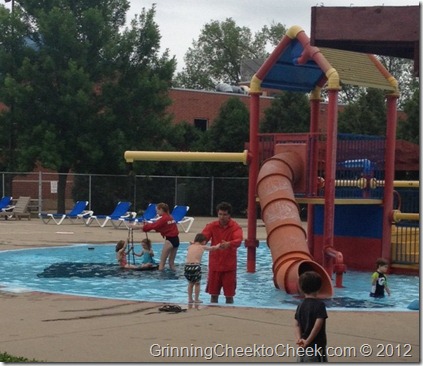 Andrew spent more time playing – and didn't like to conform to what the rest of the class was doing… So he was assigned his very own teacher.  Most of the other teachers had 2-3 kids.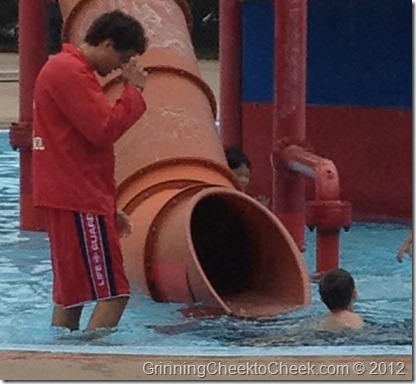 To my surprise, they had the tots 'jumping' off the diving board (a.k.a. the teacher handing the tot to the teacher in the water..) But since Andrews teacher was the 'catcher' – he got to do it about 8 times… He *loved* it!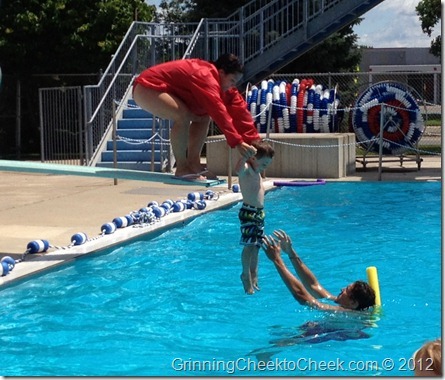 Overall, it was a great experience for him. Every day for two weeks he was in the water – each day getting more and more comfortable with it.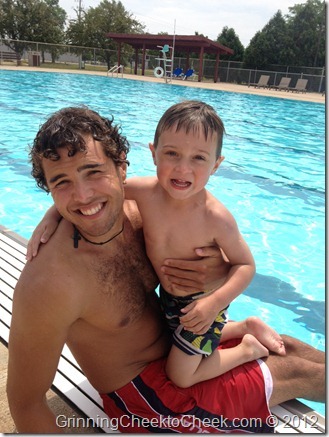 He loved his teacher Sam – they became great buds.  And most likely because of the awesome one on one attention he got – he even advanced to Level 1 swim lessons (with the 5 year olds!) so we enrolled him right away!
As part of the SwimWays Swim Team – I'm proud to report that because he's doing so well with swimming – we're advancing him to Swim Step 3 – which I'm really excited for with their Orca Whale Swim Assist.
So Cute, Right?
This past weekend we've spent time up at my mom's cabin swimming in the lake all day – and got even more comfortable with the water!
I'd love to enroll my 1 1/2 year old Ethan into swimming lessons, and I know he'd totally be ready to participate – and a LOT more compliant – but he's too young

What has your experience been with swimming lessons for your toddlers?