If you read in my 'about me' you'll quickly read about my previous love…
Before my babies were born, I was an avid "Stamper".  In Fact… the initials "SU" did not mean the social media site Stumble Upon, They meant 'Stampin' Up!" and still to this day I have a very hard time getting that right in my head.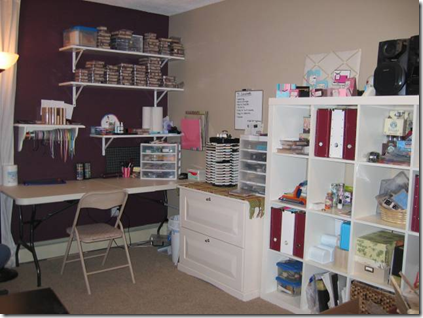 See… My head and heart is still a stamper.  But when we lived in the condo and I discovered that I was pregnant with Andrew, I had to sell much of my stash, box the rest, and make room for a baby room!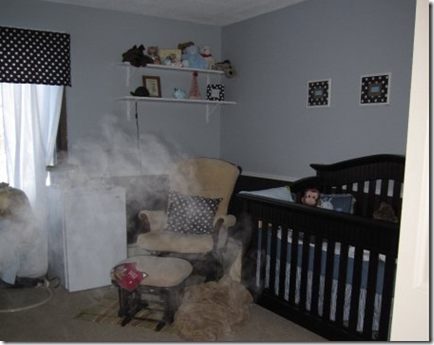 Really… Bitter Sweet.
So when I heard about Stampin' Up!'s new promotion for their Sweet Pressed Cookie Stamps – I had to give it a try!
They sent these products:
•    Sweet Pressed Cookie Stamp (1), $16.95, item number 125152
•    Kraft Gift Box (4), $2.95, item number 124106
•    Homemade stamp set (1), $8.95, item number 116978
•    2-3/8"Scallop Circle punch (1), $16.95, item number 118874
•    12"x12" Smooth Card Stock Very Vanilla(1), $5.95, item number 124301
•    Basic Black Stampin' Spot (1) (not sold individually)
•    Cherry Cobbler Bakers Twine (1), $2.95, item number 123125
I made the Sugar Cookie Recipe that came with the stamp: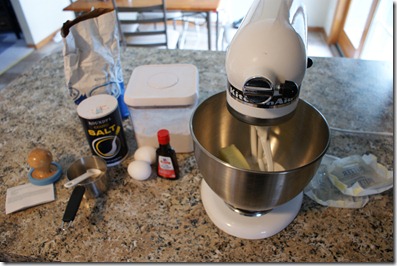 They are really rather simple to make –  I let Andrew help me push down on the stamp… but mostly I did it…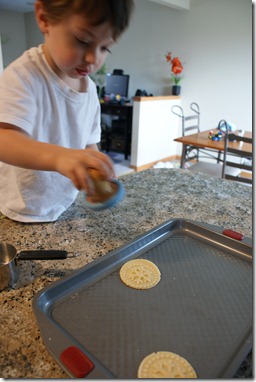 Here's the cookies pre-oven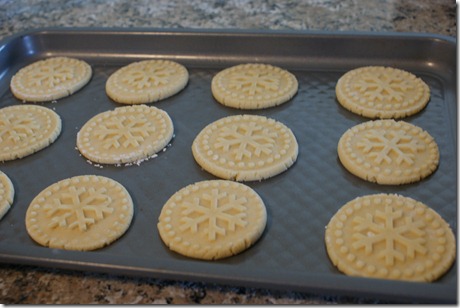 And then… I burnt them!! Oops!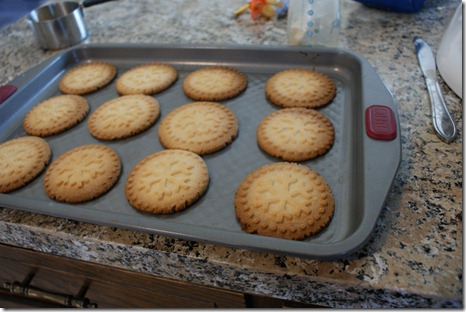 I made my gift box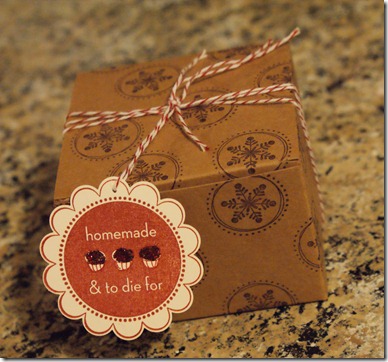 And used some Chocolate Chip Cookies instead!!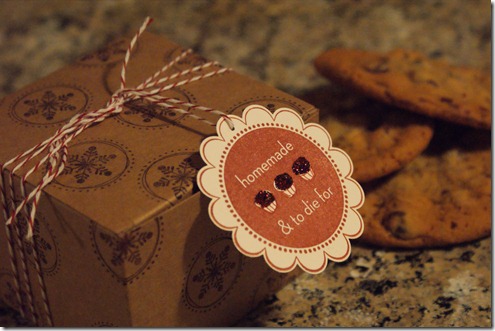 So Cute, Right?!   I love the Cherry Cobbler Bakers Twine! Perfect touch to a gift box.  I will try the pressed cookie again closer to Christmas, but I think I'll use a different recipe than the one that came in the box.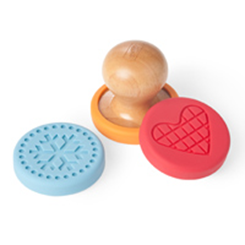 The Sweet Pressed Cookie Stamp also has a heart shape and a pumpkin face for Valentines and Halloween.  All great occasions to make and share cookies for!
Want to Win This Cookie Stamp??
WIN IT!!!!!!!!!
One Lucky Reader will win the Sweet Pressed Cookie Stamp from Stampin' Up! (ARV: 16.95)
Mandatory Entry: You must visit www.stampinup.com/store and leave a comment here telling me your favorite Stampin' Up! product and provide a link to that product when you comment – Then Click 'I Did It!' in the Rafflecopter form.