Everybody loves a sleeping baby. They are ADORABLE! And quiet. It's getting the baby to sleep that's the hard part. Lorex Technology is out to make nap-time and night-time easier for moms and dads. Lorex Technology's new monitor BB2411 Sweet Peek Baby Monitor is incredible! With tons of features, a detailed display, two-way talk, and even a lullaby option, the Sweet Peek baby monitor has made my life easier.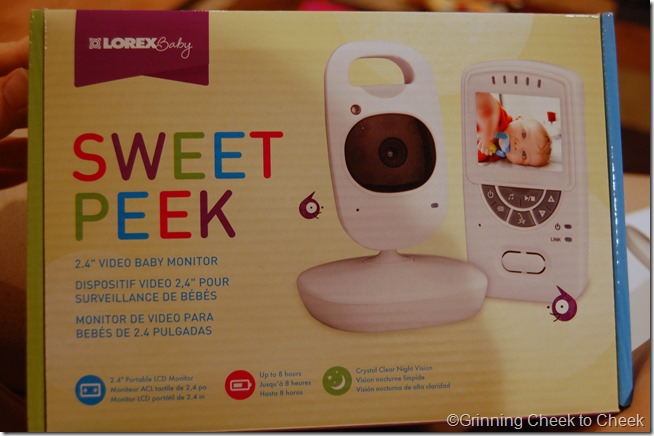 The Lorex Sweet Peek has tons of features
Seriously, this thing has options! And everything can be adjusted from the handheld receiver. The brightness and sound can easily be adjusted, an optional nightlight on the camera portion can be turned on or off, and the camera can be zoomed in and you can easily pan around. The best part is that the receiver can be voice-activated! I started with the Lorex Sweet Peek's voice activation off so I could just watch Micah sleep. Then I turned it on and adjusted the sensitivity (4 levels of sensitivity) so if Micah cried or made enough noise, the receiver would light up and I would hear him.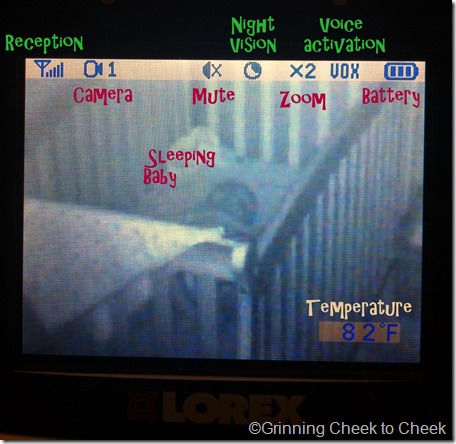 A picture is worth a thousand words, but audio helps too!
Earlier this summer I reviewed the Diamond Multimedia Plug N' View, which has the terrific feature of being able to watch from anywhere via smartphone, but does not have audio. The Lorex Sweet Peek can only be viewed on it's receiver with a 450 foot radius, but it has crisp audio. I can hear his coos and squeals while he plays with his bedtime puppy. I brought the monitor outside today when I was weeding and could turn it on to get my own sweet peek at him, and then easily hook it onto my pocket to wait for him to wake up. My second favorite feature of the Lorex Sweet Peek: the two-way talk! Not only can I hear Micah cry, I can talk to him. It always seems to shock him to hear my voice, and sometimes calms him down. I can also play a lullaby just by hitting the button on the receiver. It only plays one tune and it's the tingy-high-pitched tune of baby toys, but it sure entertains him.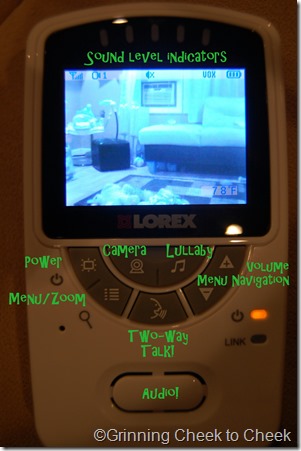 And I definitely have to mention that the monitor shows the temperature of the room with the camera! And it will alarm if it gets above or below your personally-set temperature (C or F) limits! So I know Micah isn't cooking with our hot weather and window air units.
The Lorex Sweet Peek baby monitor has a great picture
The Sweet Peek has a 2.4 inch display, small enough to carry around the house and yard, big enough to watch my precious baby Micah. It shows a clear, colorful picture in the light, and has impressive night vision in the dark. After I found the right place for it in his room (we moved his mattress down so it's a lot harder to see him with the crib walls in the way), I was excited to be able to watch his precious baby face sleeping peacefully. He cries for a minute everytime I leave him alone in his room to fall asleep, so it's a great comfort to see him sleeping peacefully after a bit.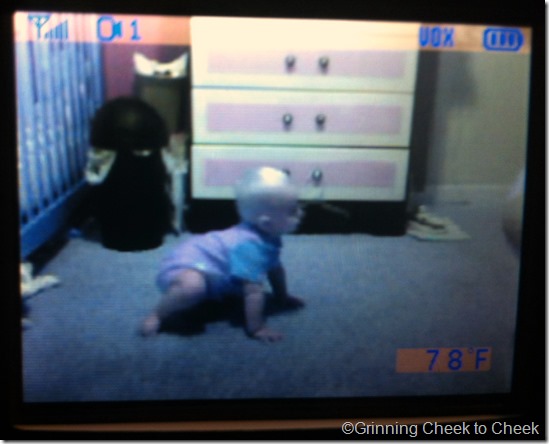 Other Tidbits about the Lorex Sweet Peek
Both parts can be run on battery or plugged in; the receiver runs on an included rechargeable battery that lasts 8 hours! Both parts also have easily accessible on-off switches, so you don't ever have to waste electricity, which rocks because babies are expensive to start with! The camera can easily be set or mounted anywhere, and it only has one itty-bitty light on it so it doesn't distract Micah in his otherwise dark room. And the cord has plenty of length to reach, so I haven't even needed to use batteries in it. The system can connect up to 4 cameras and you can easily switch from one to the next right on the receiver! So, all said and done, the Lorex Sweet Peek baby monitor is an awesome addition to my mommy arsenal.
Lorex would like you to add the Sweet Peek Baby Monitor to your mommy arsenal too! Check them out online, on Facebook, and on Twitter. And win one here on Grinning Cheek to Cheek!
How to Enter:
Mandatory Entry: Leave a comment relevant to Lorex baby monitors!
Then: Fill out the Rafflecopter form.
Be sure to come back each day for extra entries!!
Rules: You do not have to be a blogger to enter/win. An email address is required to enter. The winner will be chosen randomly through Rafflecopter and contacted via the email registered in Rafflecopter. A reply to the winning email is required within 48 hours before a new winner is chosen. One person entering per household please. US or Canada only please.
This giveaway ends at 11:59 PM EST on August 16th, 2013

Lorex provided me with compensation and links for this post, but opinions are 100% my own.