I first contacted SweetBottoms before I really got a chance to look at their site. I just saw how cute it was, and therefore contacted them… Because – Really – I can't stress enough – I love cute websites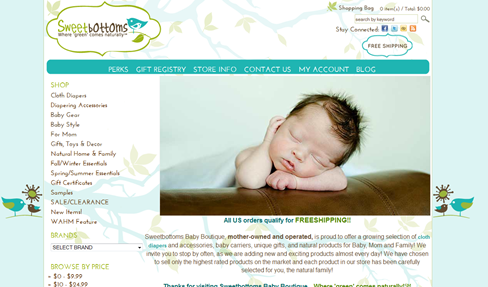 After chatting a little more with them, I realized how helpful they really are.
I was VERY uneducated about anything cloth diaper, had still never even touched or seen one – and I was so confused I didn't know where to begin to pick out a diaper.
We talked it over a bit, I mentioned that I was interested in something easy, but durable… I had in mind anything All-in-one. She mentioned a few of her favorite brands to me – and I had only ever even HEARD of Bum Genius – so, I went with that.
She said she loves the Kawaii Diapers, and therefore sent one of those along with the order just to be sure I was able to sample it. I love them both, really.
I got some BumGenius Elemental All-in-One diapers…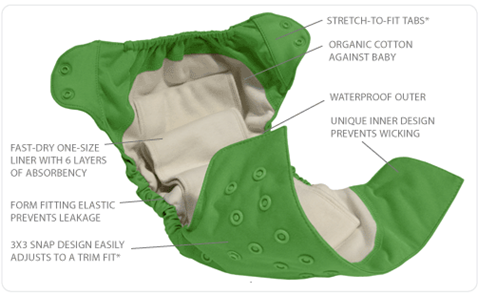 Which I do love, and reach for quite often – However you just have to be aware to pull the leg elastic so that the fabric stays inside of the diaper. Otherwise you'll get leaks.
I'm not sure I like how it looks when I take it off the boys. The insides seem to get bunched up, and look… uncomfortable. But – who really knows.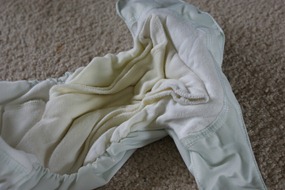 This diaper takes FOR.EVER. to dry. I dry it with the other diapers, then pull it and hang it. It usually takes a day or two for the diaper to dry fully.
But the fit is great – and I love the stretchy tabs, so it makes it over-all a great diaper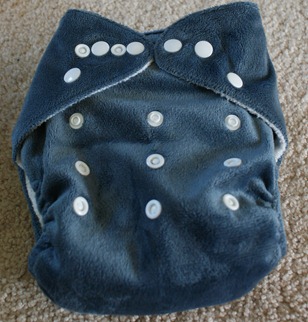 I also got the Kawaii Bamboo Minky, which I also love. This bamboo terry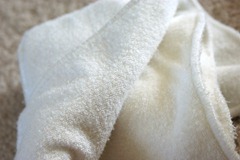 pocket diaper is super thin and flexible and hardly seems able to hold all the urine it can hold. I love that it fits Andrew so well because it is a larger diaper – and then it buttons down well to fit Ethan perfectly also. Super soft, cozy, and REALLY affordable! I may get some more of these soon. SO cute with the Dark Grey and White!
Back to the website: I love how organized this site is. You can click to search by type of products, brand of products, or by price. I went ahead and made myself a little wish list on her store – with all the products that I would like to try. The wish list saves in your account so you can therefore print it off and tell family members what you'd like.
Sweet Bottoms has amazing selection as well – Several diaper companies that are commonly known, as well as some smaller companies – which is really nice. I love that she has wool on her site also. We're going to be looking into getting some wool, and the prices here are great.
Not only does Sweet Bottoms carry diapers, but they carry just about anything a 'natural' parent would want or need. I love these Bad Daddy Rattles made from many types of non-toxic domestic and exotic woods.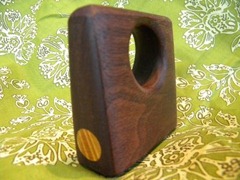 Sweet Bottoms has a rewards program for purchasing diapers and then getting points towards future store credits. Each item has an associated rewards point total. They also have a 5% discount for all of their Facebook fans

Best of all, again, I love stores with Free Shipping. It makes it all worth-while to me. Not to mention how CUTELY they wrap their packages!!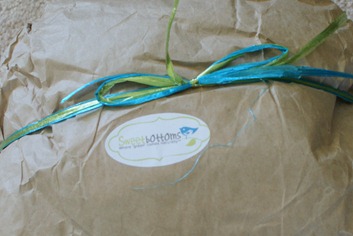 Makes Fluff mail MUCH more exciting! (not that it isn't already!)
Do you want some Cute Fluff Mail??? You're In Luck! Sweet Bottoms is hosting a Giveaway!!
Giveaway!!!!
(Open to US/Canada)
One Lucky winner will receive a Bum Genius Elemental AIO Diaper in choice of color and size.
Click for Instructions for entry
This first entry is MANDATORY: Visit www.sweetbottomsbaby.com and tell me something that you would love to own from their site!
Optional Extra Entries: (only after mandatory entry is done!) All are worth one entry unless otherwise specified
Subscribe

to my blog via email (Be sure to confirm) – 2 entries

Like

GrinningCheektoCheek

on Facebook

Follow my blog publicly via GFC (Lower Right Box

)

Follow my blog via Networked Blogs (Lower Right Box

)

If you grabbed my Adventure To Cloth Diapering Button before 8/22 and left a comment

here

telling me that you did so, add 2 entries

Follow

SweetBtottomsBB

on Twitter

Like

SweetBottomsBaby on Facebook- Tell them You're entering their giveaway at www.grinningcheektocheek.com.

Follow

GrinCheek2Cheek

on Twitter on twitter and tweet about this giveaway: Can be done Once per day

Enter to #win a BumGenius diaper from @SweetBottomsBB @GrinCheek2Cheek Adventure to #ClothDiapers Event Daily Giveaways http://www.grinningcheektocheek.com/sweet-bottoms
Open to US and Canada. Giveaway ends September 9th, 2011 at 11:59pm. Winner will be drawn by 'andthewinneris…' and will be e-mailed. Winner will have 48 hours to respond or a new winner will be drawn.