Keep these simple ingredients on hand and then whip up a quick dairy side-dish to add some pizazz to your dinner!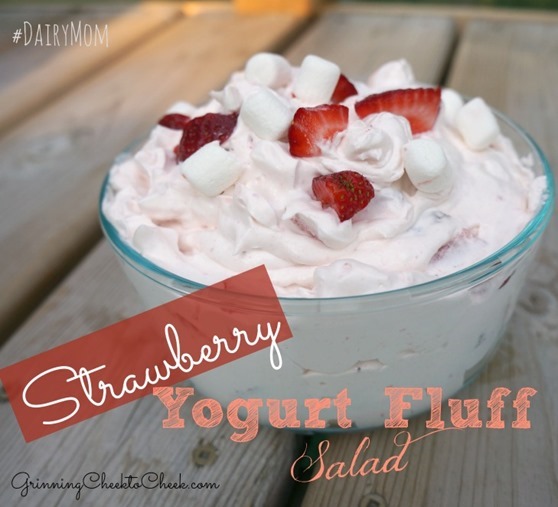 I have serious sympathy for those of you who are getting back to the 'swing of things' for the school year. Our family has a hard enough time getting up and out of the house before 9am, let alone by 7am bus arrivals. Thankfully we have one more year before we have to worry too much about getting out the door and to the bus on time. So – we can still enjoy our morning. Our problem in getting ready doesn't revolve around getting everyone dressed – but having breakfast, too!
My kids are breakfast-aholics. The second they wake up, they're asking for food… They need food before they can really function without whining: so that has always been our first priority… and the main reason I'd love a live-in nanny – so I don't have to wake up to feed my kids at 7am every day! (Wouldn't we all?) Then, by 9 am they're *starving* again and scrounging for (or sneaking) snacks!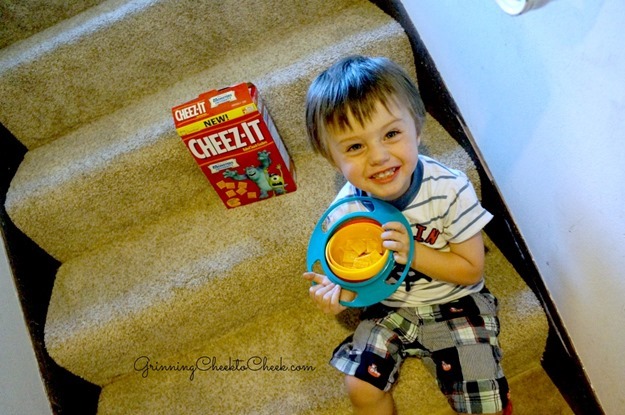 That's why I love that so many schools now-days are participating in the Breakfast Programs. I can rest assured knowing that if we are ever running late for school, these growing boys will have another option for food before lunch. I learned from my recent visit with Second Harvest early this summer – that so many children rely on the breakfast and lunch that they receive at school; as it is often the only food that these children get each day.
Midwest Dairy Association is promoting healthy eating for your children in this transition of going back to school. They have provided me with several areas of resources to share with you:
Additional Midwest Dairy Resources
– School breakfast programs in the Midwest promote healthy breakfasts for students. 
– Fuel Up to Play 60, a program dedicated to increasing physical activity and access to nutrient-rich foods
in schools.
– Breakfast Recipes – smoothies, casseroles, even pizza!
– Breakfast Brain Power Pinterest board.
Also- Don't forget to sign up to receive email updates from Midwest Dairy via dairymakessense.com. Click the "Sign up for Updates" button at the top right of the homepage, and you will receive delicious dairy recipes, news and more!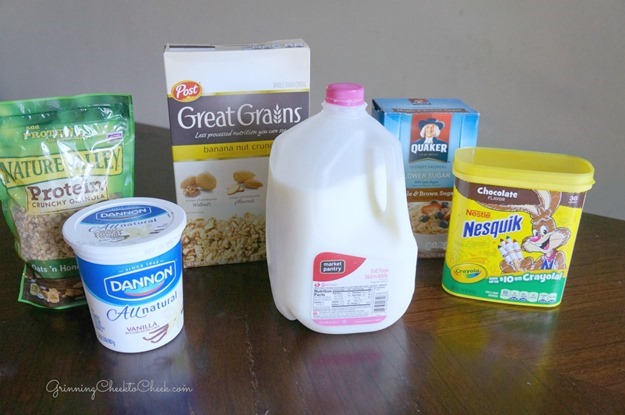 A popular food for breakfast around this house is Yogurt. Usually the yogurt is mixed with granola and maybe some fresh berries. I have a slight problem with the texture of yogurt – but I love the flavor of it! I have discovered a way to get the taste (and more!) of yogurt and have a sweet side-dish for dinner – with Yogurt Fluff Salad!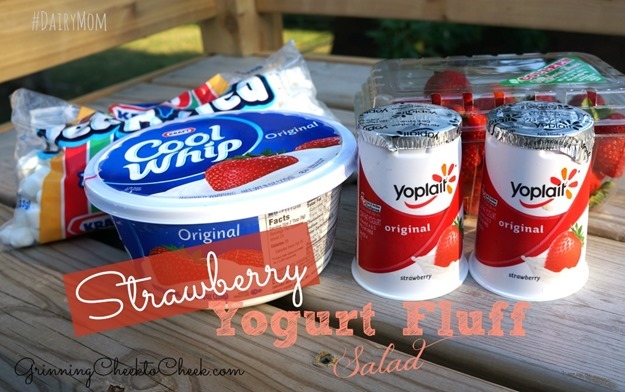 Super simple ingredients – I always stock up on Cool Whip around the Holiday's when they are on sale – plus some marshmallows, yogurt, and coordinating fruit.  You don't have to stick with Strawberry – this works perfectly in the winter as well, with mandarin oranges and orange yogurt as well as peach yogurt and canned peaches.
Strawberry Yogurt Fluff Salad:
Ingredients:
1 8oz Container of Cool Whip
1/2 Bag of Mini-Marshmallows
2 containers of Strawberry (or whatever!) flavored Yogurt
Fresh Strawberries (or canned fruit, either way!)
Directions: Wash and chop strawberries into bite sized pieces. Mix all ingredients together – save a few strawberries and a few marshmallows for topping presentation! Refrigerate until ready to use – can be made ahead of time, too.
That simple! No cooking required!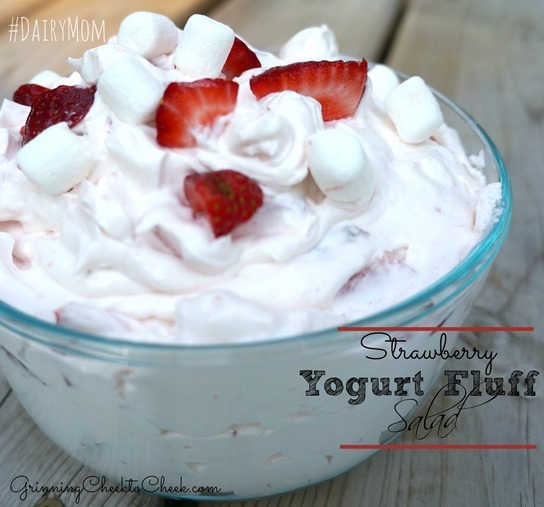 Disclosure: I was compensated for my time and ingredients by Midwest Dairy for this blog post. All opinions expressed are my own.