My sister-in-law recently brought over some Rhubarb for me from her garden, and I've just been dying to use it.  Then… Our local grocery store had strawberries on sale, which meant a match made in heaven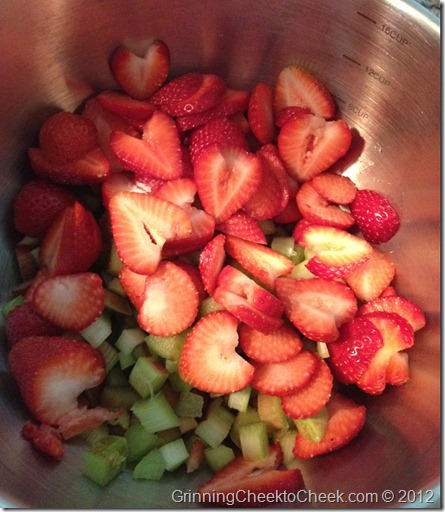 I was really excited to make a pie or something of the sort.  But just a few short days before, I made a Strawberry Rhubarb Pie with Jen from LifewithLevi.com.  So I figured that I should try another recipe.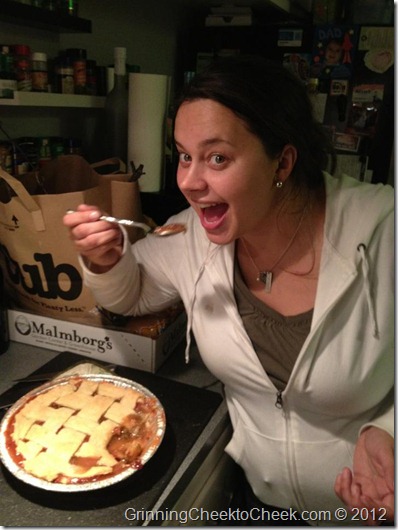 I looked up several recipes for all different types of items with strawberrys and rhubarb… but either was missing an important ingredient, or it didn't sound as good as I wanted it too.
So I combined a few recipes from online for the filling; and then used the 'crisp' from my Carmelita's Recipe.  I *love* the oatmeal crunch from the Carmelita's – so I assumed it'd be awesome with strawberries and rhubarb as well.
Here it is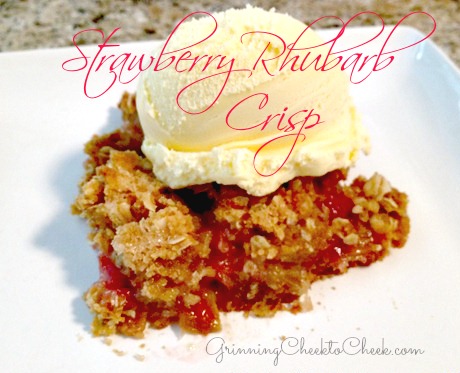 Strawberry Rhubarb Crisp:
Filling:
1 container strawberries – cut into 3-4 slices
4-5 stalks of Rhubarb (about 4 cups cut into smaller pieces)
5 Tbsp Flour
3/4 C. Sugar
Mix all ingredients together into a bowl.  Let sit while you make the crust.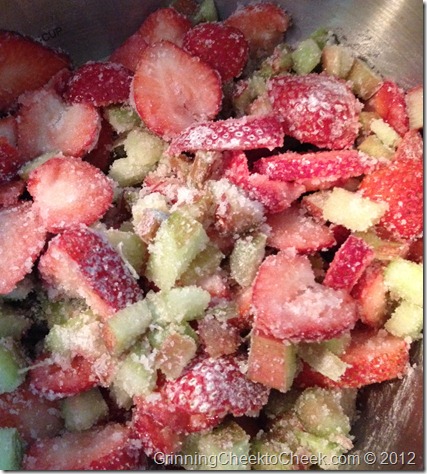 Crust:
1 1/2 C. Butter, melted completely
2 C. Flour
1 1/2 C. Brown Sugar
1 tsp. Baking Soda
1/2 tsp. Salt
2 C. Instant Oatmeal (I just used the packets because it's what I had on hand.)
Preheat oven to 350
Mix Flour, Brown Sugar, Baking Soda, Salt, and Oatmeal together –
Pour fully melted butter over the top and mix thoroughly. (I use my hands)
Put 1/2 of the mixture into a cake pan or casserole. Pat down flat and bake at 350 for 10 minutes (even if it doesn't look done yet, take it out).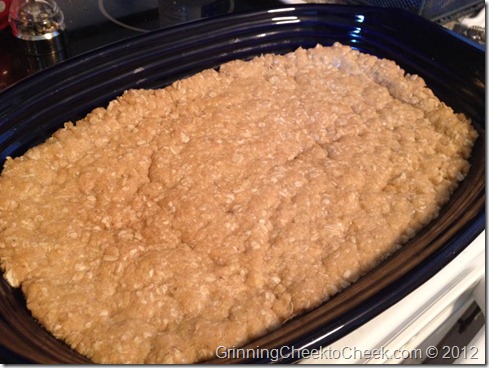 Then – pour in strawberry rhubarb mixture, and crumble remaining half of the crust over the top – being sure to cover evenly.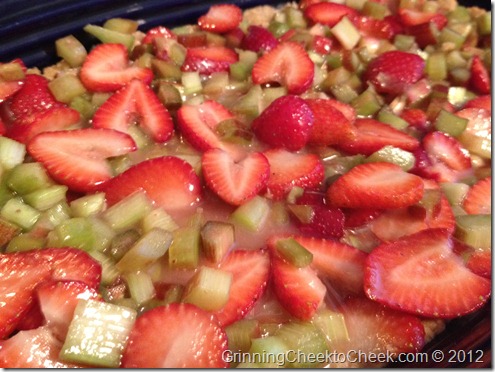 Bake for 40-45 minutes:  Keep a close watch on it so as not to burn.  I think mine was set for 50 minutes and at 40-45 minutes I took it out because it looked finished.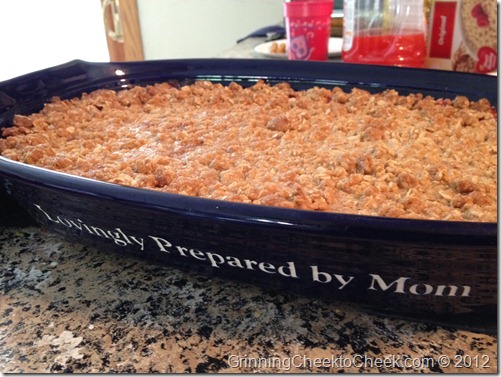 Serve warm with Ice Cream!  YuM!!!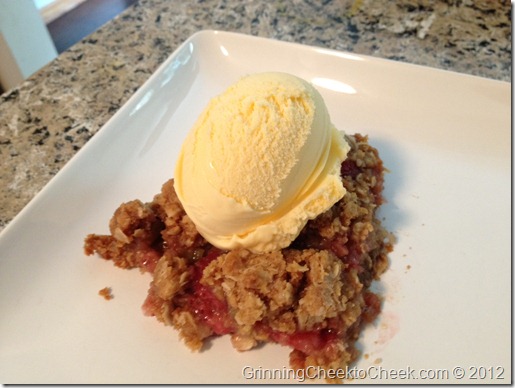 Like it??? I *Loved* it.  It didn't last long here though….
Do you make any special deserts from your garden?