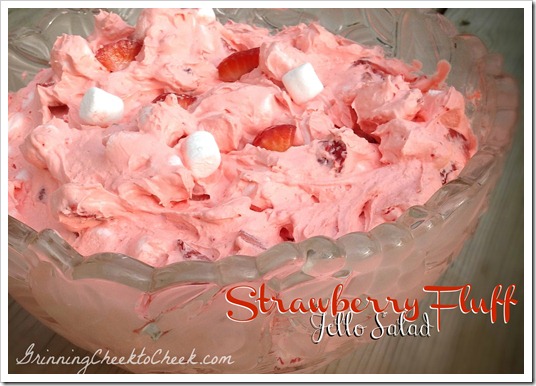 For Thanksgiving this year I was asked to bring a Jello Salad.  Typically my family makes some sort of cranberry Jell-o salad, or orange salad. But – I'm not a fan of mandarin oranges or cranberries in Jell-o.  I figured since I'm in the 'pinterest' generation – I could find something else amazing that I'd love even more.
But, I didn't.
Everything I saw had cottage cheese or mandarin oranges or was otherwise gross-looking.  So I figured I'd make my own using an adaptation of the SixSistersStuff.com Orange Fluff salad to make my own Strawberry Fluff Jello Salad.
Not only was it a big hit at Thanksgiving – I was asked to bring it again, at Christmas. So I figured I'd share the recipe with all of you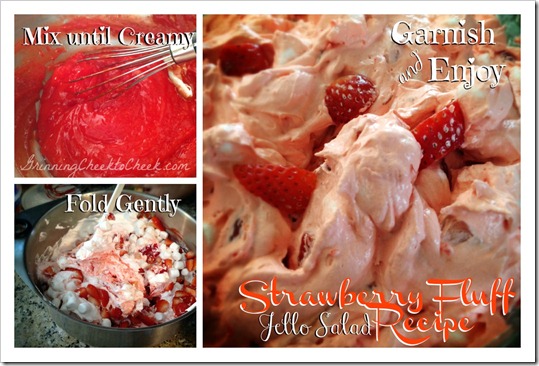 Strawberry Fluff Jello Salad Recipe:
Ingredients:
1 large package Cook and Serve vanilla pudding
1 large package Strawberry Jell-o
2 cups water
1 16 oz Cool-Whip (lite or fat-free is fine)
1/2 bag mini marshmallows
1 pint fresh strawberries cut into bite size pieces
Directions:
Pour pudding and Jell-o into a small pan and add 2 cups water. Stir well over medium heat until it boils.  Remove from the stove and pour into a very large mixing bowl. Refrigerate until it thickens.  (This takes apx 1-2 hours.)
When you remove from the fridge, use a whisk and a LOT of muscle to whip it until it is creamy and very few lumps are left. Add the Cool Whip – and mix lightly. Lightly fold in marshmallows and strawberries – save a few strawberries and marshmallows for a garnish.
Pour into a nicer dish – because this one will be messy. Cover and refrigerate until ready to go.
Happy Cookin'!
SHORT ON TIME??? Try the Strawberry Yogurt Fluff Salad!
It's a great second choice, and takes 5 minutes!
Click here for the Recipe.