My son Andrew has hated potatoes since the day he was born.  Ok, so he ate sweet potatoes; but he did not and still does not eat any potatoes currently… not even french fries!!  He's not even really that picky of an eater any more, but he still refuses potatoes.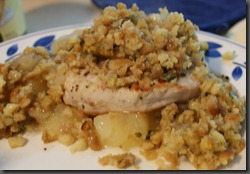 We surely thought that one time about a year ago when we made the Pork Chops with Apples and Stuffing recipe that he would certainly not touch the stuffing.  I mean – it has seasonings, and is brown, and… well… I don't know. We just thought he wouldn't eat it.  But man – he gobbled that stuff up like it was Thanksgiving!
Since then we've switched from Potatoes being our basic staple for meals, to having Stove Top Stuffing.  We buy it by the ton it seems, and the cashiers at the grocery store often ask if we're having a party.
One of our favorite ways of cooking w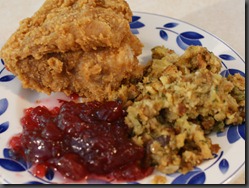 hat I like to call our 'lazy but delicious' dinner is throwing a few chicken breasts on the stove or grill – and making some Stove top, a veggie of some sorts, and crack a can of cranberry sauce.  It's by far my husbands favorite meal, and between the three of us will finish an entire box of stuffing and a can of cranberries.  The combination of the two are totally delightful!
Now that they've come out with the Stove Top Everyday Stuffing in the flex canister version – there is even more possibilities!  The canister allows you the ability to choose how much stuffing you want to make at a given moment, and then save the rest for later!  So if I'd like to make only two servings worth, I don't have to open a whole box and make it all at once! Or if I need just SLIGHTLY more than what one box has, but don't want to open a whole second box, I can use the flex canister!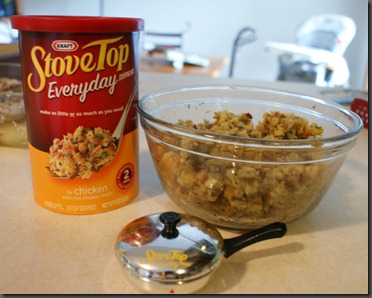 So if you're one of those people who consider stuffing to be only for Thanksgiving and other holidays – Think again!  Kick your potatoes to the curb one night, and whip up some stuffing. It's super easy to make – and tastes so much better!