Every single time that my husband has to change a poopy diaper – he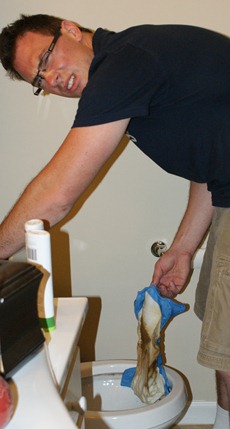 gives me… 'The Look.'
The look of evil. hatred. disgust.
It's as if I made my kids' poop gross.. (which I sort of did, by switching to cloth)
but it was gross before then too… we just didn't have to rinse it in the toilet or get it splattered on the floor or walls while we're trying to shake off the excess poop. because we never had to shake the excess poop!
Seriously. I sanitize my bathroom more now than I started doing after Andrew started using the potty – which was already over-kill.
Something about the diapers makes us feel like we're going back in time. Like we are taking our hygiene standards down a notch to satisfy our desire for cloth diapering.
because – really. It's gross.