Babies Stink
Our house is on the market!
It's clean, de-cluttered, and smell free.
And it needs to stay that way so it will look nice for showings and hopefully sell fast! But baby poop stinks. Some days, the smell the radiates from Micah's diaper is worse than old over-filled litter boxes.
For a month or so, his poop smelled like buttery popcorn, weird but fine, but since he's been eating solid foods it's just been getting stinkier and stinkier. He has a little onsie that says "I get my looks from mommy and my smells for daddy" and it's totally accurate. So, short of bringing every diaper to the outside garbage after changing, how do I keep the baby poop smell from being the first thing to greet buyers as they walk through the door?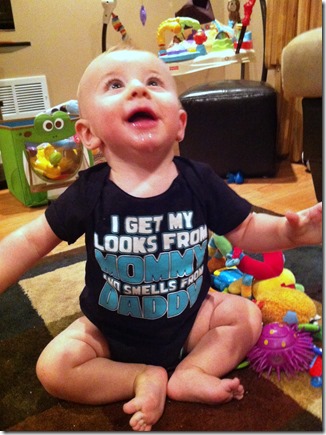 The Munchkin Arm & Hammer Diaper Pail is my Stink Eliminator!
I've been using the Munchkin Arm & Hammer Diaper Pail and it works great! It has at least 6 poopy diapers in it right now and I don't smell a thing. When I come home from work, I don't smell baby poop, or pee either! Even if he's eaten asparagus, spinach, or beans and his diaper reeks more than I thought possible given his size, once it's in the Munchkin Arm & Hammer Diaper Pail, it's gone.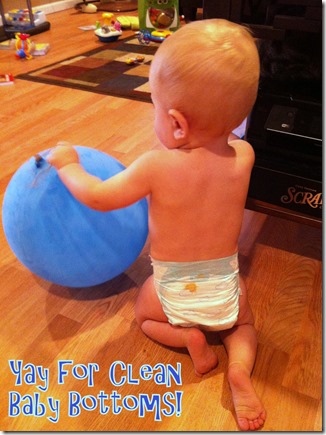 The Munchkin Arm & Hammer Diaper Pail is Easy to Operate
As soon as I opened the box, the diaper pail was ready to use. It came equipped with one bag in it and an Arm & Hammer deodorizer ready to screw into the lid. Easy peezy lemon squeazy. The Arm & Hammer deodorizer easily screws in and out of the lid, is refillable, and lasts about 90 days. And the bags click into the opening and holds 25 diapers! Which, with a newborn is a matter of days, but with Micah that's about a week. When the bag is full, click it out, fold the opening closed, and pull it out the front door. The front door locks closed so Micah can't get into it himself.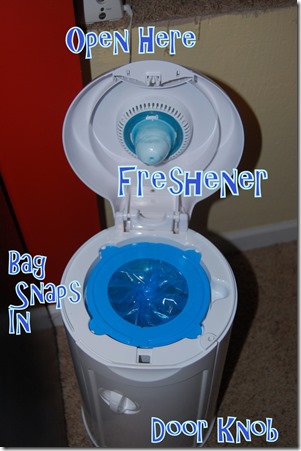 The Munchkin Arm & Hammer Diaper Pail lid can be opened with one hand, once I got the hang of it at least. It's a matter of pushing down the button and pulling up the lid at the same time. So, I tend to roll up the diapers then get them into the pail after Micah is safe and sound on the floor. He's a wiggly baby and I definitely don't want him falling off the changing table while I throw away the diaper.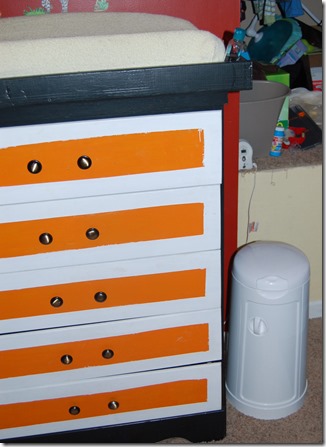 The Munchkin Arm & Hammer Diaper Pail is Smart!
Part of the awesomeness of this diaper pail is that the lid is connected to an internal rubber "sphincter" (for lack of a better word) that you easily push the diaper through to put it in, then when you close the lid it rotates to twist the top of the bag closed. Yay! Check out their video online for a demonstration.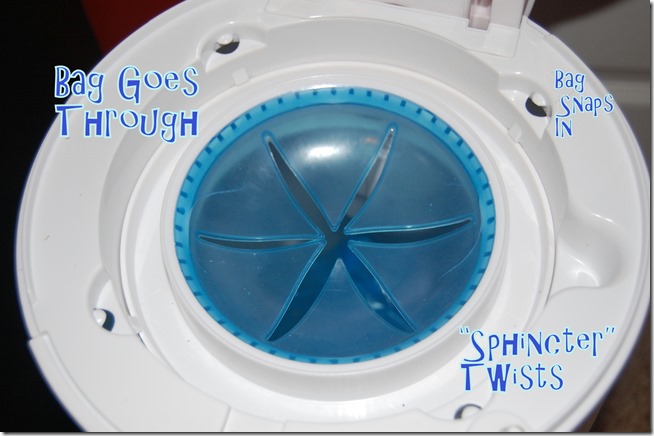 The refill bags cost about 50 cents per bag, so definitely more than the grocery-store plastic bags we've been using, but well worth it to be rid of the smell! A definite improvement. And two names we trust: Arm & Hammer is an odor expert, and Munchkin is a baby expert. Now if only we could get the cats to bag their own kitty litter!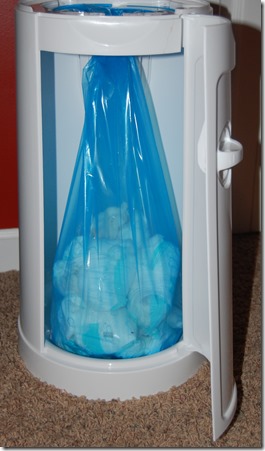 Buy a Munchkin Arm & Hammer Diaper Pail for Your House Check Munchkin out online, on Twitter or on Facebook.
The Munchkin Arm & Hammer Diaper Pail retails online for $39.99 or check it out with Munchkin authorized retailers, like Babies-R-Us for $32.99! Or check it out on sale at Target!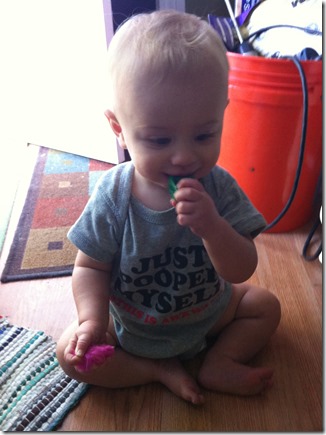 I was provided with my own Munchkin Arm & Hammer Diaper Pail as compensation for this post. Opinions are 100% my own.