The transition from infanthood to toddlerhood is really a complicated one.  The toys for the 'babies' are not as much fun for the 'big boys' – yet the baby toys are the only toys that Ethan can independently operate.
When we started working with Step2 we realized that we had a great opportunity to review a toy that would be fun – but also one that would last for many years to come. We steered clear of any toddler toys and went with something that the kids could play with when they're older.
We chose the Step2 Extreme Coaster.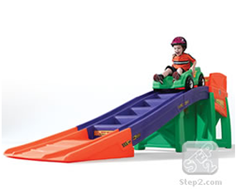 This toy has a had a few words to describe it…  My favorite one?  WICKED.
The Extreme coaster is really so cool!  We've played for countless hours on the coaster, and it's a great excuse to get outdoors!
Everyone needs one!
The neighborhood kids have been over often playing on it as well – and we've all been having such a fun time with it!  Ages ranging from Ethan (Yes, Ethan rode the coaster a few times!) all the way up to our oldest neighbor boy AJ who is almost 9.  They all love it.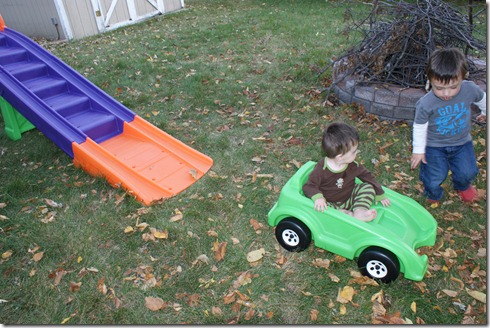 Step2 is really an amazing company. They charge only $9.99 for shipping on a toy like this, which comes in three large boxes and gets delivered right to your door.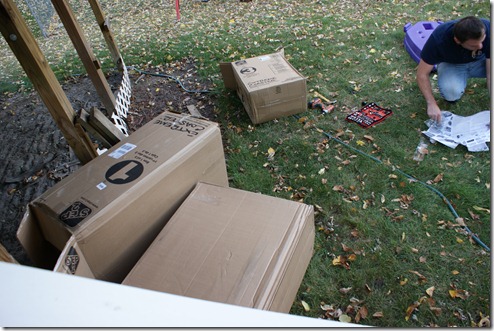 Don't look now – but that is my husband READING the instructions!!!
He got the whole thing together in about 30 minutes or so – and Andrew was near him the whole time – so it couldn't have been too complicated.
We chose not to put the stickers on it, because of the weather changes here and  – mostly – just because Andrew wanted to ride it right away!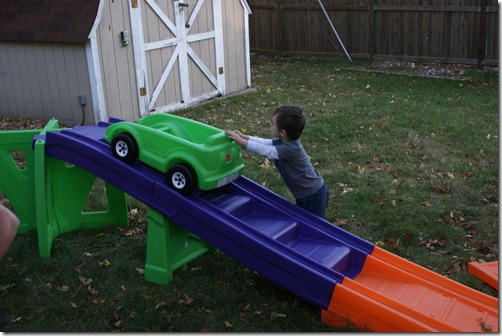 I think the only thing we were a little disappointed with was that it all screws together (for obvious safety reasons) but that makes it a little more complicated to put it away for the winter.  I'm just not sure how it'll hold up to the snow.  We'll probably put it in the shed when the snow flies… which might not be that far away!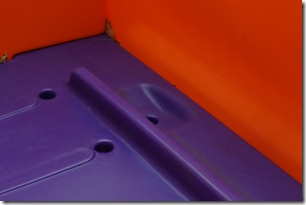 I love that there are little grooves for the car to sit when it gets to the top.  It mostly ensures that while Andrew or any other child is getting into the car, the car will not go rolling down the ramp.
Andrew has had fun trying new ways of pushing the car up and down the ramp – and loves going backwards.
We've had a great time with our Extreme Coaster, and I'm sure we'll have many many more hours of fun over the next several years as well!
How Can You Get One?
You can purchase the Extreme coaster online at Step2.com.  It retails for apx $250 – but is worth way more than that for the years of fun that your family will have with the coaster!