Speaking of that Step2 and Infantino awesome PlayDate event I attended while at BlogHer – I have also been reviewing a great item for Step2:  Their Art Easel Desk.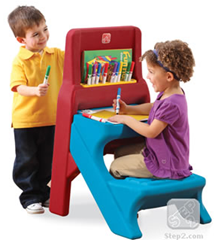 Andrew is not much of an artist yet.  I know some kids – you can hand them a crayon and piece of paper and they'll sit down and be entertained for an hour.  But, give some crayons and paper to Andrew??  He'll be entertained for approximately 45 seconds – give or take.
So naturally I was a little concerned about having an Easel and it being used.  I figured that maybe Ethan will be our little artist and that's when the desk will get used.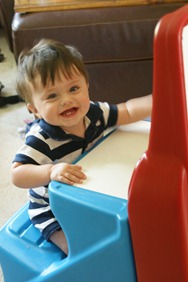 When the desk arrived, we put it together – Which was super easy – and Andrew first used it for his toys – he liked that he could hide his toys inside the desk.
Joe wanted Andrew to test out the sturdiness of the Easel with supervision –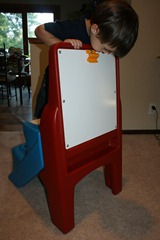 It's Sturdy!
We eventually showed him that the desk and easel was for coloring and crafting – So we sat him down with some crayons and paper –  He jumped right into the desk and colored a picture for mommy.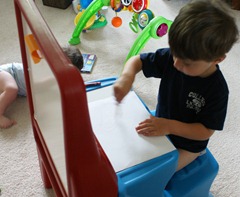 Because we didn't have many crafting items for him, I decided it was the perfect time to start shopping some back-to-school sales.
The first sale I hit had Dry Erase Crayons on sale.  Brought those home, and Andrew had a blast with his crayons on his dry erase board! (although they're harder to clean, they don't need a cap and work just like crayons.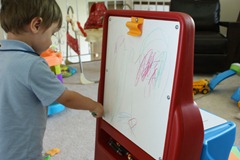 The next sale I saw had safety scissors and construction paper…
Guess what I learned? Give Andrew a pair of safety scissors and he will  go to town!!  He can sit and cut paper for at least an hour at a time… the paper is shredded into tiny pieces by the time he's done, and you need a vacuum to clean up the mess – but he loves it!  Maybe it's a Boy thing?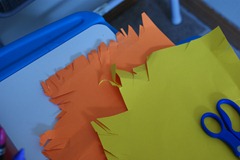 So we moved the Art Easel into the dining room, where it is Ok for him to shred paper into teeny tiny pieces and it wouldn't get jammed into carpet.  Also, his Dry Erase crayons would drop on the carpet, and they leave marks… good to know

We love our Art Easel, and it will come more and more in handy as Andrew is able to do more art projects and then when we start more preschool-like activities with him this coming year.