At BlogHer just a few weeks ago, I was invited by MomCentral to join them in a private event off of BlogHer property for a Play Date with Step 2 and Infantino.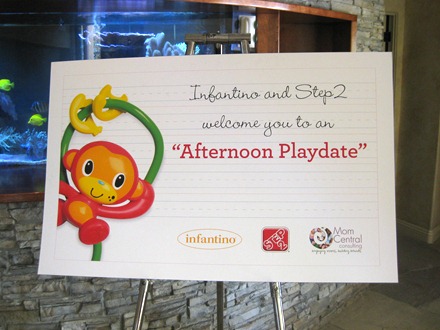 Step2 and Infantino are sister companies who tag team the baby and child market.  Infantino takes care of the babies pretty much up to age 18 months, and then Step2 takes over and handles the toddler on up toys and gear.  They're both amazing companies with great energy for what they do, and a passion for innovation!
Upon arriving to this party, in a beautiful house just a few houses off of the beach on Coronado Island – we were greeted with smiling faces and beautiful and well thought out craftiness!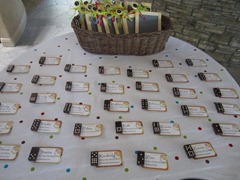 We found our amazingly cute name tag, and then we went up the spiral staircase to find a whole bunch of cute activity stations, including: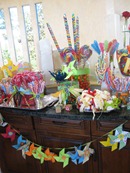 The Candy Bar – This was one of my favorite things – it was SO well thought out and prepared, it just looked amazing.  Everyone was able to take some candy home with them in the cute Chinese boxes! I grabbed a bunch of 'Lego' candy for Andrew to play with.  He still doesn't know that it's candy!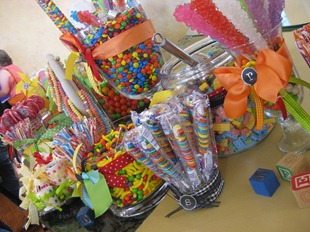 The 'Duckerate' a Duck station – Was set up on the patio, overlooking the water.  There were also tables set up with the cutest centerpieces on them – perfect for baby showers (I'll be keeping this in mind, for sure!) and chalkboard circles for everyone to write on.
The Creation Station – where you could create a mood board from magazines to help create your favorite kitchen look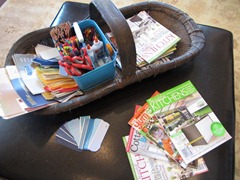 The Kitchen judging panel – they had several TOP SECRET kitchens drawn out on large posterboards for us to give our opinions on.  I felt super special to see what the kitchens are going to be headed towards in the upcoming years!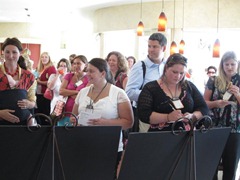 They also had a demonstration time, where they showed us their new wrap and their Right Angle Tummy Triangle which would have been very helpful to know about a few months ago while my son HATED tummy time – but now is just starting to crawl!!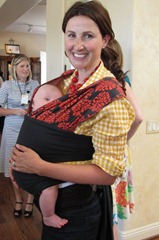 Gift a Little Bundle station – where we could use any Infantino toys along with cute wrapping paper, bows, ribbons, bags, and baskets to create our very own gift using Infantino toys.
All the while of the party they had a group from a local restaurant catering the party with grown-up kids meals.  It was delicious – They had their menu's planned very nicely, and it was all very delicious.
I loved their attention to detail in the little things.  Clearly they have a few crafters on their team, because some of the stuff they did was just so amazing.  I think being an ex-paper crafter I thoroughly appreciate all the hard work that goes into things like each individual party favor, and each ribbon and sticker so carefully placed.  It all took hours I'm sure.  but – it made the event so put together. Good Job Guys!!

Then last, but MOST CERTAINLY not least – we all headed downstairs and out to the back yard, where they had the spa set up with duckies in it.  Each duckie had a number on the bottom and everyone drew a duck from the 'pond'.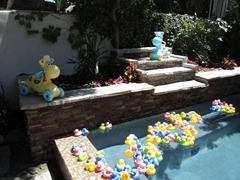 One lucky winner was going to win this LifeStyle Grand Walk-in Kitchen from Step2.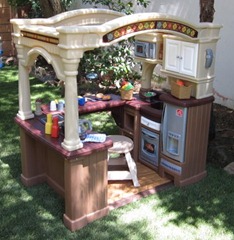 And Guess what??
.
.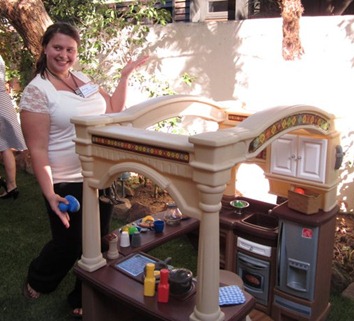 I WON!!!! Wooo HooOoo!!!
Andrew and Ethan are going to be getting this kitchen for Christmas – SHHhhh!!  Just don't tell them

Overall, I'd have to say that this was my favorite party that I went to during my whole BlogHer trip this year – Although, I went to a few other great parties as well.  This one pertained to my life with two young boys and I could relate with each of the companies products and ideas and they really just floored me with the thought and creativity that went into it.  They set the bar pretty high for the next several days of parties I was about to attend…. which was good- and bad.