Not too long ago I discovered the awesome pairings that Starbucks has come up with, called "Delicious Pairings".  Starbucks figured out the best foods that compliment each of their coffee roasts!  Last month I was able to sample the Starbucks Holiday Blend and Cinnamon Rolls!  Yum!
This time, I got together with a few friends and we sampled the Veranda Blonde Roast along with some Milk Chocolate items from The Bakery at Walmart!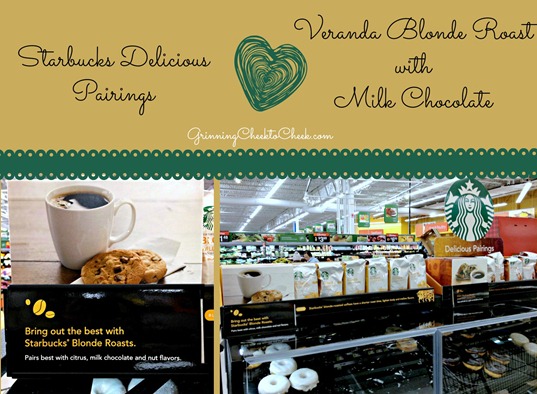 I went to a nearby Walmart to find the Delicious Pairings display. It wasn't too hard to find – It was above my favorite thing: Donuts!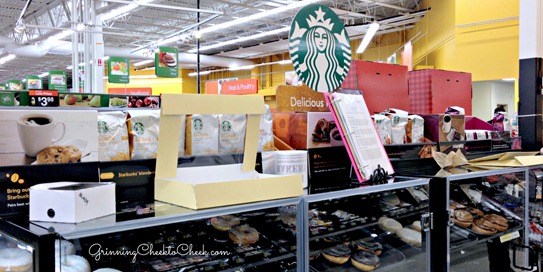 Unfortunately: I had to clear off the counter from a bunch of junk before I could really see the whole display: it seems that this Walmart was a little behind on cleaning – and was displaying their donut ingredients right in front of the sign.
I started to look around in the bakery area to find some great pairing items.  I was really looking for the Chocolate Muffins – but they must have been out of them: so Instead I got some Soft Chocolate Chip Cookies, and Turtle Brownies.  Yum!
It seems that I must have got the last container of turtle brownies – and some of the other items that were on my pairing list (chocolate cream pie and banana bread) were also out of stock. They must have been having a busy Saturday!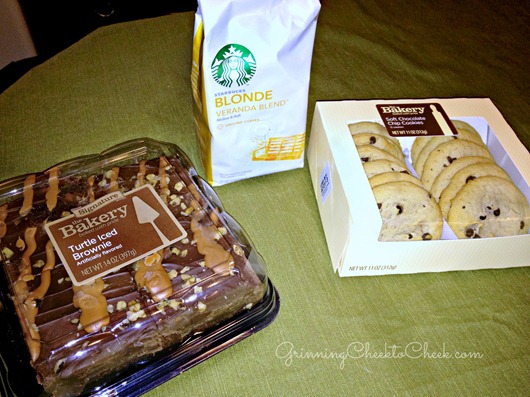 I was able to get together with a few friends of mine so we could taste the pairings together while catching up on all the girl-chat! All three of us are moms to toddlers (and more!) – so it's great to get away for a little 're-TREAT' away from the kiddos!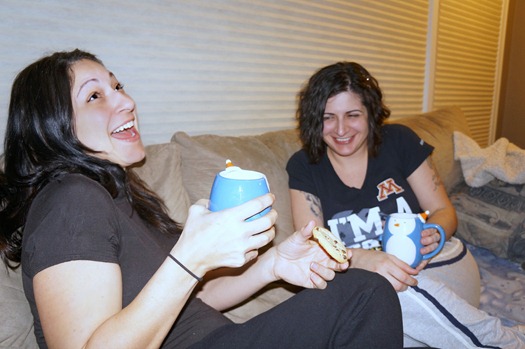 First we tasted the coffee by itself, and then had a bit of desert – and then tasted the coffee again to see how well they went together. We had a lot of fun trying the treats and enjoying our drinks together!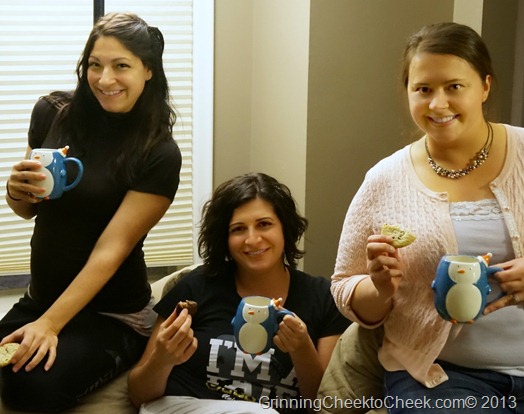 I love how the chocolate in the brownies and cookies really smooths out the coffee taste. It's hard for me to imagine drinking this coffee without some form of chocolate in hand! (Or maybe I'm just making excuses!)
I wanted to share with my sister-in-law who is a coffee addict (much like myself – except she drinks her coffee straight-up.) about this delicious pairing of the milk chocolate in the brownie with the Blonde Roast – so I set up another 'tasting' for us at home!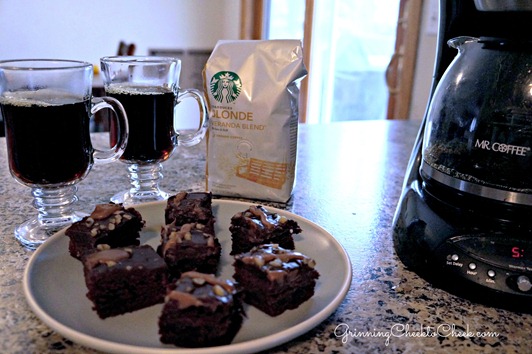 I have to admit: I'm not a huge fan of plain black coffee, and I've been drinking a LOT of the Starbucks Holiday Blend (which is a much lighter flavor) – so first trying it without cream and sugar with my friends – it was a bit shocking for me to handle. But after having a little bit of chocolate brownie, the taste was a lot more toned down. When I finally added my milk and sugar it tasted much better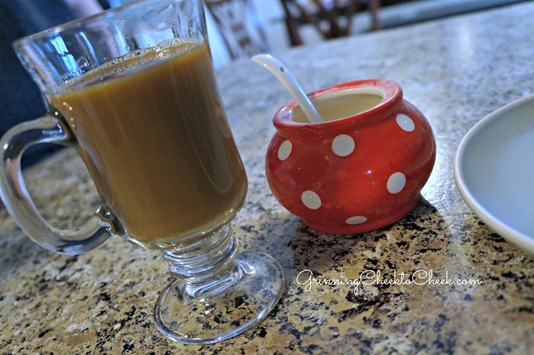 My sister-in-law wasn't a huge fan of the Blonde Roast overall, but definitely liked it more after having a few bites of the brownies.
Personally I'm not sure that I'd buy another bag of Veranda myself – but I'm really wishing I had purchased a few extra bags of the Holiday Blend, because I'm really liking that one and it's nearly gone!
I am fascinated by all of the pairings that there are – and I can't wait to try even more combinations! It's so strange what your taste buds are capable of and how complimenting these flavors are! It's certainly a good way to impress some friends!
This might be a new obsession of mine…
Want to try the Delicious Pairings for yourself?
Several Walmart stores have been hosting samplings for the Starbucks Delicious Pairings –
So If you're in the Minneapolis Area – you can try out the Veranda Roast along with some bakery items tomorrow, Saturday January 26th at the Walmart in Shakopee, MN!
I am a member of the Collective Bias® Social Fabric® Community. This shop has been compensated as part of a social shopper insights study for Collective Bias™. #cbias #SocialFabric