Everyone knows about Starbucks and their amazing selection of drinks.  My favorite is the Venti Non-Fat Caramel Macchiato.  Sometimes I get it iced, and others, just plain.
Recently, Starbucks has been making an upgrade in their line of Other Items to be purchased at the counter.  They not only offer breads, muffins, and cake pops – but they now offer Bistro Boxes!
A Bistro Box contains the essential ingredients for a great meal.  Healthy and fresh, these meals are fabulous.
I was given the opportunity to sample a Bistro Box, and blog about it!
So while we were out the other day, we drove by the local Starbucks and grabbed a bistro box and a drink!
The lady behind the counter looked at me like I was just a tiny bit crazy as I was photographing her Bistro Boxes.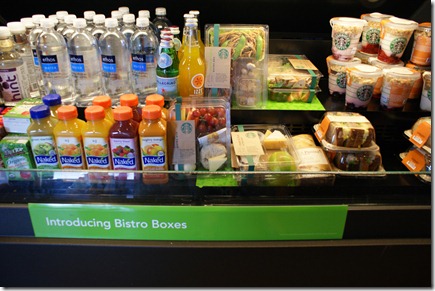 They had a few varieties to choose from.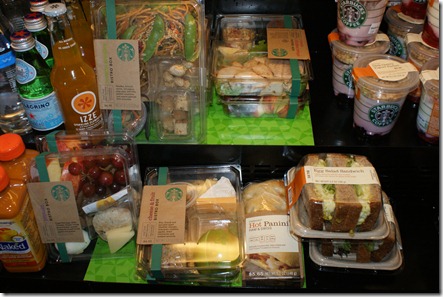 I was very temped to try their protein box, because it was more of a snack time than dinner time for us..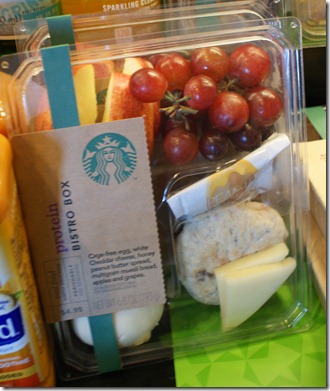 But then I saw the Chipotle Chicken Wraps – and those just sounded WAY too good for me not to get.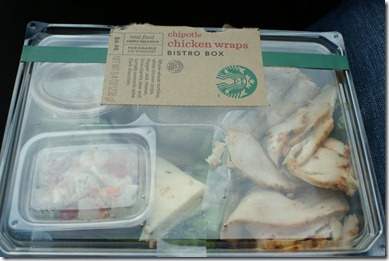 Got my drink and my bistro box, and headed back to the car.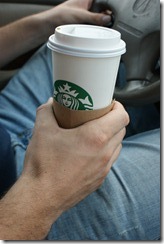 All the food inside was very fresh, and separated so nicely.  The chicken laid on a plastic lining that separated it from the lettuce and wrap, so they wouldn't get soggy.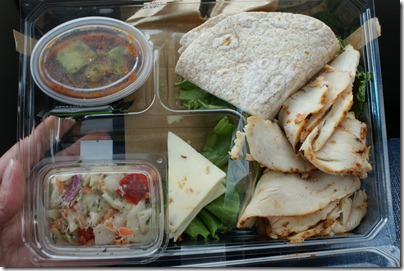 Mmmm.. This was a great treat for my tastebuds – the perfect blend of chicken, salsa, lettuce, cheese, and spiceyness.  I loved the avacado in this salsa.  We had three wraps.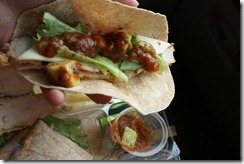 Also those containers were so nice – I kept them so I can reuse them at a later date.  They're the perfect small size container that we never seem to have on hand.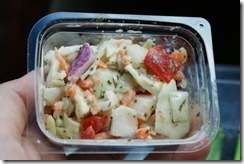 I assumed that this was a small side-salad – so I saved it for the end.  However, I found that it didn't really have a great flavor all alone.  It didn't taste bad or anything, it just would have tasted AWESOME in my wraps.  Next Time!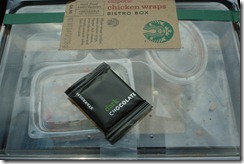 Best part of the meal?  When I was all finished, I found a little Dark Chocolate bar

  I didn't share this.
You should head over to your local Starbucks and try out your own Bistro Box – I found a coupon on the Starbucks website (after the fact) so I'll be going back there to get another one soon!
I wrote this review while participating in a campaign by Mom Central Consulting on behalf of Starbucks Bistro Boxes and received a gift card to facilitate my review and thank me for taking the time to participate.