So while I have already talked to you about the great importance of shredding your papers to de-clutter and organize your home – I wanted to also show you another shredder.  The Staples Mini-Mate Shredder is light-weight and is small enough for your desk or for moving from room to room.  The shredder can handle up to 6-full-size sheets as well as CDs, DVDs, paper clips, and credit cards.

Our goal (although we have not achieved 100% success rate yet..) is to have the mail come into the house; and immediately shred the junk.  That way we only have stacks of papers that are necessary to look through.  Although this has its issues as well: because my husband has a hard time determining what is important and what is not – so he sets the mail in a pile waiting for me to go through it… Maybe someday we'll find that balance..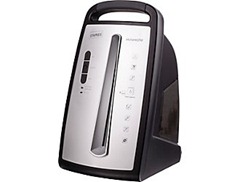 I love that this shredder is smaller and has a handle.  We have moved it around a few times to find the best place for us to have it.  I think having it in a convenient place, yet not in the middle of the kitchen counter is ideal – and will help you be most efficient in your home.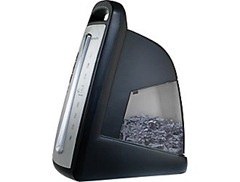 Or maybe if you're one of those people who doesn't want their shredder sitting out anywhere – this is easy enough to put even on the top shelf of a closet and take out when needed, because it's so light.
The Mini-Mate Shredder has a trap-door style opening to dump the shreddings in to the garbage – which has its plusses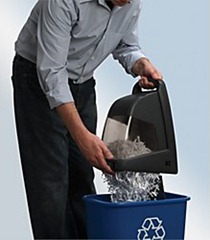 and minuses.  My husband had taken it out of the box first and gave it a try with some papers – and then I came later and was playing with it.  I had thought I could dump the shreddings by pushing the lever in the back and having the back come off; but I was TOTALLY wrong.. I couldn't figure out what the lever did, so I picked up the shredder and the trap door opened and paper was all over my living room floor.  But – now that I KNOW that that button opens the door up from the bottom it's great! it's like my Dyson, which you hold over the bag and click the button and that's it… you don't have to balance anything or worry about any big messes!
I put this shredder to the test with seven papers at a time and it did just fine. It is a little slower than my other Staples shredder; but being that it's a smaller shredder and meant for a smaller load of shredding – it's perfect for the home.
And I saved the best for last: this shredder is GREAT for families on a budget who don't run home businesses or have several things to shred. At $49.99 you can hardly beat the price for a high quality shredder that works perfectly for your day to day shredding needs.
This shredder is specific to Staples and can be found online at www.staples.com or in Staples retail stores. –Or if you're lucky, you might win it here at Grinning Cheek to Cheek as well!
Win It!!!!!!!
Staples is offering you the chance to win their exclusive Mini-Mate Shredder Valued at $49.99!
This first entry is MANDATORY: Please 'like' Staples on Facebook.
Optional Extra Entries: (only after mandatory entry is done!)
Subscribe to my blog via email
Follow my blog publicly via GFC
Follow my blog via Networked Blogs
Post my NEW Button on your blog. This button is different from the old one and the coding will need to be changed.
Follow GrinCheek2Cheek and StaplesTweets on Twitter on twitter and tweet about this giveaway:  (this may be done daily)
#Win a Staples Mini-Mate Shredder to #Organize your life @GrinCheek2Cheek #Giveaway Ends 5/6 http://tiny.ly/yZ7v
Like GrinningCheektoCheek on Facebook!
Vote for me on picket fence blogs. One Entry per vote(per day).
Enter any of my other Current giveaways. 1 extra entry per CURRENT contest entered.
NEW: Post my link on any of

that day's

CURRENT

Public Giveaway linky for this giveaway.  Should say something like – GC2C– Staples Mini Mate Shredder- Ends 5/6 *and the link*. Comment to me the link to where you submitted it. (i.e. for a Tuesday Giveaway Linky – post it anytime before midnight that same Tuesday)
Open  to U.S. only.  Giveaway ends May 6th, 2011 at 11:59pm. Winner  will be drawn by random.org the following day, and will be e-mailed. Winner will have 48 hours to respond or a new winner will be drawn.  Winners will be announced on this blog after all have responded.  I received free product review purposes. All opinions here are 100% my own.