Well, I'm hoping that I can say officially here now: that spring has finally sprung.  We have leaves coming on the trees finally – but I'm afraid that they might go back in!! This winter has been TERRIBLE as far as cold weather.  Now we've just been getting rain and storms!
But It seems I've been seeing the neighbors finally putting out their outdoor furniture on the decks!  Last friday it was nice enough to even get together with one of the neighbor families and have a bonfire and S'mores in their back yard!  We were going to have a fire; but they were already having one – and so they invited us to join them instead!
I pulled out the patio chairs earlier in the week when I was working on the garden; but have since had to put them away because of all the rain we have gotten! They're used to being in an enclosed porch! not out in the wide open yard!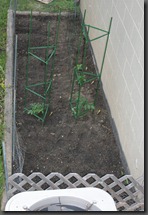 But I did end up getting my garden planted! I'm really excited about my garden this year – being the first year that I have my own space to garden in vs. a community plot at the condo!
Someone who lived her previously obviously loved

their garden. it's the only place around the entire house that has gutters. Keeping the rain drainage away from the garden is much more important than saving a driveway from collapsing…

I'm not sure I've ever shown pictures of our backyard yet! It's always been covered with snow – So I just took some pictures for everyone to see!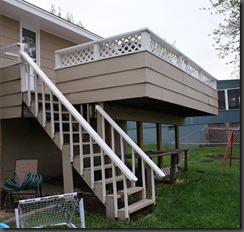 Our infamous Deck.  Ugh – This thing is terrible. Rotted on top – some boards I wouldn't even step on – because they're so rotted!  No wonder the city is requiring repairs… All the contractors though say to bring it up to code It'd be more cost effective to tear it down and start over. almost nothing on this deck is sound.