When we moved from our tiny condo to this house – we went from having all of our … 3… windows covered – to ONLY having 3 windows covered.  It was one of the first things on my 'to-do' list… because Andrew was up at the crack of dawn every morning.
I had someone come and measure and price out room darkening shades for the house.. and let me tell you – it was NOT cheap.   At. All.  So we moved on from that idea – and hung towels on Andrew's bedroom windows – and that's where we have remained ever since.  No curtains in our bedroom and towels in Andrews room.
Until I met the lovely people from Sound Asleep.
They kindly set us up with room darkening curtains for Andrew's Room.  So now we actually have the option of light or complete darkness for him!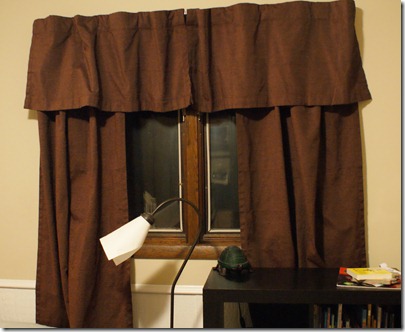 Sound Alseep Curtains teamed up with the National Sleep Foundation and has created a curtain that they believe is the best possible scenario for the best sleep.  Darkness.
Their Textured Chenille fabric with a soft Thermaback coating applied makes the room darkening qualities the best.  
Not only that – his room is on the NW corner of the house, and below it is an un-insulated garage.  His room is by far the coldest in the house. But the curtains also have a thermal property that aids in the home heating and cooling costs!  I'm excited to see the difference it makes in Andrews room.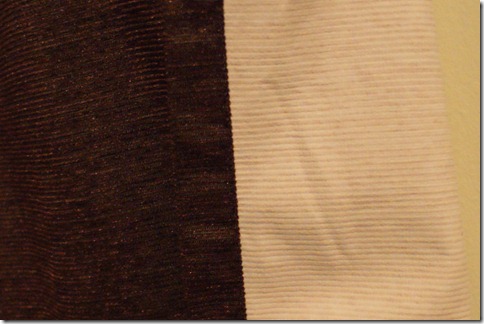 When we opened the curtains – they had a funny… smell.. to them.  Not exactly what I was expecting – but upon reading the label, we realized that they are super easy to wash and
I love the way that the curtains look in the room.  Please keep in mind that these curtains will look SO much better when Andrew's bed isn't up against them, squishing them. But meanwhile – they're 100,000 times better than the towels we had.
We got the backtab valance – although I'm thinking the valance is a little much for his room – but we don't have a fancy curtain rod – so they'll do for now

The Sound Asleep Curtains come in so many great colors, size, and with two choices of valance style.  We went with the chocolate.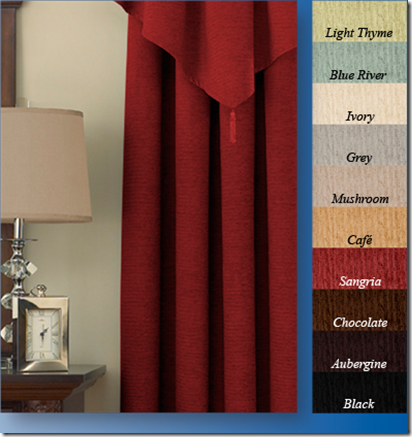 We're so happy with our curtains, that we're looking into getting the Aubergine Color for our room.  I'm assuming that Aubergine is a deep purple – please correct me if you know I'm wrong!!  But we have a deep purple color comforter, and definitely NEED curtains in our room.  I am forced to change clothes in the bathroom in fear of someone SEEING me.
For more information on the Sound Asleep Curtains and how you can purchase them – please visit their website at http://www.soundasleepcurtains.com.