Micah is an incredibly independent little man, which means he is on his feet a lot. He runs around the house, the yard, the church, and everywhere else. Inside, he goes barefoot most of the time. Outdoors, the sharp burrs in the sand hurt and the pavement in the sun gets burning hot fast, so shoes are a must. We recently received a pair of shoes from Robeez to review and everyone raves about how cute they are! Robeez shoes are a great kids shoe option.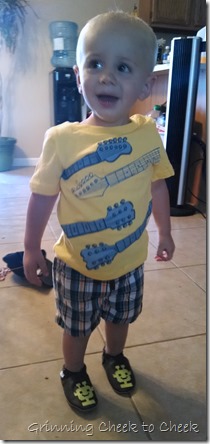 Let's Go Outside Mom!
Robeez Soft Soles Collection
Micah's Robeez 8bit Android Soft Soles shoes are soft and comfy with leather bottoms, so I don't worry about the hurting his toes or rubbing on the top or back of his feet. They are also really easy to put on because they are stretchy in back. The design is super cute and gets compliments all the time, it's sharp and bright and just plain cute. The design is also well-attached so I don't think it'll fall off or wear off anytime soon.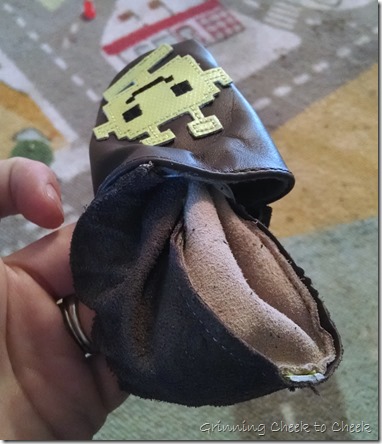 The only problem we've had with Micah's Robeez shoes is that the soft soles have no grip, so he slips if he wears them on the tile inside and gets excited. On carpet or outside, no problem. And he's pretty steady on his feet so he's pretty good on the tile too. This huge plus of them being so soft: they don't hurt my legs while he's sitting on my lap! Which means these are definitely the shoes he will be wearing when we fly to MN next week!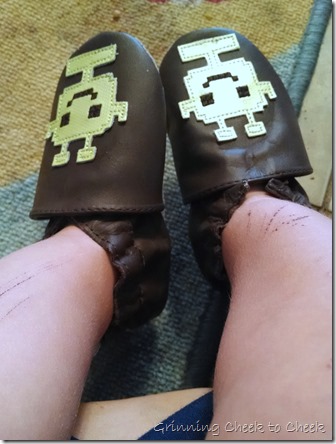 Check out Robeez selection of shoes and more for yourself online, on Facebook and on Twitter!