The first site that I came across that introduced me to the world of product review bloggers was MinnesotaMamasMustHaves.com. I loved that she got to review all these fun items (I was pregnant with Ethan at the time) that was for newborns!
At one point in time, she did a whole bunch of cloth diaper reviews – Most of her reviews were really up-beat and positive – but I could tell that SoftBums were her favorite. Hands. Down.
So when I thought of Cloth, this is the diaper I wanted to try most. After all, I trusted her opinion.
So I really hope those of you who are actually reading these posts (and others) can see my true opinions as well. However- I fully intend on giving you all a breakdown over the next few days of my favorites of diapers (So Far).
My Ratings:
See this post to find out more about my rating scale.


To assemble the diaper is really easy – it's simply a snap-in insert. You fold over the excess to make the insert fit to the length of diaper you have.
The insert is labeled and easy to find among the other diapers
Now – The diaper is meant to be used with multiple inserts that you just keep using the shell and change the insert so long as the shell stays clean.
I am slightly paranoid about putting a (somewhat) dirty diaper back on their butt, even though the truth is that its unlikely to make a difference. However, I only have one insert – so that isn't a problem here.


The fit of this diaper seems a bit bulky to me. Many people who have reviewed this diaper say it's one of the trimmest diapers they know – but they might be using a different insert than I have.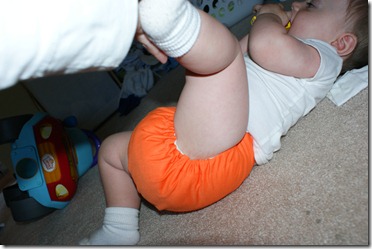 My insert is THICK. Granted – I mentioned to Sarah, the owner of SoftBums that I have a heavy wetter – and so she sent me the Super Pod – which is meant for the heaviest of heavy wetters, nap time, and overnights.
The diaper is still less thick than our night-time diapering techniques, but I haven't gotten the guts enough to try this diaper overnight. I'm sure I'd have to add another insert to this as well in order to have fully dry sheets – but you never know until you try!!
I typically just don't really like the bulkiness of Microfiber – so I tend to lean towards the natural materials – maybe with a little bit of microfibers for the fast absorption, but not fully microfiber.

The super pod insert is very soft. I love the fleeced top to the microfiber insert, which also makes it much easier to clean as well when you get a poopy mess.
I very much love the slide2size technology – once you get the right size, you can stay there for a bit and continue to adjust the straps as baby grows.


Really Easy. Simply toss it in the washer, and toss it in the dryer!
No un-stuffing and technically you don't *have* to remove the insert from the diaper before washing, because it's only attached on one end.
At least with the microfiber insert this diaper is fast drying and should be good to go from the dryer!


I love the look of this diaper.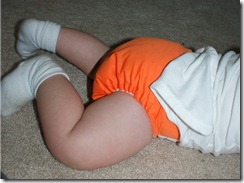 One thing that irks me a little is that I can usually see the outlines of the excess straps inside the front of the diaper where you tuck the slide2size stuff. It's no big deal really.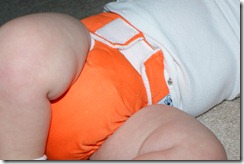 I love the color options – I'm a big fan of orange butts for some reason. But WOW this orange is VIBRANT. Think Neon Poster Board orange! It might blind you

But I still love it.


These diapers are slightly on the expensive side if you're going to buy them based on changing a full diaper each time including the shell.
The way I would prefer to do it – I'd be buying a Shell plus a bamboo insert – and that would run around $32.00 each.
But because it's so easy, and the insert covers so much of the shell – I'd be tempted to jump on board with switching inserts instead of the whole diaper each time, which would save a ton of money.
For an entire system as according to them (needing 8 shells and 24 [bamboo] inserts along with 8 mini pods) this set would run just under $400.
Or if you're OK with the microfiber inserts – you can get by with just under $300 for the set.
Either way – it should get you through from infants through toddlers!
Pretty good deal if you ask me!


As long as I have the Slide2Size adjusted to one of the children, and leave it there – my husband is fine.
Being that we only have one of these diapers – he's not really interested in taking the time to learn the inner workings of each individual diaper – so he might get frustrated if he tried putting this diaper on Andrew-
But. If we had an entire set of these diapers – I'd be sure to make him learn how to slide the size to correctly fit the boys – so that he can adjust the diapers as needed.
As anyone who reads all of my other posts knows – my husband loves Velcro closures and easy inserts – so this diaper is a hit for him



Personally I'm still a bit torn on the diapers – I'm not sure that I *love* them, but I certainly trust them as far as holding leaks.
I do wish that I had a few more inserts to try – especially a bamboo insert so I could see how trim the diaper can get, because that's a big thing for me.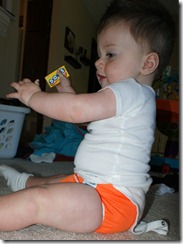 With the bulk of this diaper and the super pod – I am not able to pull Jeans on to my youngest. In fact – I wasn't even able to button this onesie around his bottom –
Andrew's jeans have some room still – so jeans for him is still an option (Thank God!)- So I might just switch up this diaper to be an 'Andrew' Diaper instead.
I think the making of this diaper is superior to most diapers that I currently own. The quality of fabric plus the quality of workmanship really shows in this diaper – and leaves me to want to love this diaper more than I'm showing.
I am going to order myself a bamboo insert and maybe a few other inserts and give it a try – If I get a chance, I'll report back.