I get into swings, where I'm constantly craving… what most people would call soda.  Being a native Minnesotan, I know it as 'pop'.  But for your sake today – I'll use the word 'soda'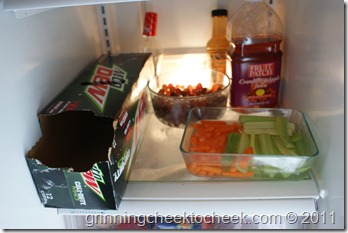 The problem is – is that if I buy a 12 pack of soda – It will be in my fridge for less than a few days – and my husband will Drink.It.ALL. His theory is: 'If it's there – it needs to go away. Fast.'  – or so it seems.
So I get a little frustrated when I'm craving something bubbly – and there is none.  I even have been known to hide cans of soda in places like my underwear drawer, in the backs of cupboards, and behind my vegetable drawers in the fridge… just so I have emergency back-up.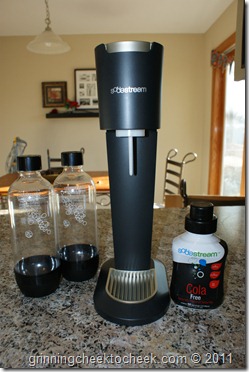 But now we have a SodaStream Genesis Home Soda Maker.  It's pretty awesome actually.  It's small, portable, non-electric, and pretty lightweight – so I can keep it in the pantry, and only take it out when I'm craving something bubbly to drink.  My favorite is their Cola Free.  I'm not normally one to drink 'free' or 'diet' drinks, but this one tastes just like Coke to me, and Has no calories!
The SodaStream comes with a CO2 can that you screw into the inner workings of the machine.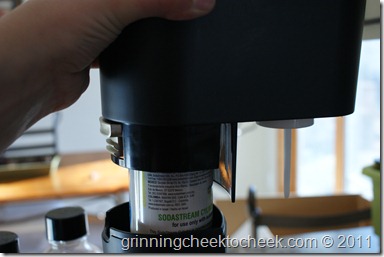 It works specifically with SodaStream Bottles and water only.  There are clear warnings on the bottles that say do not wash them in the dishwasher, and only use with water.  I'll explain why shortly.
Simply fill the bottle with water (yes, tap water is fine) and then screw it on.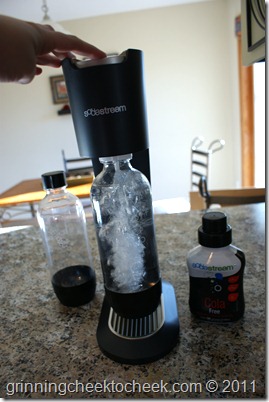 Push and hold the button on the top of the SodaStream until you hear a loud noise. Let Go and do this two more times.
Then fill the cap of your choice of Syrup, and dump it into the carbonated water, re-cap the bottle, and lightly swish the bottle around to mix the syrup in.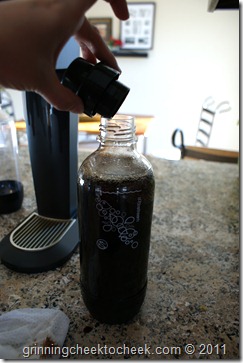 The first time my husband used the SodaStream – he didn't read the directions (surprise to anyone??). He realized that he hadn't held the button down long enough to make the noise – and therefore ended up with too little carbonation.  Then tried to add more carbonation after he had already added the syrup.  There's a warning on the bottle saying to ONLY use the SodaStream with water.  There is a reason that warning is there:  When you unscrew the bottle, the liquid inside will spray across the whole house.  It was not a fun cleanup.
We recently were in charge of bringing drinks to my nephews birthday party – so we just brought the Soda Stream.  It was a big hit with everyone

  We tried several different types of beverages and even flavored waters.
It was perfect for that setting because everything I needed was right there, and people could drink what they wanted!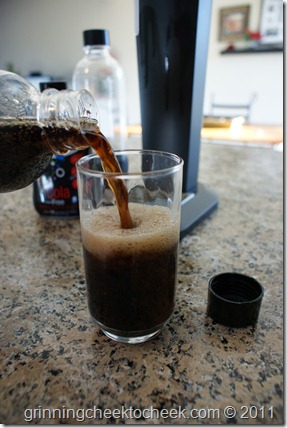 So if your family loves to have soda in the house, but you're sick of buying it by the ton or having it go to waste – this would be a great option for you!
You can purchase the SodaStream Genesis from Best Buy or bestbuy.com.  the reviews on bestbuy.com are phenomenal as well and will give you a good idea of what types of syrups are everyone's favorites!
I have received the reviewed product from Best Buy for free.