Where playtime revolves around tiny little blocks that are spread throughout the house, and get stepped on and lost.
Around a month ago we were randomly sent a rather large box from Mega Bloks.  I couldn't figure out why they were sending me something, because I hadn't talked to them in almost a year…
Either way, Andrew was there when the shipment arrived – and as we opened it up – his eyes LIT up.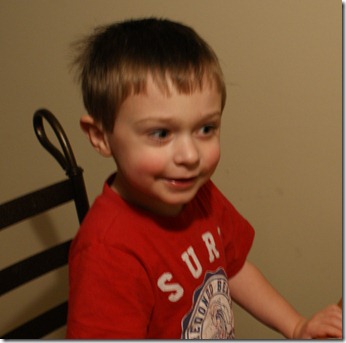 You know what was in that box???
Blok Squad.

Have you heard of them?  I guess I really hadn't paid much attention to them, because they're meant for kids ages 5+, and being that my boys are 1 and 3…. It's a little out of my radar.
But – Andrew was SO excited!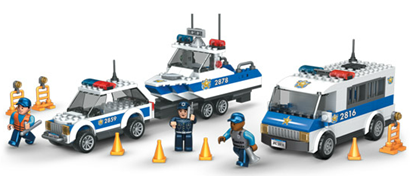 I mean – a police truck, car, and boat?  Paired with another box filled with Construction vehicles?  Couldn't have been more exciting unless if it was a box full of trains!

He instantly wanted me to put them together.
I told him no, that he'd have to wait for his Daddy to come home, and until Ethan was in bed.  These aren't toddlers-who-put-everything-in-their-mouth-friendly.
So he couldn't wait for Ethan to go to bed that night.  Him and Daddy built them all – and he spent until almost 10pm playing with them..
And even brought them in bed.
And the next morning??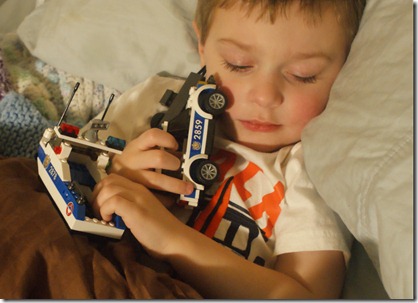 I think it's great how his imagination is really firing up with these Blok Squad blocks – but at the same time? I'm THISCLOSE to ditching them into the trash (or bagging them and saving them for a few years) because I continuously find pieces scattered throughout the house – and when he's missing a piece from his truck or boat, he's crying that he can't find it.
Also… The rubber part of one of the tires mysteriously disappeared from it's wheel.  I'm betting that it went down Ethan's throat and is engulfed inside a diaper at the dump.
Being that the Mega Blocks brand is much less expensive than the Lego brands – We wanted to see the difference.  They did seem to work interchangeably for the ones that we have – but we don't have that many small Lego brand Lego's either, so don't hold me on that.  My husband did get a little frustrated with a few pieces that would randomly POP off of their spot, because the interlocking part was off-size – so they're not perfect – but still exciting and fun to play with!
I received these products free of charge in exchange for a review.  My opinion is in no way influenced by the free product.