Mamas & Papas Baby Snug is a great chair!
Micah loves his Mamas & Papas Baby Snug! It's a lot like a Bumbo but has a wider base and can accommodate bigger kids. At 5 months old, Micah's little thunder thighs were getting stuck when we lifted him out of his Bumbo, plus he could wiggle so far to the side I felt like he would tip the whole thing over. The Baby Snug has a removable insert to grow with baby, a safe wide base, and a removable tray!
The Mamas & Papas Baby Snug has worked great!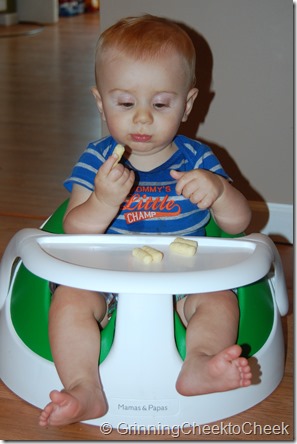 Mamas & Papas Baby Snug is Safe
Mamas & Papas thoroughly test all their products to make sure they are safe for baby. They care about the safety of your baby and want to ensure their products are safe. The Baby snug has a wide base so baby won't be able to tip it over. It is also ergonomically designed to provide comfort and back support for your precious baby.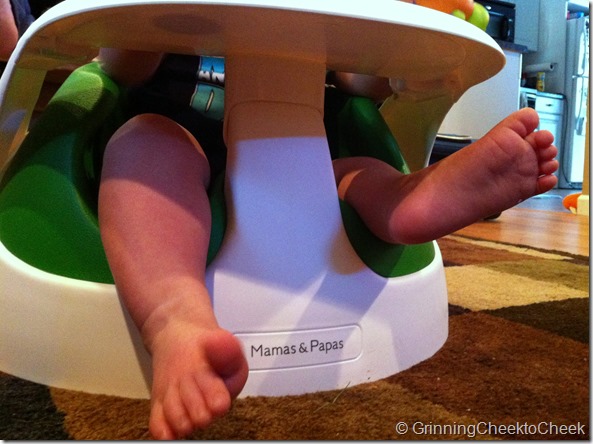 Mamas & Papas Baby Snug is Useful and Fun
Mamas & Papas Baby Snug can be used for many purposes: eating, playing, relaxing, or interacting. Each Baby Snug comes with a tray that is super easy to put together, and then can easily come on and off. It is a wide tray with plenty of room for food or toys. And Mamas & Papas also sells an Activity Tray that fits right onto the Baby Snug tray for baby's entertainment as well as gross and fine motor movements. Toys are so important to a growing baby's learning needs!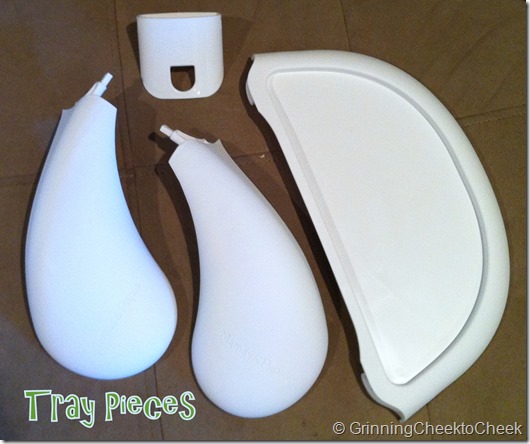 With the tray off, baby can sit and play with bigger toys, interact with the people around him, or just sit and take in the world. Micah loves sitting, and now he is really good at it, but he used to tip over a LOT and a baby chair was really helpful to keep him upright if I didn't have time to be sitting right with him. It also is phenomenal to use when we want him to stay put and not crawl all over the house; he is content to sit in his baby snug and play, and can't get out without our help.
With fun colors (Micah's is apple, they also sell raspberry, teal, plum, and red) for the inserts, the Baby Snug can work for any house. Plus, it is simple to wipe clean and use again! And lightweight so it's easy to bring on trips or to grandma's house. Or it can be used outside. Micah loves to sit and watch the cars go by!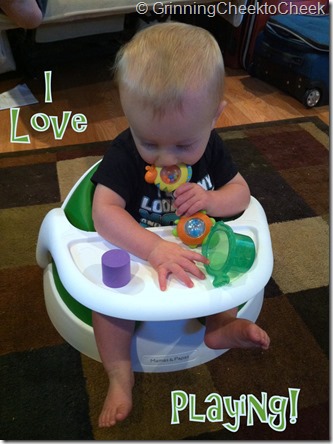 Mamas & Papas Baby Snug also has a removable insert to allow for longer use as baby gets older. The insert is kept in for babies less than 1 year old and is soft enough to be a little padded, small enough to comfortably support a little baby (as soon as he can hold his own head), but big enough to allow you to easily get baby in and out. Once baby is too big for the insert, simply remove it and your toddler can easily get in and out or a bigger chair!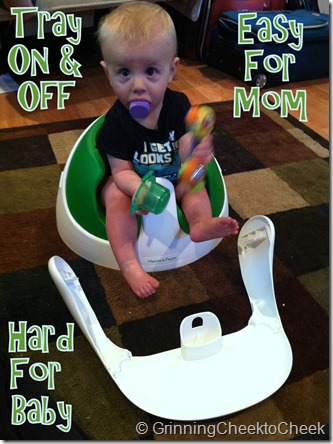 When Micah used to sit in his cousin Molly's Bumbo, she would get jealous and squeeze her little toddler bum into it, then say "stuck stuck" when she couldn't get out. With the Baby Snug, she would definitely be able to get in and out easily and have a chair more her size. I look forward to using it more as Micah gets older!
The Mamas & Papas Baby Snug is sold for $59.99!
Mamas & Papas also makes super cute baby clothing!
Micah also got an outfit from Mamas & Papas. After all, every baby needs clothing sometimes.  He wore it last weekend as looked like a very cute grown up baby. Of course, he's always adorable, but this outfit was super comfortable, easy to get on and off, and so precious.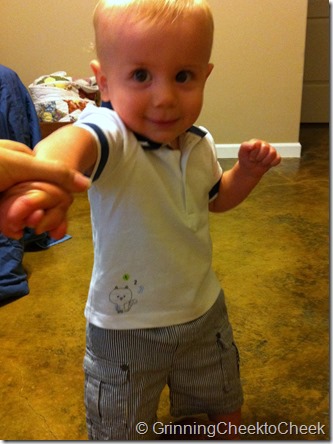 Check out more of their clothing here. It's all adorable. Some of it is a little spendy, but most of it is competitively priced and definitely affordable.
Of course, this isn't the end of what Mamas & Papas makes, check out their website for more great products!
How to Enter:
Mandatory Entry: Leave a relevant comment about Mamas & Papas products.
Then: Fill out the Rafflecopter form.
Be sure to come back each day for extra entries!!   
Rules: You do not have to be a blogger to enter/win. An email address is required to enter. The winner will be chosen randomly through Rafflecopter and contacted via the email registered in Rafflecopter. A reply to the winning email is required within 48 hours before a new winner is chosen. One person entering per household please. US only please.
This giveaway ends at 11:59 PM EST on September 6th, 2013
Mamas & Papas provided me with my own Baby Snug as compensation for this post. Opinions are 100% my own and not influenced by compensation.