I'm sure by now many of you have noticed – that I am doing a ton of diaper reviews! Come join in on the fun!
The next diaper that I am reviewing is called SmartiPants. They are the smart diaper – because really, you can't go wrong with them.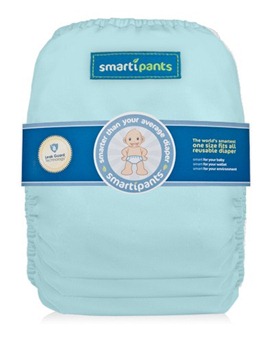 They are affordable, and practical, and easy to wash/dry. They absorb well and fit well onto both of my boys.
Check them out online, and on Facebook!
My Ratings:
See this post to find out more about my rating scale.


Although easy to spot in the dryer –the cute green trim to the insert makes it stand out a bit – These diapers tend to be a little bit more difficult to assemble.

They have a rather snug pocket, which is a blessing and a hindrance. I love the pocket, because it holds the insert in place so well – and doesn't really allow for much bunching of the diaper… but my husband has a hard time getting his big hands inside. So as long as I stuff the diaper, we're good.

Despite the fact that there is only one layer of snaps along the waist, the diaper seems to fit and hold really well. I haven't had any issues, although my children are both on the average to large side, so I can't speak for a smaller baby fitting into these. They are comfy, and more on the trim side than not.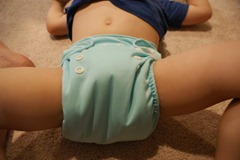 These are super easy to wash. Simply drop it in the machine. The machine takes care of all of the work of agitating the inserts out. I like that.


These rate high on the cute scale for me. I love the cute insert with the cute green trim, and I love the way they look on my boys

They have so many great colors to choose from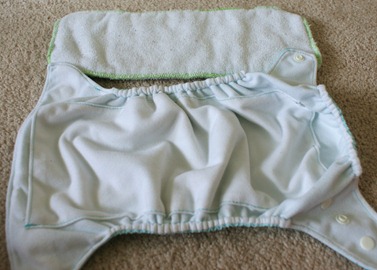 My Aqua Breeze diaper is my idea of a perfect color of diaper. Light enough to be worn under white clothing – and colorful enough to bring a smile to your face.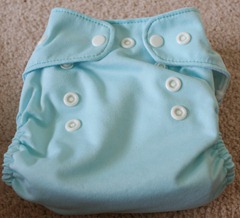 Can't get much better than this for price. A single diaper with liner included is $14.95! Affordable, but not terribly cheap. I mean, I CAN feel the difference in some of the material quality vs. my super nice expensive diapers, but I have yet to have any issues with rashes or leaks, so nice enough to keep baby's bum happy!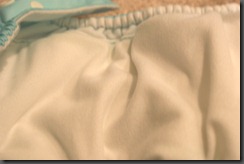 Dad likes that there is only one row of snaps to work with. on the top – because the less work, the better. He does not, however, enjoy stuffing the diaper. He notices that although the leak guard is NICE – he has a hard time rinsing poop from the crevices of it.


I think this diaper is a very pracitcal diaper. I tend to think of it more as a '1-2 hour diaper' just because it only comes with one small microfiber insert. It just feels too thin to hold any more than that. Other than our first week of diapering where we were not putting the diaper on Ethan correctly, we have not had any leaking issues. It's a good diaper to have in our stash – and a perfect one to get started with if you're looking to save a few extra bucks per diaper.
I do love how the pocket works – and I wish more diapers would have this 'it fit's perfectly' idea in their diapers – however I couldn't throw a different liner inside of it without it having an improper fit. Therefore I wish that SmartiPants would make a hemp insert or doubler as well for longer trips. Meanwhile, my other doublers will do the job

Who wants to try one of these diapers???!
Giveaway!!
(Open to US Only)
One Lucky winner will receive a SmartiPants Diaper!
Visit Here for instructions on how to enter
This first entry is Mandatory: Visit www.smartipants.com and tell me which color you would love to add to your stash!
Optional extra entries: (only after the above mandatory entry is completed!) All are worth one entry unless otherwise specified. Leave one comment per entry.
Subscribe to my blog via email (be sure to confirm!) – 2 entries
Like GrinningCheektoCheek on Facebook
Follow my blog publicly via GFC (lower right box)
Follow my blog via networked blogs (lower right box)
if you grabbed my Adventure to cloth Diapering Button before 8/22 and left a comment here telling me that you did so, add 2 entries
Follow @GrinCheek2Cheek on Twitter and tweet about this giveaway. (up to 1x/day)
You'd be smart to try SmartiPants #ClothDiapers – #win one @GrinCheek2Cheek Adventure to Cloth Diapers Event #giveaway http://www.grinningcheektocheek.com/smartipants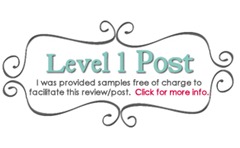 Giveaway ends September 16th, 2011 at 11:59pm. Winner will be drawn by 'andthewinneris…' and will be e-mailed. Winner will have 48 hours to respond or a new winner will be chosen.