Thanks to SC Johnson and Smart Twist™ for sponsoring today's discussion: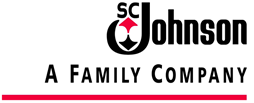 I have a serious love-hate relationship with cleaning, and it's very confusing. I can't handle the stress of working in a messy house (Which is probably why today, I'm having such a hard time focusing!) but I hate that I have to constantly work at keeping it clean. I'm calm when it's clean – but don't cross me while I'm cleaning – I'm a monster.
But Now that the snow is melting and the sun is starting to finally shine – I have realized that it's time to clean up my windows… Oh yeah – and then this morning I sent the kids outside to play, and they came back in and walked RIGHT up the stairs with their Muddy SHOES ON! *GAAAhhh!!!!!*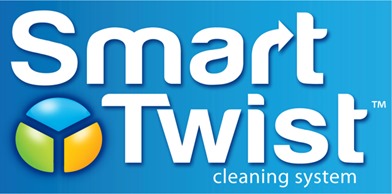 To my husband and children's luck – I was given a new handy-dandy Smart Twist™ Cleaning System, which can tackle a lot of my messes with only one bottle!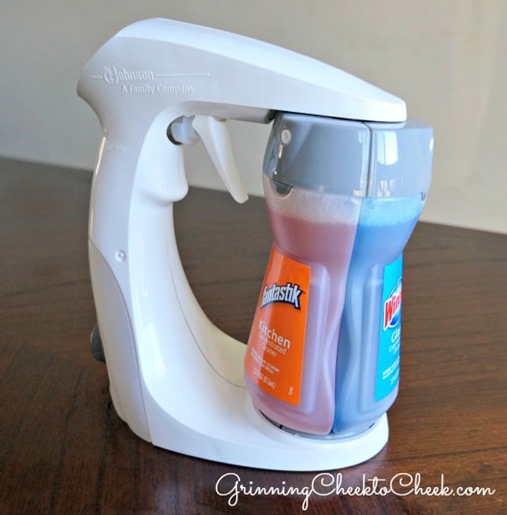 The SC Johnson Smart Twist™ Cleaning System is a breakthrough, innovative tool that lets you have three cleaners in one hand. Twist, spray and wipe to clean your entire house with one system:
•    No more lugging a bucket full of cleaners around the house
•    No more searching for the right cleaner
•    Saves space under the counter
*Let me be honest here: I have an obsession with Shout® Carpet Cleaner– (because remember I'm super obsessive about my floors?) – and yet… that is the only bottle that has a working sprayer.  So when I clean my windows – I have to steal the sprayer from the Shout®, and attach it to the bottle of Windex®.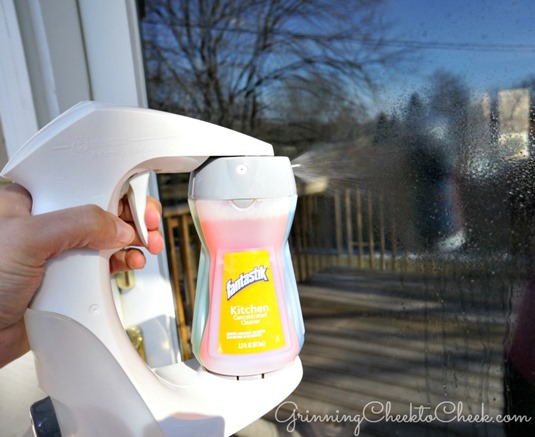 So I was really happy when I realized that I can get my three favorite cleaners all in one, I can run around the house and clean my windows, my carpets, and my kitchen surfaces. I really wish it had four options – because I would totally add Pledge to the mix so I can dust as well.
Now I've got the Right Cleaner. Right Surface. Right Now.™ with the Smart Twist™ Cleaning System. So can you!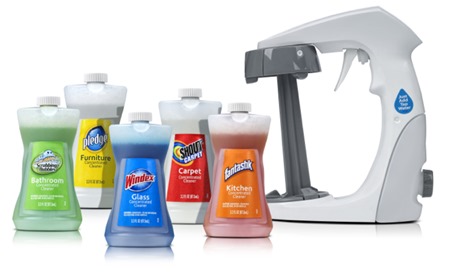 The SC Johnson Smart Twist™ Cleaning System offers the company's most trusted brands in one, easy-to-use and space-saving system: Windex® Glass Cleaner, Scrubbing Bubbles® Bathroom Cleaner, fantastik® Kitchen Cleaner, Pledge® Furniture and Specialty Surfaces Cleaner, and Shout® Carpet Cleaner.
The Smart Twist™ Cleaning System is available in the following varieties at the Smart Twist™ website; ranging in price from $24.99-$45.99.
•    Kitchen/Bath System
•    Living Spaces System
•    Cover Every Base System
•    Total Easy Clean System
Replacement concentrate cartridges are also available for $7.99 for two or $11.99 for three cleaners of your choice.
SC Johnson is offering free shipping on all Smart Twist™ Cleaning System orders and any purchases $24.99 and above. This offer is valid at the Smart Twist™ website.
Which Three Cartridges Would You Pick??
Full disclosure: this article is financially supported by SC Johnson – Because Hey: I've got bills, too!