I have never been one to be terribly involved in group activities.  But I think as I get older, and while my children are growing – I feel like I need the support of those groups…. or maybe just the 'grown-up' chatter.
One of the most challenging thing of groups is coordinating the efforts of each individual – especially when they're busy themselves!!
There have been so many times where I've signed up for something on a paper that was being passed around, and then 10 minutes later I've forgotten all about what it is that I signed up for. 
I was given the opportunity to check out a great organizational tool that every group organizer needs to have at their fingertips.  SignUp Genius. 
Signup Genius allows for you to make your signup "sheet" electronic.  The possibilities are nearly endless! You can coordinate efforts for your moms groups, playdates, carpool schedule, or dinners for a family; You can organize people, events, or even organizing collections of items.
How does it work?
I'll walk you through how easy it is.
I'm setting up a list for my MOPS group – We have to bring the HOT foods for our MOPS meeting on December 8th – and so we want to make sure we have a good variety of items – and not 10 egg bakes.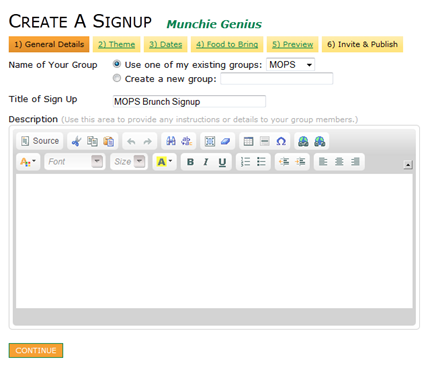 After you select what type of list you're doing – you name your group.  Then choose a theme.  They have several themes to choose from under each category! – For instance: I chose this breakfast theme – because we bring breakfast foods to MOPS.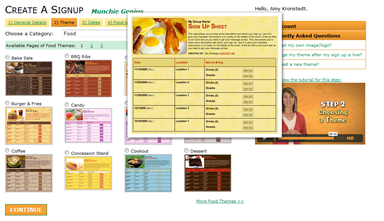 Select the dates and time.  The dates and time are really great for groups that are coordinating a timed setup.  For example:  My EFCE group is currently using SignupGenius.com to create a signup for photography sessions for a fundraiser.  They are using it so that each person has their own time slot to come in – Like an appointment book!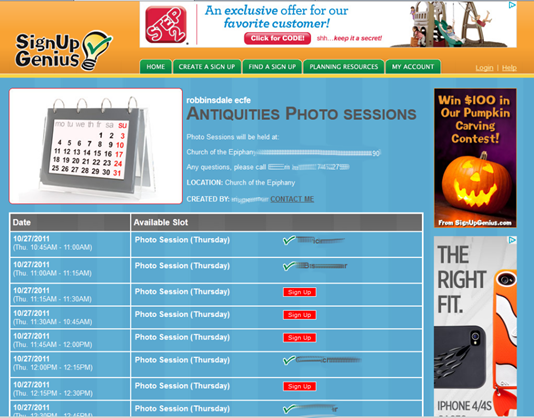 My favorite part about signing up on a SignUp Genius form, is that you also get an email reminder.  As a coordinator of such a large scale event like this photo session,  it could take hours to go through and remind everyone what time slot they signed up for.  SignUp Genius does the work for you! 
Next you fill in the details  – In my case: the food that I need people to bring.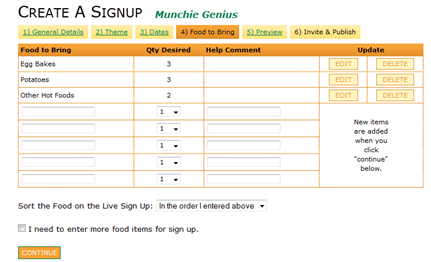 Preview – and send it off! 
If you have any problems along the way – they have Frequently Asked Questions with detailed answers and they also have video tutorials that show you step by step what you should be doing. 
It's so easy – and best of all – it's Free!  So for your next group get together, pot luck, or volunteer opportunity – leave the organization up to SignUpGenius.com.
SignUpGenius.com thanked me with a gift card for reviewing their site. The gift card was not dependent on a positive or negative review of the site, but was compensation for helping to spread the word.