Not that long ago I wrote about the Shout Free stain remover spray for your laundry habits – and today I'm going to tell you about another new product from Shout.  It's the Shout Color Catcher with Oxi!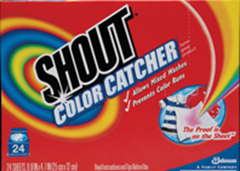 I was really excited about this particular item, because I'm constantly dealing with multiple color loads and having the large capacity washer and dryer, it almost seems like a waste to run smaller loads.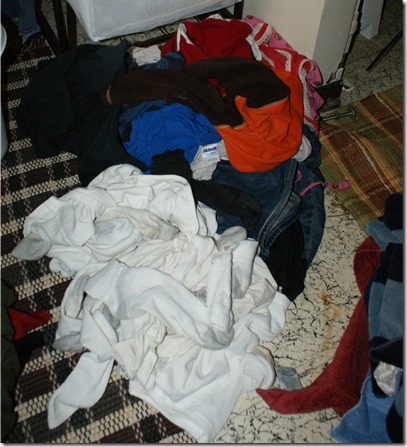 One of my biggest challenges with small loads is the whites pile.  We like to wash the whites separately – but with the Shout Color Catcher, I can put all the clothes into the same load and not worry as much about my socks turning pink!
Let me tell you, I was *REALLY* hesitant to do this the first time…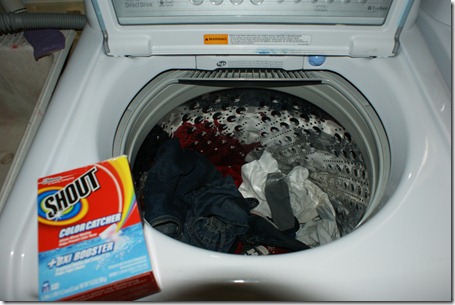 So.  I sheepishly took only the socks and underwear and things that I didn't care so much about and put them together with my colors.
They came out just fine… so.  I got a little more brave the next time and added in the t-shirts… and they came out just fine.
And the next time?? I actually got the courage to wash all of my 'no-dry- clothes' together… my red shirts, blue shirts, black shirts, and YES, even white…   And by the time I had them all hanging up – I had totally forgot that they were even washed together!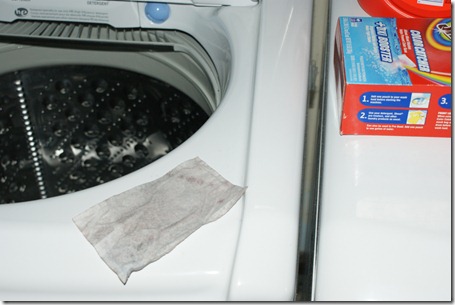 So – Am I in love??? Yes.  I am able to wash laundry more efficiently in my large capacity washer, and get a good load every time I do laundry.
Am I still Terrified?? Not as much – There's always that thought… what you've known for years of colors running together – but I'm not AS scared.
I am not sure exactly how much this box would cost on a regular purchase, so
Granted… You're not supposed to put brand new items in with different colors.. like if you have a brand new pair of jeans – don't wash them with the whites… that's just asking for it.
But.. For regular washes of regular clothes that are washed on a regular basis?? No problem!
Do you want to try this out for yourself too??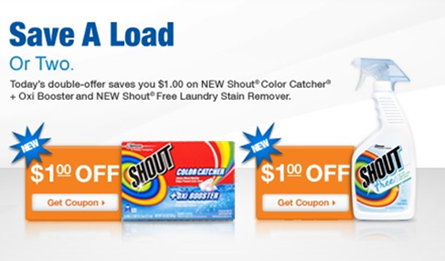 Shout is currently offering downloadable coupons on their Facebook page for Shout Free and Color Catcher with Oxi.
OR –
Win It!!!!!!
Two lucky Readers will win Shout Color Catcher with Oxi!
Mandatory Entry:  Leave a comment on this post about your laundry habits (anything about them, really) and then click the Do It button in the Rafflecopter!
I wrote this review while participating in a campaign by Mom Central Consulting on behalf of Shout and received a product sample to facilitate my review and a promotional item to thank me for taking the time to participate.