So, as far as the theme goes for Birthdays (Hence, the Birthday Boy Blast)  – What about Mom?  Doesn't she deserve a little treat for her Baby's First Birthday?
I Think So!
Mom deserves treats any time really… Birthday, Holidays, Starting to crawl, Standing, Starting to walk… I mean All of these things are going to make mom want/NEED some chocolate, Right?
Why not surprise mom (or whoever!) with a little delight to the lips – some Gourmet Birthday Gifts?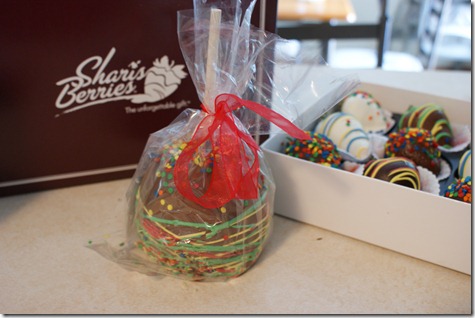 I was (Delightfully) given the Birthday Strawberries and Caramel Apple to try out for myself – get this – just a few days after my birthday!  It couldn't have been better timing really, because I was having a rough week – and I just needed some delicious treats.
I have got to say – I am a huge fan of their chocolate covered strawberries, but I am seriously IMPRESSED by their caramel apples.  I mean.  I don't think I've ever had such a delicious caramel apple. Dipped in Caramel and Chocolate, and then covered with sprinkles and colorful frosting – How could you resist?  It's large, so you can sit down with it at least a few times (if you're eating it by yourself)… but beware.  My husband thought I was 'Done' with it, and therefore finished it off without even saving me the last bite!! Terrible I tell you!
You're definitely missing out if you haven't gotten some delivered goodies from Shari's Berries yet- But Fear not: I've got a few things here for you!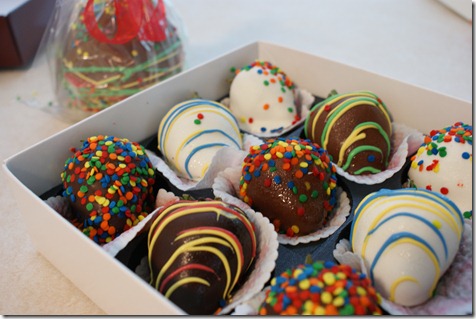 If you become a fan of Shari's Berries on Facebook – you can get 20% off of your order!