Have I ever mentioned how much I love to grill?  I don't even give my husband much of a chance to work the thing.  I am the grillmaster here.  I love that I can have delicious meals in minutes on the grill – and they're even healthier than making casseroles and hotdishes and heating the oven, which consequently heats the entire house…
I also love Schwan's Home Delivery.  I have only ordered a few times from them – and (embarrassingly enough) have followed a few Schwan's drivers until their next stop just to get some fudge sticks… I never really got into ordering the meats and appetizers from them though; mostly because my menu consisted of hot dishes and casseroles.
But then I had the opportunity to review some amazing food from them – beyond just the ice cream (Although I did get some of that, too!)
These are the items I was able to review: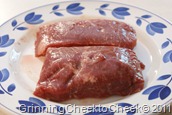 Schwan's New Steakhouse Seasoned Flat Iron Steaksare individually wrapped USDA Choice Grade Flat Iron Steaks seasoned with a steakhouse seasoning featuring butter and onion providing a juicy, flavorful steak.Schwan's Tri-Color Tortellini Salad Kit:  Enjoy fresh,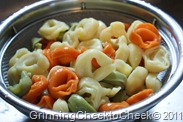 delicious pasta salad in just 3 easy steps. Simply boil tortellini, add the included dressing packet and chill. Tender tortellini is filled with 6 rich cheeses-Ricotta, Swiss, Fontina, Asiago, Romano and Parmesan that is perfectly paired with a garlic and herb caprese oil dressing. Add chicken or shrimp and serve warm for an easy main entrée.And last, but not least Rocky Road Sundae Cones Packed

with over-the-top crunchy-goodness, you'll love the velvety smooth chocolate ice cream swirled with chewy marshmallow ribbons, drizzled with chocolate and sprinkled with crushed almonds and chocolate bits—all in a chocolate-lined sugar cone.
So. Needless to say- After looking at those pictures; I'm guessing you have a good idea – we had a delicious feast.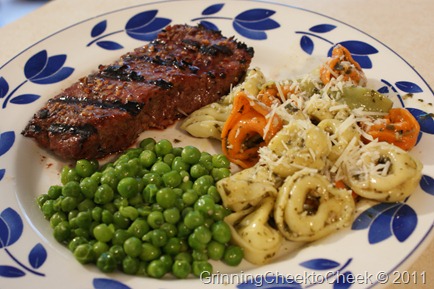 The steak was amazing – and although I put some of our regular garlic and peppercorn rub on it – I don't think it needed it.  It was beautifully tender – and totally juicy and delicious. I just love steak on the grill!
I read many of the reviews on Schwan's websites before picking out the tortellini – but I decided to serve it cold.  I personally thought it tasted better warm – and re-heated the leftovers.  I did love the tortellini – but I'd love it more I think with a marinara type sauce over it vs. the dressing they had – But that's totally personal – my husband LOVED it with their sauce.  A great thing with the salad is that you can make it ahead of time and then chill it.   This is perfect for summer picnics and events!
And the sundae cones… Wowza.  I realized that I had to quick take a picture of one of those cones – because we were down to just two left.  And my husband is FAST. Those cones are SO delicious; we'll definitely be ordering the Rocky Road version again.  The big problem with these cones (besides the addiction issues) is that when you open it – you have to be sure to take the lid off first; and dump the excess chocolate chips and nuts into your hand – and then eat them. Don't open it on the living room floor or something either… there's a lot of loose pieces.  Certainly not a problem enough not to order them – but something to consider when you have careless kids opening them

With Schwan's you're getting a great service as well as great food for some really delicious meals.  We'll definitely be looking at getting more food from them in the very near future!