As far back as I can remember, my family has always had Russian Tea Cakes at Christmas Time. I used to go over to my grandmas house when I was younger and we would spend an entire day cooking – and I remember bugging my grandma about it every single year… "Why on earth would anyone eat those Russian Tea Cakes?! They're so.. boring!". Well, since then I gained a love for these tea cakes, and have now perfected the Russian Tea Cakes Recipe, and make it every year for my family.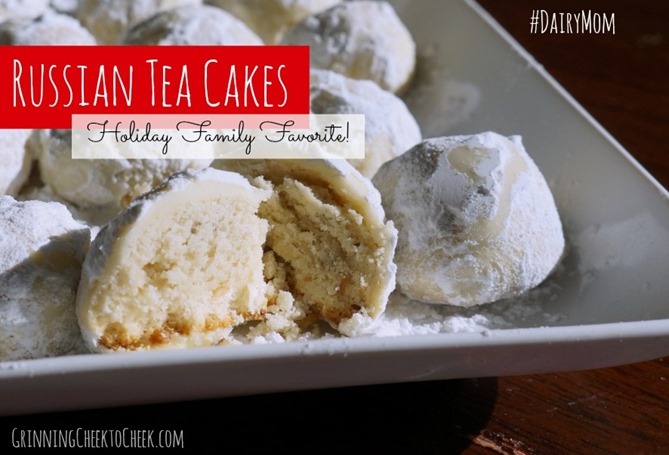 Russian Tea Cake Recipe:
Ingredients:
1 cup butter – room temperature
½ cup powdered sugar (plus extra powdered sugar for later)
1 tsp. vanilla
½ tsp. almond extract
2¼ cups all-purpose flour
¼ tsp. salt
¼ cup finely chopped nuts (I used pecans)
Mix butter, powdered sugar, vanilla, and almond extract thoroughly.
Stir flour and salt together and add slowly to butter mixture.
Mix in nuts. Chill dough for appx 1 hour.
Heat oven to 400 degrees.
Roll dough in 1-inch balls. Place on ungreased cookie sheet. (Cookies don't spread)
Bake 10 to 12 minutes, or until set, but not brown.
While still warm, roll in powdered sugar. Cool. Roll in powdered sugar again.
Makes approximately 4 dozen 1 inch cookies.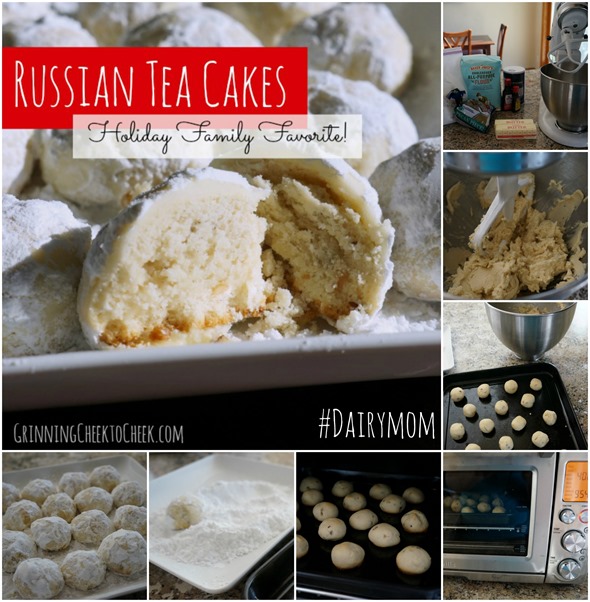 So when I was thinking of a great Holiday recipe that features dairy, this one was the first that came to mind – because last year I couldn't make a few other recipes due to running OUT Butter after making a few batches of these! Of course it was snowing like crazy – so I had to wait to get the rest of my cooking done – but I surely enjoyed my Russian Tea Cakes during the snow storm.
If you've never had a Russian Tea Cake – it's a bit more like a dry cookie mixed with a powdered sugar donut. They go perfectly with coffee as well as by themselves.
This year Midwest Dairy Association wants you to think about giving the Gift of Dairy – and has started the thought process with The Gift of Dairy Holiday Pinterest Contest where you can enter to win a $250 grocery gift card plus a gift from Midwest Dairy!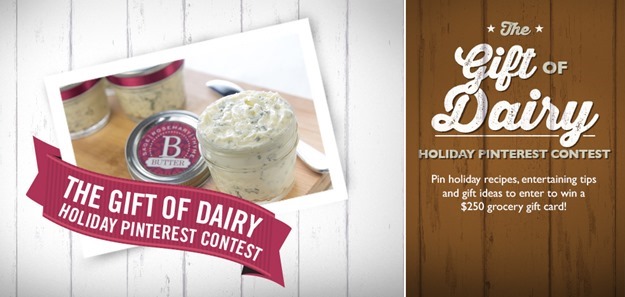 On November 4, Midwest Dairy launched a Pinterest contest that encourages people to give the gift of dairy. The "gift of dairy" comes to life in a variety of ways during the holiday season, including:
· Holiday meals: Share the gift of delicious food with your family and friends
· Holiday parties: Share the gift of dairy at your holiday parties
· Holiday gifts and donations: Food gifts are popular during the holidays, so give a tangible gift of dairy to neighbors, friends and family and/or give a financial gift to organizations that fight hunger
Be sure to sign up for Email updates from DairyMakesSense.com! It's easy – click the "Sign up for Updates" button at the top right of the homepage and receive delicious dairy recipes, news and more!
Also – Check out the Real Dairy Holidays Pinterest board, and find the latest with Feeding America where Dairy Farmers help provide the goodness of dairy to those in need.
Disclosure: I was compensated for my time and ingredients by Midwest Dairy for this blog post. All opinions expressed are my own.