I love singing kids songs with my boys.  It was one of my favorite things even in High School when I worked at a daycare center – I was the one who blared out at the top of my lungs the kids songs – and was as silly as I could be!
So when I'm driving in the car with my boys, I'm trying to remember all the cool songs that I used to sing, and teach them the words along the way…. But my memory STINKS.  It's TERRIBLE.  Any of my friends might tell you that.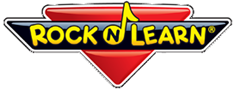 I saw this company called 'Rock N Learn' and they make all sorts of learning DVDs and CDs – one of which being Nursery Rhymes.  I love how the DVD was colorful looking and their preview is pretty nice too!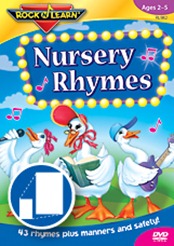 But then, I thought – well I know Andrew will want to watch the DVD at Home, but what about when we're in the car?? I'd love to be able to sing these nursery rhymes with him in the car to help keep him awake.
So I got the Nursery Rhymes Audio Book and CD along with the Nursery Rhymes DVD!  They have songs like 'Baa, Baa, Black Sheep' and 'Jack and Jill' for a total of 45 songs!  It's truly amazing – you never really get super sick of the songs… although I can certainly get a few of them stuck in my head for hours…
I love how the 'Three Little Kittens' song has the mama kitten goes 'WHHHHAAAAAATTTTTT???' and that get's stuck in my head all day.
Andrew *loves* the DVD and although he doesn't show it by joining along in the songs (for some reason he refuses to sing…) I'm sure he enjoys the CD over Talk Radio any day.  It's nice to have the book in the car along with him as well, because then he can see pictures of the songs along with the music – but I imagine this will come more in handy when he's a little bit older.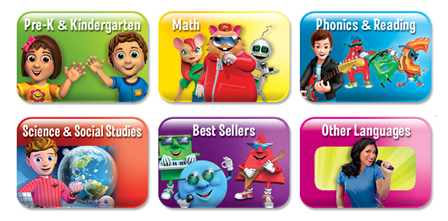 Rock N Learn has several other types of DVDs for all ages- they're most certainly not JUST for little kids.  They have alphabet, numbers, animals, all the way through multiplication, fractions and decimals, Science, Social Studies, Reading, and all sorts of other programs.  Check them out for yourself!
Giveaway!!!!
One Lucky winner will receive a CD or DVD of your choice from Rock N Learn ! (a $20 Value!)
Click for Instructions for entry
This first entry is MANDATORY: Visit Rock N Learn and tell me what you would like to own from them and who it would be for?
Optional Extra Entries: (only after mandatory entry is done!)
Subscribe to my blog via email
Like GrinningCheektoCheek on Facebook
Subscribe to RockNLearn e-Newsletter on the left side of their homepage
leave a comment on RockNLearn's educational blog on how they got started
Like RockNLearn on Facebook
Follow my blog publicly via GFC
Follow my blog via Networked Blogs
Post my Button on your blog. (two entries)
Blog about this giveaway, including a link directly to the giveaway (Five Entries)
Follow GrinCheek2Cheek on Twitter on twitter and tweet about this giveaway:  (this may be done twice daily, at least 2 hours apart)
#Win Your Choice of RockNLearn CD or DVD @GrinCheek2Cheek #Giveaway Ends 8/26  http://www.grinningcheektocheek.com/Rock-N-Learn
NEW: Post my link on any of

that day's

CURRENT

Public Giveaway linky for this giveaway.  Should say something like – GC2C– RockNLearn DVD! – Ends 8/26 *and the link*. Comment to me the link to where you submitted it. (i.e. for a Tuesday Giveaway Linky – post it anytime before midnight that same Tuesday) One entry per linky posted on.
Open to U.S. only.  Giveaway ends August 26th, 2011 at 11:59pm. Winner  will be drawn by 'andthewinneris…' the following day, and will be e-mailed. Winner will have 48 hours to respond or a new winner will be drawn