Disclosure: This is a sponsored video for Resolve that I have been compensated for & received free product for through Burst Media.
Many of you know about my obsession with clean floors – and how I can't handle stains on my carpet.  I have always trusted the power of Resolve carpet stain remover to get the stains out. I even got new carpet in our living rooms and stairs because the carpet was looking old and well worn and I wanted a 'do-over'. You'll read more about our carpet, Really Really soon…!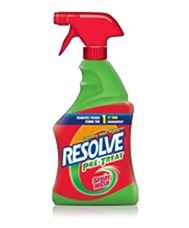 But I'm also the same exact way when it comes to clothes.  If there is a stain on a shirt (yep, even my kids' clothes!) I cannot. No. I WILL NOT… let them wear it again. It belongs in the garbage.  Being that I have two young boys – who hand clothes down the line – I need to be sure to extend the life of our clothing as long as possible!  That's where Resolve Pre-Treat comes in. I can't possibly afford to purchase new clothes every time we get a stain, so I take the few extra minutes while I'm sorting clothes into the washer and spray out the stains. I created a video about the process: Check it out below:
Like I said in the video. I don't even usually scrub the pre-treat into the clothing and it almost always comes out.  There are those few extra hard stains that I check on before throwing into the dryer that need to be washed one more time.  The second time around I spray it again, wait a few minutes, and then scrub the stain a little before putting it back in the wash. My big tip? Be sure not to put clothes into the dryer if the stains didn't come out! Putting the clothes into the dryer helps to set the stain in the clothes – meaning it's going to be extra hard to remove the stain the next time! Resolve has created their own video assortment of advice on each particular stain type – so if you've got a particular stain that you're dealing with, check out the
best tips for that stain
, here!
What do you do to keep stains out of your clothes?