Have you ever realized how many things get recalled on a daily basis??
Yeah, most of the recalls mean nothing to you or your family – so how does one busy mom stay on top of all of the baby, toddler, or food allergen recalls, just in case if one of those items recalled is relevant?
With technology these days – there truly is an App for everything – even staying on top of pertinent recalls to yourself:  Recalls Plus.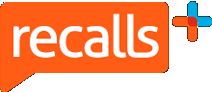 Here's why it's important:
I had a high chair that I was given as a gift for my baby shower 3 years ago.  Little did I know when I went to sell it to a second hand store recently – that it had been recalled due to the back spontaneously falling down and kids falling out the back and getting seriously injured!!
I mean, really – it was an easy fix to prevent – a single phone call and they'd send the pieces to repair the recalled chair – but really? I put both of my babies in that seat for several months of their lives!  It could have been detrimental.
How does Recalls Plus work?
Well there are a few ways that you can set up the app.  First of all, you'll need to sign in with an email and a password. It really takes just seconds.
Immediately you will see the general section of latest recall news: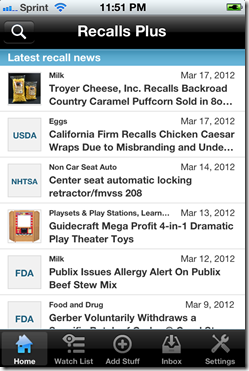 Then you can select your watch list – There are a few general categories, which cover a majority of basic products that you or your family come into contact with with certain age categories.
Each age category has sub-categories that you can select that you'd like to be notified of as well:
You can select or de-select as you wish.  But literally it just takes a few seconds to set up – and gives you the peace of mind that comes along with knowing when an item you own gets recalled.
If a recall comes that does affect you, you can select to get more details about the recall: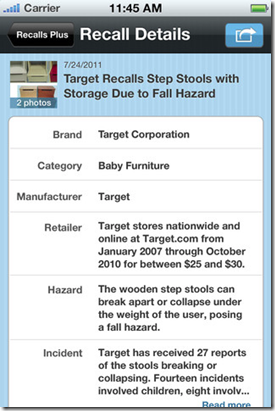 Then, even to go another step further – If anyone in your family has allergies – you need to be aware of the recalls of mis-labeled products.  You can select specific food allergens that you'd like to be notified of when they come into question in a recall.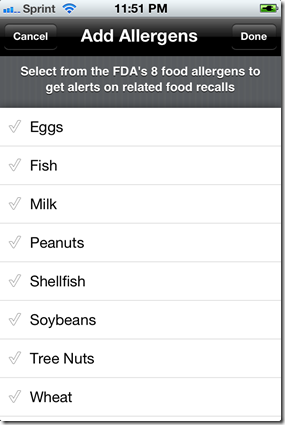 Thankfully, we don't have any food allergies in this house, so I can mostly avoid those items.
If you are concerned that you'll be hammered with notifications all the time that apply to products that you don't specifically own, you can also sit down and type in particular brands that you want to be on the lookout for… it takes a bit longer to set it up this way – but then you're set.
I'm happy now that I have Recalls Plus – because even though most recalls don't apply to me, you never really know when one will.  I'm far too busy to keep up with it all anyway. It was fast, and free – so I suggest just doing it

I'm so glad that it is one of those programs that you set up right away, and you don't have to think too much about again until it notifies you of a particular recall that you have to be concerned with!
You can find Recalls Plus in the App Store on your iPhone, iPod Touch, or iPad and download Recalls Plus.   Best of all – it's free!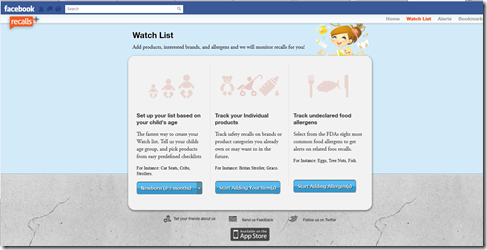 Don't have an iWhatever?  You can also sign up with them on Facebook, too! No more excuses now