So now that we've lived in our home for almost six months, I have gotten to a point where most everything is unpacked.  (Most. Definitely not All…)  It's getting to this place in our home, where things have started to settle down a little, and we're able to enjoy our time and space.
………………………………………………………………………………
Even If the house seems to be getting smaller every day
………………………………………………………………………………
When we were first moving into this house, all the large furniture got brought off the truck, and then put into whatever spot the person setting it up thought it should go… but that was not always the exact place that we wanted everything!
So recently I have been trying to decide where on earth some of my things should go.
I'd love to have a better way of organizing our downstairs living room.  Even better yet, I'd like a *new*  TV stand!  It isn't going to happen any time in the near future due to all the other crazy projects that are needed in this house.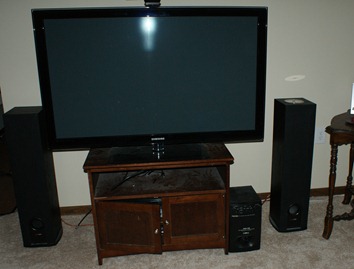 (Ok. Ew. Please don't look at my dust. Our cable box is normally on the shelf there, but due to some technical issues, it was removed when I took this picture!)
But seriously –  we got our TV stand about 7 years ago at Target, for maybe $50.  That was when we had a regular tube television.. and now we have a 50" flat panel plasma TV, so it would be kind of nice to have a better one that is made for a flat panel.
My poor husband has moved the TV to about every wall in the basement – and hooked up all the wiring, pulling up the carpet and hiding wires – and trying his best to make it look neat; but honestly – it just doesn't.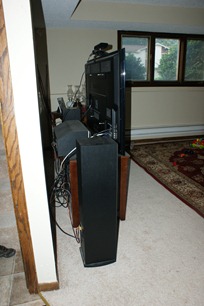 I think what we're going to need is one of these nice corner TV stands that allows all the junk to hide in the corner, and then have the room still look open and clean.  It would be nice not to have the TV out in the middle of the room and open to torture by our two young boys.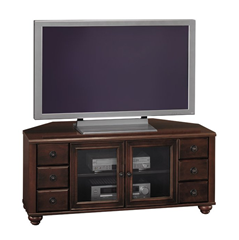 Either way… Our city inspection is coming up soon, and I'll do a post soon about how…
•••••••••••••••••• we are so NOT going to pass •••••••••••••••••••
And there's pretty much nothing short of a miracle that will help.  So these are just ideas that are going to have to wait.   Meanwhile, a little re-arranging will just have to do!!