Growing up through my tweens, teens and even 20's – I rarely ever had a horrible breakout.  Often I would get 1-2 pimples here and there… some would be really bad, some not so bad.  But mostly – I had good skin.
Until about 6 months ago.
Seriously I felt like I was a teenage boy!!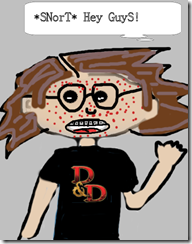 My husband is constantly scolding me because I'm a "picker".  I pick at my face when something is on it – and therefore create more problems, I'm sure.
I tried doing thing like changing my pillow cases more frequently, washing out my makeup brushes, always washing my face after washing my hair and all sorts of other over-the-counter pimple remedies.
I even got a prescription for antibiotics from the doctor, which did nothing – and then an antibiotic cream which I was to apply to all pimples 3x/day.  Yah. Stinkin'. Right.  All it did was dry me out and waste my time.
Over the past few weeks I've switched to Proactiv.  Things have been improving – a little.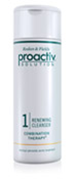 I'm *REALLY* bad at washing my face before bed.  I know – I know.. I shouldn't be considering the way that my pimpled forehead looks… but it's just hard for me to remember/want to do when I'm so tired.  I just prefer doing it in the morning – or in the shower especially.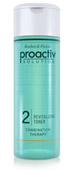 So Most days I've been washing my face using the three steps of Proactive.  The Cleanse, Tone, and Treat.  My pimples have been getting fewer and fewer and not that many are popping up any more.
But then I started noticing more dryness.  Yes, It's fall – winter is getting near and the air is definitely drying out here in MN.  That will do it.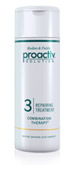 I called and talked with a personal skin care consultant from Proactiv 365.  She took me through the whole process – how I should be using very little amounts of each item.
I had just been slathering the stuff on.  The more, the better -  right? Wrong.
*That's* why I've been getting dry areas!
She said keep to the amounts they recommend.  Dime size of the wash; no more than 7 drops of the toner (where I've been soaking a cotton square with toner); and a PEA size amount of the repairing treatment.  Step 3 is not to be mistaken for a moisturizer… which I was guilty of.

She also recommended that I follow the steps with the actual moisturizer to help.
I've always just loved the Oil Free Moisture from Proactiv – and it's pretty much the only face moisturizer I've used since – I don't know… 2005?  I hadn't even thought about using that so much, because I feel like I'm already putting so much stuff on my face already each morning with the Tone and the Treat.  But she assured me that it will help the dryness.
I'm looking forward to having a normal face again where I don't feel like I have to gob on makeup in order to be seen in public.  Because of my lack of consistency, my change is going slower –but I have most definitely noticed the change.
For more information about Proactiv 365 and their free personal assistance 24 hours a day, 7 days a week – check them out online.
I wrote this review while participating in a campaign by Mom Central Consulting on behalf of Proactiv and received product samples to facilitate my review and a promotional item to thank me for taking the time to participate.