So we've had quite the road over the last year with potty training my almost 3 1/2 year old, Andrew.
A little less than a year ago we started the whole process of 'training.'
I received this really awesome potty training kit from Baby Signs. Andrew was too old for most of the 'signing' part of it (because he already spoke those words) but he just LOVES the video. The package comes with a train whistle, a book, a DVD, Stickers, and a parents book.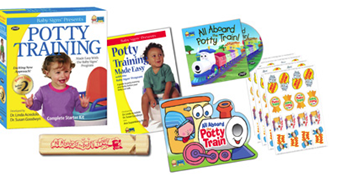 We started introducing the whole concept of potty training with this. It seemed that he didn't mind going to the bathroom – he just wouldn't remember to NOT go to the bathroom when he was wearing his underwear.
So we chose to potty train 'naked' as the book suggested.
For MONTHS and Months he walked around the house with no bottoms on at all, embarrassing himself and us as people would come over to visit – but he never had an accident on the ground when he was naked! So that was great

Finally over the last several months I've decided to take the 'plunge' and just get him trained with pants and underwear on.
The problem for us wasn't so much that he didn't know that he had to go – because he TOTALLY knew. It was more that his STUPID underwear were SO hard to get on and off, that he'd just rather pee himself than deal with taking them on and off.
Why on earth they make awesome character underwear for little boys and it has the stupid THICK strap that is impossible for them to pull up and down is BEYOND me.
He had such a hard time with those!
My mom was constantly telling me about the fabric pants that 'should be at Walmart' that are easier for little boys… but we looked and looked at Walmart and never found them. I just assumed it was a thing of the past.
UNTIL…. I saw them.
Target, MOM!! Target! Not Walmart – ha!
They're Gerber Training Pants!
They are soft and have a very light top where they aren't hard to pull up over his butt – and even a little extra fabric in the crotch area for extra absorption!
Genius.
I bought 2 packs of them right away to give them a try – and I was HOOKED! I bought a few more packages later (because we were going through 2-3 of them a day at first…) but they are a God-Send!
Andrew is able to go to the bathroom and get them up over his butt again, so the majority of the time he doesn't leave the bathroom with no pants on..
So potty training has gone really well for us since these Gerber potty training underwear came into the picture – and that is NO joke.
When Gerber approached me for their towels – I told them that I'd much rather talk to all of you about the underwear – because I was planning on it anyway

So they let me do a review and – yes- even a giveaway of these awesome pants!
You can purchase these Training pants online at GerberChildrenswear.com or like I found them – at Target – for around $8.99 ea. Gerber's Facebook page also periodically has coupons – so check them out before you get to the store!
The Baby Signs Potty Training Kit can be purchased online at BabySigns.com for $39.95.
Win THEM!!!
One lucky reader will win a pack of Gerber Training Pants in choice of girl/boy colors
How to Enter:
Mandatory Entry: Leave a comment telling me about your experience with potty training – what helped, what didn't – haven't gotten there yet, but you're looking forward to it??
Then: Fill out the Rafflecopter form Below.
Be sure to come back each day for extra entries!!
Rules: You do not have to be a blogger to enter/win. An email address is required to enter. The winner will be chosen randomly through Rafflecopter and contacted via email. A reply to the winning email is required within 48 hours before a new winner is chosen. One person entering per household please. US ONLY please.
This giveaway ends at 11:59 PM EST on June 7th, 2012.