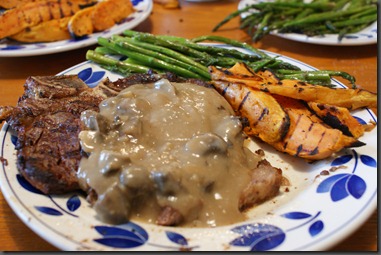 I decided to get fancy with these beautiful 18oz Aged Porterhouse steaks we got from The Tender Filet.  Typically, I don't eat mushrooms – But I do love a good mushroom sauce to put on my steaks from time to time – I just pick out the mushrooms (It's a texture thing..).
So I searched and searched online for a semi-uncomplicated mushroom sauce that would taste great, and not have like, 50 ingredients that I didn't have at home – but I ended up kind of making one up as I went along.
Mushroom Sauce
Ingredients:
Mushrooms, cut – we used some mini portabella mushrooms
Can of Beef Broth
2 TBSP Olive Oil
1 1/2 TBSP Garlic, minced (I used the can/refrigerated garlic)
3 TBSP Butter, Melted.
3 TBSP Flour
Salt & Pepper to tasteDirections:
Sautee Mushrooms, with Olive Oil and Garlic for a few minutes.  Add 1/2 can of beef broth – bring to boil.  Boil for a few minutes (like 4 minutes). Meanwhile in separate bowl, Melt butter.  Mix in flour and whisk into mushroom/broth mixture.  Add more beef broth as needed until consistency is like gravy.  Add salt and pepper to taste, if desired.
I was hesitant to use a sauce over these beautiful porterhouses, because they're already so perfect and tasty – but I really ended up loving the sauce, and smothered every bite in sauce.  Between my husband and I  – we finished the off the entire batch of sauce.
So for the steaks, Here are my tricks to getting them just right on the grill: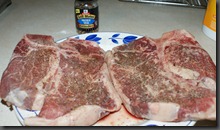 In my opinion it is best to get them to room temperature first.  I season them with the Montreal Steak seasoning from Grill Mates.  Its my favorite seasoning, and gets the taste just right, every time.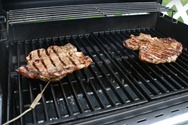 Then, while grilling I use a thermometer – so that I know when they're done without having to cut or turn them several times.  I Also turn only one burner on – so as to keep the filet on the lower temperature side – and the New York side on the burner side.
After I know they're cooked through, I pull them off the grill, and let them rest – untouched for at least five minutes.  I usually don't even pull out the thermometer at this point – because I want the juices to stay in the steak, and not flow out.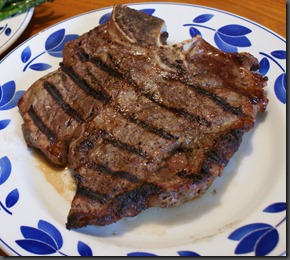 Then as a side dish: we often do Home-Made sweet potato fries. These are a favorite in our house, and they're really easy too!
Sweet Potato Fries
Ingredients:
Sweet Potatoes/Yams (1-2 depending on size)
Olive Oil
Seasonings (I use a Chipotle seasoning from Pampered Chef along with salt and pepper; but pretty much any array of ingredients work!)Directions:
Peel sweet potatoes – Boil them in a large pot for 8-10 minutes or so until they are fork tender. Do not overcook. Drain, and let cool for a few minutes.  Slice them into wedges. Lay them on baking sheet and baste with Olive Oil and cover with seasonings.

Oven: Preheat to 425 and bake until crispy – around 10 minutes.  If I have time, I'll flip them just so they get a bit crispier – but it's not important.

Grill: Put them on a grill tray and flip about 5 minutes in. cook until crispy on the outside and soft on the inside.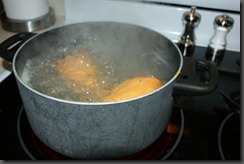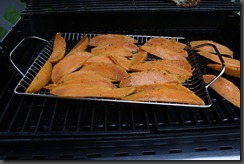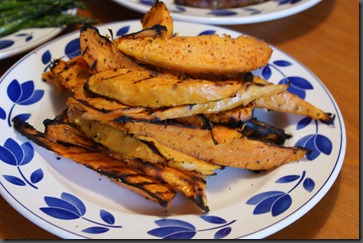 Overall, it was a great meal – and wasn't all that complicated!  I was going to grill the asparagus, but being that my grill is rather small for those two steaks alone – not to mention all those sweet potatoes and the asparagus; I decided to just cook the asparagus on the stove while the potatoes were cooking, all while the steaks were 'resting'.
Even Ethan Eats with us here!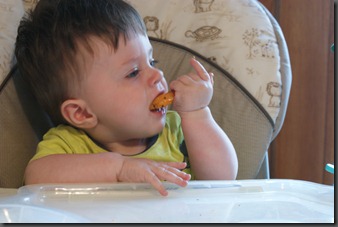 If you have any questions: Please don't hesitate to ask!

The good news is that there is a giveaway going on for your own 2- 18oz Porterhouse Steaks from The Tender Filet,  Just click Here!