Does your preschooler love Pocoyo as much as mine does?  Andrew is totally enthralled by Pocoyo and the nice white background with vibrant characters!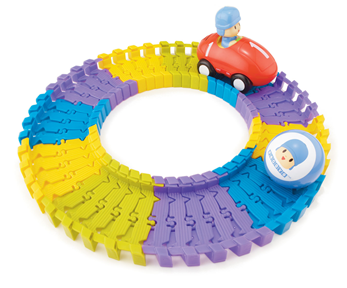 He also has an obsession for trains and cars and tracks and all that other kind of stuff.  So when he saw the commercial for the SwiggleTraks – he was instantly telling me how he wanted them so bad!
Designed to inspire learning through laughter, the Pocoyo SwiggleTraks Feature Set empowers young children to create a track play set that is uniquely their own. The SwiggleTraks system features colorful, flexible track pieces that are simple to connect and easy to add onto, and comes with a motorized, musical Pocoyo vehicle, as well as a moving bridge that puts the exciting "swiggle" movement in SwiggleTraks.
SwiggleTraks can be easily linked together to create fun settings for the motorized, musical car to go around on!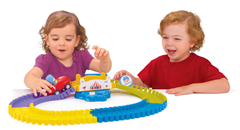 The tracks also can 'swiggle' at the point of the bridge!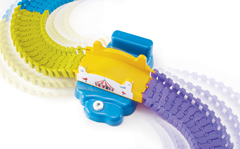 You can roll the tracks into a circle like this and set the car inside and watch it go!!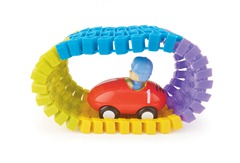 Pocoyo's SwiggleTraks has won several highly distinguished awards including Parent's Magazine: Best Toys for Toddlers for 2011; Parent's Choice Recommended Award; and Toy Insider: Hot 20 Toys for Holiday 2011.
Please "like" Official Pocoyo on Facebook!
The Pocoyo toy line is now available at retail locations nationwide, including Toys "R" Us, select Walmart stores, Walmart.com and Amazon
:  They are retailing for approximately $25-$30.
I'm REALLY excited for Andrew and Ethan to open these up for Christmas this year they'll be so excited to play with them!!  Would your child love the SwiggleTraks from Pocoyo?