While I was looking through some costume review opportunities I realized that I was going to be facing a problem.
The regular costume stores say they go to a size 12/14.  and the Plus size costumes START at 16/18.
JUST. My. LuCk.  I'm right in the middle.
I am typically a 14/16 depending on the brand and clothes. So it was a tough call as to where I should be shopping.  I've always been complicated too – so I'm used to it by now.
So I picked to shop at Plus Size Costume SuperCenter.
They had a great selection.  All too many costumes that showed way too much skin for my taste – but Andrew helped me pick out the Deluxe Snow White Adult Plus Costume.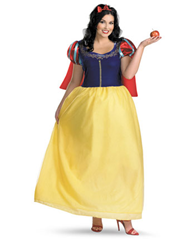 Unfortunately it didn't look nearly as good on me as it does on this Snow White – It was baggy and too large for me.  Not that it is the Fault of the store – but the costume was less than what I had expected for quality as well.
The hems were sticking out everywhere, the material was cheap, and felt horrible.  I ironed the dress, but you can't have the iron too hot or it will melt the fabric – so it didn't get many wrinkles out.  The collar didn't stand up and the sleeves didn't poof out.
Overall – I wouldn't recommend the costume to anyone – but that being said – Their return policy is easy and they have great customer service.
So If you're in the market for a plus sized womens costume this Halloween – Check out PlusSizeCostumesSuperCenter.com!