I was provided with a Prince Lionheart Playmat Plus in exchange for providing you with information about them as you consider Christmas gifts for the little loved ones in your life! Opinions are 100% my own.
Prince Lionheart Playmat Plus
The Prince Lionheart Playmat Plus is a fantastic idea: a light-weight, portable playmat that's reversible. Sounds fantastic! And it is pretty cool. The playmat is foam-like so it is incredibly light weight, which makes it awesome for bringing along to the park, or grandma's house, or anywhere else you want a fun, safe place surface. Micah needs a good play surface so he isn't always right on our hard tile floors and the Prince Lionheart Playmat Plus fits the bill.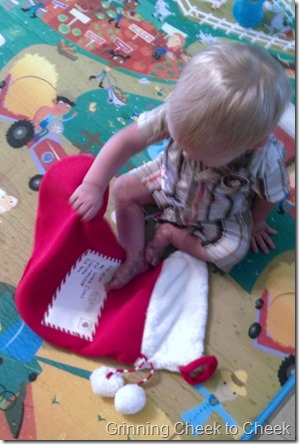 The Prince Lionheart Playmat Plus is also fun! With two sides, you can have lots of great play time for kids of many ages. Micah is young enough that he doesn't really care what the picture is, he just needs a soft place to play.

As he grows up, I imagine he will love playing with cars on the city side. Or play animals on the farm side! Other options include an alphabet side, a dinosaur land, or an ocean scene! Each picture has hidden tons of animals, things, and people to find, roads to follow, or letters to sound out.
My only problem with the Prince Lionheart Playmat Plus is that the light-weight foam is hard to keep unrolled. After taking it out of it's tube (it's 5' wide and 5'8" long!) it's edges just want to keep rolling up and we have to secure it down with chairs or other objects to keep it from rolling up. After it sat on our floor with items holding the corners for 48 hours, it did stay down but still not totally flat. I'm considering using double sided tape but that would make it harder to flip to the other side easily.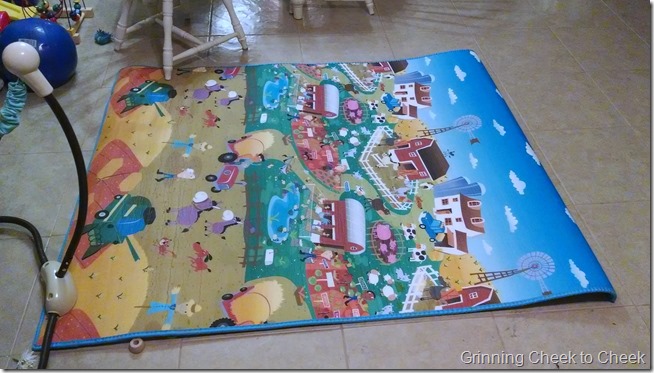 Otherwise, the Prince Lionheart Playmat Plus is a lot of fun for Micah and for us as playing with him brings out the kid in us. It comes with elastic straps to hold it rolled up, and the plastic tube has a handle of it for easy carrying. It is very long and awkward to tote, but unrolled it is a good size for playing. And the lightweight foam is soft for walking and sitting on. And the edges are well covered so nothing will gradually unravel like rugs sometimes do.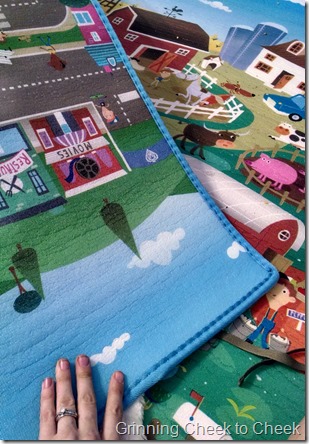 The Prince Lionheart Playmat Plus sells for $56, or the regular Playmat (no carrying case) for $35, so it makes a good gift for little ones looking for a good play surface! Check it out online, buy it here, or like Prince Lionheart on Facebook to keep updated and enter their giveaways!